Top Doctor Pranav Parikh, MD, FCCP, focuses on cost-effective care so that everyone in the region can rest easy.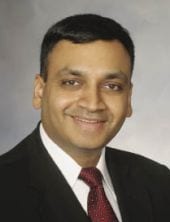 Pranav Parikh, MD, FCCP
Hannibal Regional Hospital is a not-for-profit, community-owned, locally governed, 105-bed, acute care hospital located in Hannibal, Mo, that serves the tristate area. Its mission is to meet the health and wellness needs of the region's 125,000 residents as well as those of future generations. This means expanding its health care services to cover these many needs at the same time that it manages its expenses and revenues.
But the organization has risen to the challenge and found ways to deliver services innovatively and cost-effectively. The Hannibal Regional Hospital Sleep Diagnostic Laboratory is a prime example: The facility has processes in place to maintain patient and community education efforts, a reasonable wait time for sleep studies, a 24-hour turnaround time for reports, and a joint venture that created an in-house durable medical equipment (DME) provider. "Having our own DME does help to provide a better quality and level of care and also improves patient satisfaction," says Pranav Parikh, MD, FCCP, pulmonologist/critical care/sleep physician at Hannibal Regional Hospital and Hannibal Clinic, a multispecialty group.
Parikh is the current chief of medical staff (2010 and 2011) and medical director of ICU/respiratory therapy (2011 to 2013) for Hannibal Regional Hospital, and sits on its board as well as that of Hannibal Clinic. He is also medical director of the sleep lab at Hannibal Regional Hospital, a position he has held for 10 years, and medical director of a second sleep lab at Hannibal Clinic, a role he has filled for the past 2 years.
Parikh was drawn to the field of sleep medicine by his interest in both subjects: sleep and medicine. He recalls wanting to be a physician as a student in elementary school, a goal he followed through. He attended medical school at NHL Municipal Medical College in Ahmedabad, India. He held a rotating internship at VS Hospital, also in Ahmedabad, and studied internal medicine at New York Hospital Queens (NYHQ) in Flushing, NY. He completed fellowships in pulmonary medicine at NYHQ and in critical care at St John's Mercy Medical Center/Saint Louis University in St Louis.
During his residency, his interest in pulmonology and sleep medicine first took hold. "The architecture and science of sleep has always fascinated me. There's still a lot to learn in sleep medicine, and this motivates me now to constantly learn and keep myself abreast of the new developments in sleep," Parikh says.
Today, he is board certified in pulmonary medicine and critical care, and board eligible in internal medicine and sleep medicine. (He will be appearing for the American Board of Internal Medicine [ABIM] Sleep Board this November.) He has been published; he has served in high capacities for industry associations (the Northeast Missouri Medical Society), and he was a member of the Missouri State Medical Association Commission for CME from 2008 to 2010. He has sat on numerous hospital committees, and he is a member of multiple medical associations, including the American Academy of Sleep Medicine (AASM) and the Society of Critical Care Medicine (SCCM). Parikh's expansive efforts have contributed to his position as a Top Doctor in sleep medicine today.
In Detail
In his practice, Parikh sees patients with obstructive and central sleep apnea, narcolepsy, insomnia, and REM-related movement disorders. Hannibal's centers offer a number of diagnostic methods, including overnight diagnostic sleep studies; daytime diagnostic sleep studies (for night-shift workers); and Multiple Sleep Latency Tests (MSLTs), which are used to quantify overall daytime sleepiness and help diagnose narcolepsy. The two facilities have not yet implemented home testing, according to Parikh.
Treatment options include continuous positive airway pressure (CPAP) and bilevel positive airway pressure (BiPAP) for obstructive sleep apnea; BiPAP S/T (spontaneous/timed) for central sleep apnea; and the uvulopalatopharyngoplasty (UPPP) surgical option performed by a board-certified ear/nose/throat (ENT) surgeon for those patients who refuse or cannot tolerate CPAP.
Parikh reads an average of 15 studies per week, seeing patients Monday through Thursday afternoons. He is able to spend 30 to 45 minutes with new patients and takes 15 to 20 minutes for rechecks.
Each facility offers two beds. The sleep lab at Hannibal Regional Hospital is staffed by three licensed respiratory care practitioners; two hold the registered polysomnographic technologist (RPSGT) credential, and one holds an additional registration as an electroencephalographic (EEG) technologist. The sleep lab at Hannibal Clinic also is staffed by two respiratory care practitioners who are both in the process of obtaining their RPSGT certifications. The team recently added a pediatric pulmonologist to the staff who also practices sleep medicine.
Better with Practice
Everyone on the team is devoted to providing the best-quality care possible. "When I started my sleep practice 10 years ago, the three biggest challenges were the wait time for patients to get tested for a life-threatening condition, a delay in scoring and getting an official report to the referring physician, and difficulty dealing with different DME companies," Parikh says.
These were, therefore, the processes Parikh targeted in quality improvement efforts at both the hospital and clinic. "The changes we made at Hannibal Regional Hospital we have continued at Hannibal Clinic," Parikh says.
To keep wait times reasonable and study times readily available for urgent patients, the sleep study schedule varies. When the wait time begins to exceed 4 weeks, scheduling of studies expands to 7 days per week.
The sleep technicians are encouraged to score completed studies the next day, and physicians are asked to read them within 24 hours. The report is then sent to the referring physician with a shorter turnaround than in early days.
The DME issue required more innovative thinking, and the result was an in-house solution. Hannibal Medical Supplies is a joint venture between Hannibal Regional Hospital, Hannibal Clinic, and Denman's Services Inc in Quincy, Ill. It offers a broad range of products and services that include home oxygen therapy, CPAP and BiPAP equipment, orthopedic products, diabetic supplies, health and wellness products, and medical equipment delivery and setup. Pricing is competitive, and quality is better monitored.
Practicing and Preaching
Quality of care is also improved with education measures undertaken with patients and within the community. The staff works one-on-one with patients to answer questions and review equipment usage and maintenance so that patients are able to achieve the maximum benefit from the prescribed therapy. Optional sessions, free of charge, are available pre- and post-testing to offer patients additional opportunities to review information.
To reach out to the community, the hospital and clinic use traditional marketing methods and community events. "We use newspaper advertisements and patient education articles in newspapers to market our sleep labs," Parikh says. Events offer even greater opportunity. For instance, the sleep labs celebrate National Sleep Awareness Week, which occurs in March, typically offering special services that include education, equipment demonstrations, and laboratory tours to new and existing patients. Individual appointments were available last year during a special clinic held one afternoon during awareness week.
Education not only enables greater awareness about sleep issues so that patients may be treated, but it also helps to combat the misperceptions that are impacting revenues. "The biggest challenge that is facing sleep medicine is declining reimbursements," Parikh says.
Even so, the field of sleep is not about profits. It is about improving patients' lives. Parikh's desire to help others is seen in every aspect of his life: from his wife, Purvi Parikh, MD, an endocrinologist; to his two children, inspired to follow their parents into medicine; to his work with the socio-spiritual Hindu organization BAPS (Bochasanwasi Shri Akshar Purushottam Swaminarayan Sanstha), which has roots in the Vedas. He sits on the regional board that oversees temples in Illinois, Indianapolis, Michigan, Missouri, Minnesota, Ohio, and western Pennsylvania.
Parikh shares how this approach to life has impacted his medical career: "My personal practice philosophy is that every patient, irrespective of their income or insurance, deserves the best and most comprehensive medical care." One good sleep for man can mean giant dreams achieved for mankind.
---
Renee Diiulio is a freelance writer based in Manhattan Beach, Calif. She can be reached at .