Joseph Ojile, MD, FCCP, DABSM, founder and CEO of the Clayton Sleep Institute in Missouri, has made a career out of providing comprehensive sleep care to patients and making sleep health a vital component of good health.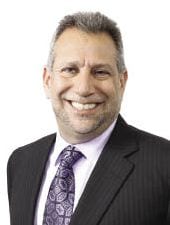 Joseph Ojile, MD, FCCP, DABSM
For Joseph Ojile, MD, FCCP, DABSM, sleep is not a novelty—it is as vital to a person's health as diet and exercise. Recognizing that good health is a multifaceted undertaking, Ojile has made it his mission to provide a similar nuanced approach to the care he provides his sleep patients at the Clayton Sleep Institute (CSI) in Missouri. Underlying both his and CSI's work is the idea that good sleep care leads to better health and a better life for patients.
The Birth of an Idea
Ojile, who graduated from the Saint Louis University (SLU) School of Medicine in 1989, first became interested in sleep medicine during his pulmonary fellowship at SLU.
"My mentors exposed me very early in my career [to sleep medicine]. What got me excited about it was the fact that the physiology was so interesting and the ability to effect a meaningful change in people's lives was very tangible," says Ojile, a member of the American Academy of Sleep Medicine (AASM) and an American College of Chest Physicians fellow.
Working in hospital sleep programs during the early days of his career, he saw what worked and what did not—and he saw a need for a more nuanced approach.
"[My colleagues and I] got to the point where we decided that in order to pursue sleep in a method that we really wanted to, which was this comprehensive approach, we had to do it on our own in an independent venue," he says.
A Well-rounded Approach
Founded in 2001 by Ojile, CSI was the manifestation of that vision. CSI's goal from the outset was to provide a comprehensive approach to sleep medicine and, more importantly, to sleep health when treating patients.
Ojile recognized that this approach would encompass treatment and services that would "pay for themselves" and others that would not; but regardless of dollars, they would "enhance the quality of patient care and the patient experience."
For a large medical institution, justifying these types of services and still meeting the bottom line is difficult. But as a freestanding independent sleep laboratory accredited by the AASM, CSI can streamline processes that other sleep medicine institutions often cannot.
"Clayton Sleep Institute's independent status allows us to be more flexible, incorporating various areas of sleep medicine and science into our research and diagnoses," he adds.
CSI's comprehensive, 360-degree approach looks at the physiological, behavioral, emotional, and communal aspects of sleep medicine and sleep health when treating patients, a diverse population that includes sleep apnea, insomnia, restless leg syndrome, narcolepsy, and periodic limb movement disorder sufferers.
"Through each practice, the CSI team strives to reach the same goal for each patient: Better sleep. Better life," he says.
At the heart of CSI is its sleep clinics, which provide diagnosis and treatment for patients with sleep disorders such as sleep apnea. But equally important is CSI's Insomnia Center.
Ojile is proud of the center's work diagnosing and treating insomnia and nocturnal behaviors. When treating the former, CSI's Insomnia Center pursues two fundamental pathways—cognitive-behavioral therapy and pharmaceutical—used alone or in combination with other alternative therapies (bright light therapy, relaxation therapies, or alternative medicine strategies such as acupuncture) to devise a treatment plan that will best meet the needs of the patient.
"There's no pharmaceutical 'miracle' for insomnia. Defining insomnia is simple, but diagnosing the causes and selecting the correct treatment are not," says Ojile.
The goal of direct patient care, says Ojile, is to provide the patient with a meaningful experience.
"We want people to come [to CSI] and have a meaningful scientific experience—meaning that they have an experience where they feel like they understand why we're doing the testing we're doing. Whether it's a sleep test or various things for insomnia, sleep logs, psychological testing, behavioral testing, whatever it might be—that they understand the reason, the scientific basis for it as best we can explain it," says Ojile. "[In addition, we want them to] have a meaningful, comprehensive, or holistic, understanding of sleep in their lives."
Stepping Outside
For Ojile and the CSI team, their work does not stop at the clinic doors. CSI prides itself on the public education and outreach component included in their 360-degree approach. CSI provides education to physicians and health care providers, including nurse practitioners and physician assistants; technician training; corporate counseling; consulting to other labs; and clinical research.
"People, particularly in the United States, view sleep as a novelty," says Ojile. "We need people—health care professionals and laypersons—to look at sleep as a conventional medical concern.
"More importantly," adds Ojile, "it is engaging the patient as part of the solution so that they are compelled to interact with the system and, therefore, be more compliant. Public awareness and continuing education are the vehicles for this."
The CSI team frequently takes its message to schools and corporate settings. At schools, they talk to parents and educators about healthy sleep as it pertains to child rearing or a child's behavior. In addition, Ojile says they address sleep issues, like sleep apnea, that are not often discussed in terms of children. With corporate groups, sleep health is again on the agenda, as well as the role of sleep disorders in the workplace.
"In the corporate world, we frequently talk to them about whether there could be a sleep disorder like sleep apnea or chronic insomnia affecting their employees and their performance," says Ojile.
As Ojile explains it, CSI's education and outreach work boils down to getting patients and the public to understand that sleep is a part of a daily health plan. A frequently heard mantra at CSI is that sleep is just as important as exercise and diet for good health.
"That's an important message that we want to give to our patients and maybe isn't a common motivation for others, but it is for us," says Ojile.
A Team and a Family
The team at CSI—from PhDs to managers—is comprised of people who have known each other and been in sleep medicine since the late 1980s and early 1990s. Ojile looks on it as a family.
Taking a multidisciplinary approach, the CSI team includes board-certified specialists in sleep medicine, internal medicine, pulmonology, psychology, and neurology as well as registered sleep technologists and respiratory therapists. CSI also has affiliations with psychiatry, otolaryngology, and dental medicine specialists.
Ojile has nothing but praise for the team with whom he works.
"I have an excellent team of experts who surround me on a daily basis, and I think that our attention to patient care is impeccable," a statement Ojile is quick to back up. "It's impeccable not because I'm biased, but because it is a direct reflection of our continual commitment to managing and improving the entire patient experience."
Going the Extra Mile
Headquartered in metro St. Louis, CSI has eight locations in Missouri and Illinois. CSI has also expanded its services to rural areas of the state, opening several rural locations to provide services to patients who otherwise would not have convenient access to sleep care.
Recently, Clayton completed construction on a new research and education facility near its St Louis location, where conferences and educational meetings can be held throughout the year.
Annually, CSI coordinates and hosts, in partnership with Sleep Review, the Updates in Sleep Medicine conference, focusing on sleep medicine and sleep disorders. Started in 2003, and originally dubbed Midwest Updates in Sleep Medicine, the symposium attracts 300-plus physicians, physician assistants, pediatricians, nurses, nurse practitioners, dentists, psychologists, polysomnographic technologists, and respiratory therapists from around the country. Conference attendees can also receive continuing medical education credits.
"Our goal is to present the best 'boutique' conference experience in sleep medicine—where the content and faculty are first rate, and the atmosphere is warm, informal, and inviting," says Ojile.
If providing direct patient care and educating sleep medicine professionals and the public were not enough, CSI also engages in research to advance the field and treatment. Currently, CSI is working on advancements in sleep breathing device technology and novel approaches to insomnia care, says Ojile.
The driving force behind both Ojile and the CSI team's interest in these topics is the fact that there are innovations and technology that are ready for discovery.
"These innovations and technology can meaningfully impact patients in the next 6 to 12 months, which is very compelling," he says.
Steadfast Commitment
After 20-plus years in sleep medicine, Ojile says his passion for the field has not wavered. And he remains steadfast in his commitment to making sure that patients are not simply treated for their sleep disease, but are treated with the goal of better sleep health and a better quality of life.
"A big part of our focus is to be really great on the science and disease side but to constantly push forward on bringing the message of sleep health to our colleagues and the public so that they can incorporate it into their daily lives. If we don't succeed in that, then much of our work is for naught."
---
Alison Werner is associate editor of Sleep Review. She can be reached at sleepreviewmag@allied360.com.