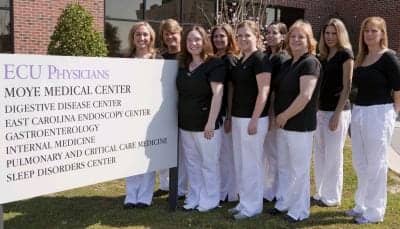 Under the leadership of Sunil Sharma, MD, DABSM, the East Carolina University Sleep Disorders and Research Center is taking a truly multidisciplinary approach to sleep disorder treatment.
Patient demand is sky high these days at the East Carolina University (ECU) Sleep Disorders and Research Center, Greenville, NC. Thanks to the facility's growing reputation for excellence, much of it fueled by the leadership of Sunil Sharma, MD, DABSM, director of the center, existing space will be used for two additional beds.
Sleep apnea sufferers are hearing about the center primarily due to a steady stream of enthusiastic area physicians who appreciate Sharma's efforts to create a state-of-the-art sleep center that provides comprehensive care in all aspects of sleep medicine. Considering that the center opened its doors just a little more than 3 years ago, the rise has been consistently fast with no signs of slowing down.
With the new beds still not quite in use as of press time, the existing six-bed, full-service unit is located on the first floor of the new ECU Moye Building. The sleep center is equipped with advanced in-house diagnostic and home monitoring devices (Cadwell Laboratories Inc). A multidisciplinary team composed of sleep physicians from various disciplines manages all types of sleep disorders.
As part of the Brody School of Medicine, the center serves as a training site for medical staff interested in sleep disorders. The list of specialties seems to grow each year as medical professionals discover ever more maladies that are made worse—or perhaps even caused by—sleep apnea. "We are pushing the envelope in all directions of sleep medicine, which I think should be the true nature of academic sleep medicine," says Sharma, also director of the Vidant Sleep Center. "We don't focus on just one agenda, and we don't just focus on the elements that are paying. We are educating and training young doctors and technicians to become certified at national levels, and doing research."
As one example of that research, Sharma and his team recently published that the prevalence of sleep disorders is high in patients undergoing cardiac rehab. "And that is important because the burden of a comorbid condition like OSA may slow down recovery during rehabilitation," he says. "Our sleep center program is among the first to find out and establish that there is lung inflammation involved in patients who have sleep-disordered breathing. This has never been reported in the past."
Yet another study with Medical University of South Carolina, Charleston, examined whether those who have sleep apnea have more blockages in their coronary arteries, and thus more heart disease. "We found these patients had seven times higher odds of having a blood vessel blockage (soft plaque) in the heart as compared to people who did not have sleep apnea," Sharma says. "This has not been shown before. This is the type of original research that helps us understand the impact of sleep apnea on our community."
According to Sharma, who also serves as an assistant professor of medicine at the Brody School of Medicine, the center's overarching mission is clinical, research, teaching, and training. "A vast majority of private sleep disorders centers are clinically oriented," he says. "As an academic center, our mission is above and beyond to educate our entire community about sleep, and train young physicians and sleep technologists about sleep medicine and continue to push the limits of understanding sleep disorders and their impact on our society. We have a training school for sleep technicians in eastern North Carolina, and our sleep disorder center is a training ground for those sleep technicians before they finish their training. We are involved in a much broader manner than just patient care."
The ever-widening tentacles of sleep apnea can be seen at ECU's sleep clinic among people who have high blood pressure, diabetes, and congestive heart failure and have been referred due to daytime sleepiness. One such patient came to Sharma after several years of symptoms.
The man's physicians attributed his symptoms to underlying heart failure, but a chicken-or-egg scenario increasingly emerges where apnea may worsen, or even cause, many ailments. "In this patient, we had severe sleep apnea," Sharma says. "It's remarkable that these patients have dramatic improvement in a matter of months after putting them on treatment. Their blood pressure gets controlled, heart failure symptoms resolve, and daytime tiredness resolves."
PROBLEMS DOWN SOUTH
In eastern North Carolina, stroke is the fourth leading cause of death. It's part of a "stroke belt" that also includes a high burden of congestive heart failure, hypertension, and diabetes in eastern North Carolina—and in much of the South.
Sleep disorders are strongly associated with these comorbidities, and ECU's multidisciplinary sleep center is an increasingly important tool in the fight against cardiovascular disease. "Sleep apnea could very well be the driving engine for many of these cardiovascular disorders," Sharma muses. "We don't know now because this sector of medicine is still relatively new. Fixing sleep-disordered breathing may slow down the progress of many of these other cardiovascular diseases—and in the process may improve survival."
As director, Sharma embraces community involvement through his yearly symposium (see sidebar) and multiple talks to diabetic groups and heart health forums. With the help of three board-certified pulmonary (and sleep boarded) physicians, one pediatric (sleep board certified) physician, and three neurology-based (sleep board certified) physicians, he uses the multidisciplinary approach to educate patients and physicians alike.
He is currently working on his vision of a multidisciplinary team providing care under one roof, an approach that aims to step away from the current reality of fragmented care. "Different specialties tend to operate as independent silos, but the best care will come together when the patient can get all his sleep care under one roof," Sharma says. "The multidisciplinary approach involves several different specialties—pulmonologist, psychologist/psychiatrist, dentist, neurologist, and ENT physician. This is even more true as more treatment options from surgery to dental devices are available to the patient. If they are not in close proximity with us, or working with us, care can get disrupted."
CPAP AND ORAL APPLIANCES (MULTI-FACETED MANAGEMENT OF SLEEP-DISORDERED BREATHING)
When ECU opened its first school of dentistry last year, Sharma took his multidisciplinary approach to the burgeoning field of dental sleep medicine. Unlike more established dental schools around the country, ECU's students will not be ignoring sleep medicine.
Spreading the Word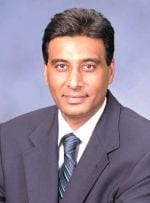 Tracking down Sunil Sharma, MD, DABSM, director, East Carolina University Sleep Disorders Center, on an average day is no easy task. Factor in the extra duties of Sleep Awareness Week, plus preparations for a day-long symposium, and it becomes almost impossible.
The hours are long, but Sharma has a passion that he is determined to bring to the center, and by extension to patients. In recognition of ECU's outstanding results, the Sleep Disorders and Research Center recently received program accreditation from the American Academy of Sleep Medicine (AASM).
At press time, Sharma's symposium at the Hilton Hotel in Greenville, NC, will be over, and hundreds will be wiser. After a wide range of sleep, pulmonary, and critical care programs, attendees learned just how far sleep has penetrated into the general medical realm.
Offered by the Division of Pulmonary, Critical Care and Sleep Medicine, the conference provided the most current, practical, and concise information available on recent advances in clinical sleep and pulmonary medicine.
Sharma and his colleagues offered lectures and discussion periods for both formal and informal exchanges between faculty and participants. Targeted for internists, family medicine and emergency medicine physicians, PAs, and NPs providing primary care management, those who completed the course got continuing education credits and knowledge of strategies to identify sleep disorders.
—G.T.
Refusing to indulge in rigid therapy preferences, Sharma believes oral appliances can definitely be beneficial for those who do not tolerate conventional CPAP therapy. "I am engaging our dentists to our sleep disorders center," Sharma enthuses. "I am working closely with the faculty at the dental school of medicine to recruit dentists to come over and treat patients who have failed conventional treatment. This is a new opportunity to engage dentists from the beginning. The dental school faculty is arranging educational sessions and grand rounds and coordinating activities with the sleep disorders center. As director for sleep medicine, my job is to engage these different specialties. In the last year, I have engaged most of these specialties as we move toward a one-roof model."
In addition to ENTs, pulmonologists, cardiologists, and now dentists, pediatricians are part of the mix at ECU. Indeed, teachers who identify students with attention deficit may yet be seeing the effects of sleep apnea. "In adults, you tend to have sleepiness during the day," Sharma says. "In children, they can get hyper-aroused and lose focus. Falling grades could be a sign of underlying sleep disorders. Involving pediatricians improves the outreach of sleep into the world of children, which is usually swept under the carpet."
Relying on durable medical equipment (DME) companies can be a source of anxiety for many sleep physicians who fear the level of education provided and service may not be adequate. Sharma aims to deal with this familiar problem by asking DME providers to come to his center for setups and education. It may sound like a tall order, but many providers are willing.
"Compliance is an important quality parameter, and is ultimately a reflection of the sleep disorders center," Sharma says. "Now we are setting standards so we know what they are doing and what kind of education and training they are giving. We plan to have them come to the clinic to set those patients up so we can supervise. The DME is still making the sale, but the whole quality aspect is better controlled. It's a bit of a pain for the DME company, but they are getting more accepting."
The center is truly the one place to be, and Sharma believes the one-roof ethic will be a nationwide trend. In addition to a patient sleep mecca of sorts, ECU's center is a training ground for medical students (Brody School of Medicine), residents, fellows, and students of the Pitt County polysomnography school in Greenville, NC. "Many of these bright students have stayed back to serve the community," Sharma says. "The sleep center serves 29 counties, and is the largest academic center in eastern North Carolina. I am helped in this venture by an extremely dedicated and passionate faculty and staff who push the boundaries of excellence every day."
Greg Thompson is a contributing writer for Sleep Review. The author can be reached at .
---
Sunil Sharma, MD, DABSM, ABIM
Director, ECU Sleep Disorders Center
East Carolina University/Brody School of Medicine
521-A Moye Boulevard
Greenville, NC 27834
257.744.4653
www.ecu.edu