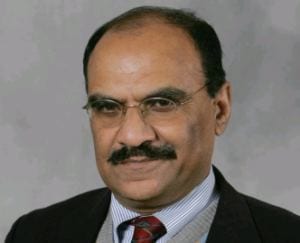 The Cleveland Sleep Centers: Improving sleep health care from every angleIn 1998, Mansoor Ahmed, MD, FCCP, FABSM founded the Cleveland Sleep Centers, a coordinated network of community-based sleep programs, to provide clinical care and promote sleep education and research in the field of sleep medicine. The Sleep Centers also developed a collaborative sleep program with University Hospitals system at Bedford and Lutheran Hospital (Cleveland Clinic Health System).
"We are the only health care entity in the history of Cleveland that enjoys a true bilateral relationship with the two competing academic giants," quipped Ahmed.
In the 1990s, sleep medicine was primarily confined to the large academic and teaching hospitals. There were virtually no community-based sleep health care programs and education initiatives in the Greater Cleveland Metropolitan Area. Having served on the faculty of medicine at Case Western Reserve University, Ahmed felt that the rapid developments in sleep medicine that were taking place within academia were not being translated in a timely fashion into community practices.
"How is an academic center defined? Look at the Mayo Clinic. They have three levels: patient care, education, and research," Ahmed says. The sleep program at Cleveland Sleep Centers, developed by Ahmed and his team, was modeled on these best academic attributes.
COMPREHENSIVE CARE
As Ahmed points out, sleep medicine is a true multidisciplinary specialty. There is hardly any medical, mental, or psychiatric condition that doesn't affect sleep and there is hardly any system physiology that is not affected by sleep disorders.
"Improving sleep health is not all about sleep apnea and CPAP," says Ahmed. "Most of the patients do not present with a single disease process. You can't just give them CPAP or an insomnia pill and be done. A large number of patients have a complex sleep pathology that requires an integrative approach."
To effectively treat a patient, and improve sleep health, sleep professionals need to look at underlying or comorbid conditions, Ahmed says. From the psychological factors—including mood disorders like bipolar disorder and depression—to medical conditions like chronic fibromyalgia and Alzheimer's disease: all these conditions have profound implications for sleep.
"In order to practice sleep medicine in a real sense, you have to look at it more broadly," says Ahmed, who has been frustrated by the focus on sleep apnea as the defining condition of sleep medicine in recent years—a focus that has led some sleep centers to ignore other health issues, and, thus, prevented patients from getting a good night's sleep. "Even sleep apnea is not a homogenous disorder. It requires more in-depth pathophysiological analysis and subsequent therapeutic interventions."
The Cleveland Sleep Centers, which have been recognized by the American Association for Respiratory Care as one of the top three community sleep centers in the United States, make it their mission to always look at the whole patient and to integrate disciplines outside of sleep medicine into patient care to most effectively treat the patient. That includes a staff orthodontist consultant and other trained dentists in the community who can work with patients for whom CPAP has failed and who would be better treated with an oral appliance, and close working relationships with area psychiatric specialists who may need to be brought in to discuss any underlying psychiatric conditions affecting a patient's sleep. According to Ahmed, this in-depth, integrative approach, which is often found in academic-based sleep centers, was missing at the community level when he first opened the Cleveland Sleep Centers' doors.
"After my transition from a teaching hospital to a community practice, my challenge was to integrate other disciplines to help these patients who have multiple pathologies for their sleep disturbances. An integrated approach wasn't there, and it's still largely not there. There are hardly any sleep centers at the community level, where other disciplines have been integrated to evaluate and manage patients," Ahmed says. "This [approach] is specific to our program."
While the facility's bedrooms feature home-like décor, including paintings, decorative window treatments, and high-quality mattresses, and are designed for patient comfort, the Cleveland Sleep Centers pride themselves on being more than just nice labs. It is a facility that makes patient comfort, treatment compliance, and long-term patient health equally important elements.
"What is the point of having a beautiful sleep center, or how many studies a center is performing, when at the end of the day, the outcomes of these patients are terrible because people are not using their treatment," says Ahmed.
As is the case with many other medical disciplines, compliance is also a problem in sleep medicine. Yet, unlike most other disciplines, patient follow-up for patients suffering from sleep-related problems is not always a consistent component of patient care. The Cleveland Sleep Centers, however, have made compliance and patient follow-up a part of their clinical protocol. The facility has a respiratory therapist on staff who is specialized in sleep and who works with patients following diagnosis to not only make sure that their mask fits, but that they are educated about their disorder and the risks of not following through with treatment. The sleep staff even makes a point of including a patient's spouse in this education to further stress the importance of CPAP compliance. Many sleep disorders, including sleep apnea, are chronic conditions like hypertension or diabetes that don't disappear following diagnosis. They require follow-up and every effort to encourage and improve patient compliance with treatment.
"Just like with someone with a heart condition, you don't give them Lipitor and then say, 'Goodbye. You're done,'" Ahmed points out. "[Sleep patients] are not completely done after you have made the diagnosis and given them CPAP." The Cleveland Sleep Centers maintain regular contact with patients, typically seeing CPAP patients for a follow-up visit 6 weeks after their titration study and compliant patients at least every 6 months thereafter.
AWARENESS THROUGH EDUCATION
But the reality is that this attention to comprehensive patient care can be effective only if people are aware of the effects of sleep disorders on general health. Sleep disorders often receive short shrift outside the sleep community, making diagnosis and treatment, and, more importantly, better health elusive for many patients. As Ahmed puts it, the impact of sleep disorders on overall health and their role in other conditions often are not appreciated by both the medical community and the general public. This, in large part, stems from a lack of education. Since their inception, Cleveland Sleep Centers have seen themselves as first and foremost a community-based program, and have made public and physician education beyond their doors a fundamental component of their patient care and commitment to sleep health.
At the general public level, the staff has undertaken a robust public education program aimed at improving the understanding of sleep health in the community, in a variety of settings, including presentations on insomnia to nursing homes and assisted living facilities, and on shift work to nursing and police departments and major corporations, such as Goodyear Tire and Nestlé. In addition, the Centers have launched various educational initiatives aimed at the Hispanic community in Cleveland, a segment of the population with a higher prevalence of sleep apnea, hypertension, and diabetes. Efforts have included training Spanish-speaking interpreters and translation of patient literature into Spanish.
Within the medical community, Cleveland Sleep Centers make an effort to share their knowledge and keep non-sleep medicine specialists, especially referring physicians, up-to-date on the current research trends in sleep.
"Within academia, we have great research going on—for example, in narcolepsy at Stanford. But the knowledge being put out by those academic centers does not translate into the community practices in a timely fashion. It takes years and years before [non-sleep specialists] start to realize what is going on at the academic level," Ahmed says. He adds that for many physicians practicing at the community level today, there was no sleep curriculum during their education 5 to 10 years ago. This has led to situations where non-sleep specialists often underestimate or overlook the impact of sleep on a patient's underlying disease process. For example, Ahmed points out, rheumatologists and pain specialists often don't appreciate the negative impact pain and chronic fibromyalgia can have on a patient's sleep. If a patient's sleep problems are not addressed, neither condition will improve. This knowledge vacuum keeps patients from receiving effective care. Education programs can improve this situation.
"If we don't improve the knowledge of the physicians in the community, we won't be able to serve the bigger picture of sleep medicine and meet the needs of the large number of patients who are served within communities outside academic walls. So we focus on education," says Ahmed, adding that Cleveland Sleep Centers have put on hundreds of sleep symposiums, roundtable meetings, and conferences in their 14-year history to better educate community physicians. In addition, Ahmed and his staff invite primary care physicians to come and work with them for a half day as part of a preceptorship program so they can get a better feel for what sleep medicine is all about, why it is important, and better serve the needs of their own communities when they return home.
And the Cleveland Sleep Centers' educational efforts aren't limited to the local community. As a former chair of the international affairs committee for the AASM, Ahmed and his colleagues developed a 6-week mini-fellowship sleep training program that invites physicians from around the world to spend time training at Harvard, the University of Pennsylvania, Stanford University, the Cleveland Clinic, and the Mayo Clinic. In addition, Ahmed and his staff welcome an international fellow to spend time at the Cleveland Sleep Centers to see how their facility works and to learn more about sleep medicine. The goal, Ahmed says, is for these fellows to take their new knowledge back to their home countries and start similar sleep programs there. For more direct impact, Ahmed, who is currently serving as an honorary advisor to India's King George Medical College as they develop their own sleep program, hopes to soon take his team to that country to help the medical college establish an integrated program modeled after the Cleveland Sleep Centers. The Centers take pride in the fact that the first sleep program in one of the oldest cities in the world—Aleppo, Syria—was started by a fellow who received his training at the center.
RESEARCH AND DEVELOPMENT
But as important as educating the community is, the staff at the Cleveland Sleep Centers also recognize that they need to educate themselves to best serve the sleep patients and the larger community. To do this, Ahmed and his staff stay actively involved in research and development in the sleep field. Through the Cleveland Sleep Research Center, an affiliate of Cleveland Sleep Centers, they participate in a number of short- and long-term research studies, including those looking at restless leg syndrome, shift work, insomnia in children with attention deficit hyperactivity disorder, and sleep disturbances in fibromyalgia. Some of these research projects are funded by investigator-initiated grants.
Throughout their work, the Cleveland Sleep Centers maintain a commitment to excellence and to serving the community. In doing so, they hope to serve as a model for other sleep centers everywhere and to bring their brand of academic sleep care to everyone in the community.
Alison Werner is associate editor of Sleep Review. She can be reached at .
---
Cleveland Sleep Centers
17900 Jefferson Park Road, Suite 102
Middleburg Heights, OH 44130
440.243.8044
www.clevelandsleeps.com