Quality Sleep Testing
The Bristol Sleep Centre provides stellar sleep testing through diagnosis and treatment options, research projects, and education.

Bristol General Hospital
Five million Britons have their quality of life impaired by sleep disorders, according to the British Sleep Foundation, and even though such disorders often lead to serious health problems, most cases still go undiagnosed.1 In 1986, the United Bristol Healthcare Trust (UBHT) began offering sufferers of obstructive sleep apnea (OSA) and chronic obstructive pulmonary disease (COPD), and some much-needed options for diagnosis and treatment.
Sleep services originally were offered by Bristol General Hospital, and patient demand for the one-bed laboratory was high. So high, in fact, that the center expanded and today is a freestanding entity separate from the main hospital complex of the Bristol Royal Infirmary; it includes three beds, offices, and a research laboratory. The original unit had one full-time staff member in addition to Adrian Kendrick, PhD, a consultant clinical scientist and physiologist who has worked with the UBHT since 1981, and runs the Sleep Unit. Today, it has an administrator, two full-time and one part-time technologists, two part-time night technologists, and two clinical scientists as well as two medical consultants.
"Our sleep service specifically focuses on breathing problems during sleep," Kendrick says. "We have about 150 patients undergoing investigations following initial screenings, with about 50 patients undergoing continuous positive airway pressure (CPAP) trials at any one time and about 40 on home noninvasive ventilation. About 500 new patients come through the unit per year from Central and South Bristol, as well as surrounding areas."
The center streamlines its services by utilizing the hospital's intranet/internet linked computer systems, databases that are specific to its patients, and computerized appointment booking systems. Any new technology is assessed using trial runs of various manufacturers' equipment on the market. The final decision is made by the sleep team, and most recently, the clinic purchased oximeters and auto-adapting CPAP devices. Equipment servicing is taken care of in-house, and represents 10% of the sleep department's budget.
The sleep laboratory itself is designed so that each patient has a private room with a remote control television and other amenities. Kendrick says it is akin to reasonable hotel accommodations and patients are treated to tea, coffee, and snacks if they wish, as well as breakfast. "We try to make the whole setup as comfortable as possible because we want them to go to sleep when they want, and get up when they want," Kendrick says.
Bristol's Patient Base
The patient population is predominantly composed of adults and youths aged 16 and up. Younger patients are referred out to the pediatric sleep laboratory within the UBHT, which is run by Professor Peter Fleming. In turn, many of the Sleep Unit's patients are referred from other centers that are not able to carry out more complex procedures. Although Kendrick says all district general hospitals can carry out simple screening tests and some do CPAP trials, there are fewer major centers that refer patients to sleep centers. On the other hand, the Sleep Unit regularly performs oximetry, semi and full polysomnography, actigraphy, multiple sleep latency tests, and multiple wakefulness tests.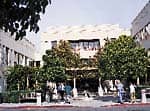 From left, Fiona Buchanan, BSc, Nicola Allaouat, MSc, Marilyn Little, Adrian Kendrick, PhD, and Anne Harper.
"Most often, we see cases of OSA and COPD, as well as a few insomniacs and narcoleptics, and some patients with restless legs syndrome," Kendrick says, noting that most are referred from primary care physicians, otolaryngologists, and other secondary care physicians within and outside of Bristol General Hospital. "We only refer out cases that we are stuck on and need a different area of expertise within sleep medicine, or if we have tried everything with specific patients and we need advice from other specialists," he says. "However, that represents a small number of our patients."
Within Bristol General Hospital, it is standard practice to screen patients prior to palatal surgery to ensure there are no breathing problems during sleep. The sleep laboratory also maintains close links with the acute noninvasive ventilation admissions unit and the high-care unit in the main facility at Bristol Royal Infirmary.
"In terms of our center's patients with sleep apnea, probably 2% to 3% of them are inpatients at the hospital and we include those with acute respiratory failure as part of our service," Kendrick says. "To some extent, cystic fibrosis inpatients may receive overnight monitoring too, but that is within their ward, not within the Sleep Unit. The majority of patients are seen on an outpatient basis."
The center is open from 7:15 am to 4 pm and from 7 pm to 9 pm Monday through Friday. "We don't work Saturday and Sunday," Kendrick says. "We used to work Saturdays, but after about a year and a half, we decided we wanted to get a life."
Approximately 95% of the center's patients are from the National Health Service (NHS) through the local health authority, which serves a population of roughly 1,000,000. The NHS is government-funded, with patients paying into the system out of their salaries. The government then funds local health authorities, which fund the hospital trusts. "Essentially, patients do not pay much at all," Kendrick says. "They pay for their prescriptions; however, they do not pay for a consultation, or an assessment, or being set up with treatment such as CPAP." Of note, CPAP treatment is not prescribable under the current NHS system, although funding is made available by some health authorities.
The level of funding provided to the Bristol Sleep Centre is never enough, however, and Kendrick says the only way to get additional funding is by doing private practice. As a result, NHS patients fill the sleep center's beds 4 nights per week, and private patients are scheduled on Friday nights.
"It is up to a local service to decide whether they will participate in private practice in addition to the NHS," he says. "Since we are not funded in the same way as the United States, we don't have the same kind of competition issues. In fact, we are all overrun with patients."
Diagnosis and Treatment Options
To cut down on the amount of time patients spend in the unit and to make the process more comfortable for them, the center begins some of its CPAP trials in the home environment. The patient can then come in for laboratory monitoring.

A sleep technician researches a patient's information in the sleep unit's main equipment room.
In addition to monitoring for most typical sleep problems, the Bristol Sleep Centre also offers patients a driving simulator and assesses whether patients with breathing problems are fit to fly. The latter caters to those who are hypoxic, or who have COPD or cystic fibrosis, and may have problems with oxygenation during a flight. In such instances, the center evaluates the person's need for access to oxygen, and then works with the airlines to get such patients to their destination and back again safely. The driving simulator is a simple device devised by the center to examine the effects of daytime sleepiness on traffic accidents. Kendrick says patients basically take "a boring drive" on a computer simulated screen for 20 to 30 minutes and are evaluated for significant daytime sleepiness during the process.
"If we want safe roads, we have to examine this issue," Kendrick says. "The center is currently studying a group of truck drivers using CPAP therapy. It's not about how good a driver you are, it's about not falling asleep during a boring task. And we have found that when such patients are treated with CPAP, it reduces their daytime sleepiness and their performance tends to improve."
Research Projects
The Bristol Sleep Centre not only treats and diagnoses patients, but regularly fills its beds with study subjects for various research projects. While projects involving commercial companies bring in some funds, they more often bring the center equipment donations. The center's major research project at the moment examines the usefulness of auto-titrating CPAP.
"In fact, we have just completed a double-blind randomized study comparing an auto-adapting device to fixed pressure and are currently undertaking a comparison of six commercially available auto-titrating systems," Kendrick says. "Another ongoing project assesses the degree of fatigue in patients. We are trying to separate out fatigue from sleepiness, which allows us to look at the effects of depression and fatigue and examine how that interrelates with sleep problems." The center also is working on a project with Oxford BioSignals using its Neural Net system (BioSleep) to analyze the electroencephalograph (EEG) components of polysomnography studies as compared to conventional scoring.
Education and Outreach
Kendrick and his staff regularly give presentations at national and international meetings on the center's research and conduct teaching in the field. Currently, the staff are running the National Sleep Course for breathing disorders during sleep under the auspices of the Association for Respiratory Technology and Physiology.
"There is no formal recognized sleep course for technologists, so we developed this course to provide basic and advanced professional training," Kendrick says, who is also one of the senior members of the Association of Physiology. "We attracted 46 people at our two basic courses in November 2001, and 25 in the advanced course in February. The center will be offering another course this November, which is already booked."
The basic courses cover sleep physiology, CPAP, advantages and limitations of oximetry, importance of taking a history, how to interpret the recordings, and treating patients as human beings. The advanced course deals with EEGs, pulse-transit time, neural-network analysis, and other sleep disorders in addition to OSA and COPD. "There are about 90 recognized sleep disorders, so we bring in speakers on pediatrics, psychiatric disorders, and narcolepsy," Kendrick says. Students also have access to a range of machines, literature, and computerized textbooks, and the course is a blend of hands-on and formal training.
"We want to give students a broader picture, so this is not just about breathing problems during sleep. We need to talk to patients and understand what their problem is as a whole," Kendrick says.
Additionally, patients are encouraged to stay on top of their own therapy, and may email or call about any problems. They also are able to get into the laboratory on short notice, usually within 24 to 48 hours. The payoff for all that care and attention is patient satisfaction. Kendrick says the Bristol Sleep Centre boasts a compliance level around 90% in the notoriously difficult realm of CPAP therapy, and he sees that as a direct result of the high level of staff interaction.
Long-term plans are to expand the sleep service even more over the next 3 to 4 years. "Since we offer the vast majority of screening techniques now, our main interest would be to expand the number of bedrooms we have, and the amount of equipment," Kendrick says. "That would allow the team to become more active in research, and more people to come and learn about sleep."
Liz Finch is a contributing writer for Sleep Review.
Reference
1. The British Sleep Foundation. Sleep problems. Available at: http://www.britishsleepfoundation.org.uk/disorders.htm. Accessed August 5, 2002.