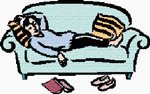 Sleep Disorders Offers Natural Solutions
From explanations of sleep disorders to self-help solutions, Sleep Disorders: An Alternative Medicine Definitive Guide offers natural therapies to relieve insomnia, sleep apnea, restless leg syndrome, and jet lag. This addition to Burton Goldberg's series of alternative medicine guides was written by Herbert Ross, DC, and Keri Brenner, LAc, with Goldberg; it describes biochemistry's role in affecting sleep patterns, including nutritional and hormonal imbalances, and how to reclaim a good night's rest through traditional Chinese medicine, herbs, magnets, and relaxation techniques.
---
NSF Celebrates National Sleep Awareness Week
The National Sleep Foundation (NSF) will sponsor National Sleep Awareness Week on March 26 to April 1, 2001. During the week, the foundation will promote the value of sleep, issues related to insufficient sleep, and solutions to sleep problems.
NSF will conduct a series of events in Washington, DC, including a public policy and sleep leadership forum on March 26, followed by the NSF Gala, which will raise funds for the foundation. NSF will honor individuals and organizations that have positively influenced the sleep-related health field at the event. For more information, visit www.nsaw.org
---
Human Circadian Rhythm Gene Found
Researchers from the University of Utah identified hPer2 as the gene that controls human circadian rhythms. Associate professor Ying Hui Fu, PhD; Louis J. Ptacek, MD, a Howard Hughes Medical Institute investigator who studies human genetic disorders, Christopher Jones, MD, a neurologist specializing in sleep disorders, and David Virshup, MD, researched family groups with familial advanced sleep-phase syndrome (FASPS), a genetic sleep disorder that causes individuals to fall asleep and wake up earlier. The findings, published in the January 12 issue of Science, come less than 17 months after Jones identified FASPS as a genetic disorder.

Investigators linked FASPS to a mutation in hPer2. The syndrome, which typically causes people to fall asleep around 7 PM and awakening at 2 AM, follows the same inheritance patterns as eye color, meaning that it is caused by a single mutated gene.

By studying the gene and the protein that it makes, researchers hope to find a drug to help individuals with FASPS as well as other conditions ranging from jet lag to sleep disorders.
---

RLS Foundation Promotes Physician Awareness
Chartered in 1992, the RLS (Restless Legs Syndrome) Foundation, Rochester, Minn, provides information and support to both physicians and patients who deal with RLS. The foundation works to create awareness about the disease, which manifests in tingling or twitching legs that interrupt sleep.
To promote awareness, the RLS Foundation sends physicians its annual medical bulletin and bibliography. The bibliography catalogs more than 120 references to the disorder. In addition, the foundation sends 25 "Living with Restless Legs" pamphlets for physicians to distribute to their patients. The pamphlet identifies symptoms, treatments, and resources for patients.
"Our main focus with physicians is that once they learn about the neurological condition, the patient's quality of life increases," says Allan O'Bryan, acting executive director. He says that he has noticed an increase in awareness of the disorder in the past 3 years.
"We want the community to know this disorder has a name," O'Bryan says. "It is a real and treatable disorder." For more information, visit (507) 287-6465; www.rls.org.
---
Academy of Dental Sleep Medicine To Hold Conference
The Academy of Dental Sleep Medicine, Wexford, Pa, will hold its 10th annual conference on June 4-6, 2001, at the Chicago Hyatt Regency, in tandem with the annual Affiliated Professional Sleep Societies meeting. The program provides a review for the academy's Credentialing Examination, which will be given June 7, 2001. Continuing education credits are available to eligible participants. For more information, call (724) 935-0836, or visit www.dentalsleepmed.org.