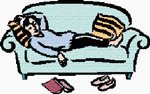 New Drug Reverses Effects of Sleep Deprivation on Brain
Research in monkeys suggests that a new drug can temporarily improve performance and reverse the effects of sleep deprivation on the brain. The study's results are reported online in the journal Public Library of Science-Biology. The drug, currently known as CX717, is designed to act on a type of receptor located throughout the brain that is involved in cell-to-cell communication. It has been tested in sleep-deprived humans with positive results, according to the developer, Cortex Pharmaceuticals, Irvine, Calif.

As part of the study, monkeys were tested after they were sleep-deprived for 30 to 36 hours, which senior researcher Samuel Deadwyler, PhD, of the Wake Forest University School of Medicine, estimates is equivalent to humans going 72 hours without sleep. When compared to when the monkeys were alert, their overall performance on a matching task was reduced under all test conditions, even on the easiest trials. But, when the monkeys were again sleep-deprived and retested after being given CX717, their performance was restored to normal levels.

The drug, known as an ampakine, is designed to target AMPA receptors that are located throughout the brain. These receptors are part of the cellular communication process that involves the neurotransmitter glutamate. The drug prolongs the action of glutamate, allowing more effective communication. Because the drug acts differently from caffeine and other stimulants, it does not seem to result in side effects such as hyperactivity, distorted thinking, or extended wakefulness.
CMS Rules on Overnight Oximetry Testing
A durable medical equipment (DME) supplier may now deliver overnight oximetry test equipment on behalf of a Medicare-enrolled Independent Diagnostic Test Facility (IDTF), says a new Centers for Medicare and Medicaid Services (CMS) ruling. According to the policy, beneficiaries who need to qualify for home oxygen therapy may self-administer home-based overnight oximetry tests under the direction of a Medicare-enrolled IDTF. Further, a DME supplier or another shipping entity may deliver a pulse oximetry test unit and related technology used to collect and transmit test results to the IDTF to a beneficiary's home if the beneficiary's treating physician has ordered an overnight pulse oximetry test, the test is performed under the direction and/or instruction of a Medicare-approved IDTF, and the testing equipment is sealed and tamper-proof. For more information, see the ruling at: www.cms.hhs.gov/manuals/pm_trans/R166OTN.pdf

Daylight Saving Time Extended
Congress has extend daylight saving time by 4 weeks. Beginning in 2007, daylight saving time will start on the second Sunday in March and end on the first Sunday in November. Currently, daylight saving time starts on the first Sunday in April and ends on the last Sunday in October. This change may affect people's total sleep time and quality, says the National Sleep Foundation, Washington, DC.
Snoring Causes Identified
In a study of 40 patients, researchers from Slovenia used CT imaging of the head and neck region to identify the structures responsible for snoring. Based on questionnaires filled out by study participants and their spouses, patients were divided into groups, with 14 nonsnorers, 13 moderately loud snorers, and 13 loud snorers. The results show that how loudly people snored was directly proportional to the extent of inspiratory pharyngeal narrowing. Findings also suggest that the soft palate is the main structure that causes snoring, as nonsnorers' soft palates measure at 3.5 cm, and snorers' measure at 4.0 cm. These findings support Bernoulli's principle that streaming air is the most important factor in the pathophysiology of snoring. The study appears in the August issue of CHEST, the peer-reviewed journal of the American College of Chest Physicians.

Study Offers Clues to SIDS and Sleep Apnea
A new UCLA study that links brain damage to a rare disease called congenital central hypoventilation syndrome (CCHS) provides researchers with clues to help unravel the mysteries of sudden infant death syndrome (SIDS) and sleep apnea. The study, published July 11 in the Journal of Comparative Neurology, reveals that the brains of children with CCHS display stroke-like damage in regions that regulate the cardiovascular system, body temperature, and urination. "By using CCHS as a model to study how the brain controls breathing, we hope not only to help children born with the disease, but also provide insights into SIDS and sleep apnea," said Ronald Harper, PhD, principal investigator and professor of neurobiology at the David Geffen School of Medicine at UCLA.

Harper and fellow researchers performed MRI brain scans on 12 children with CCHS and compared their scans to those of 28 healthy children matched by age and gender. "We were startled to see severe tissue injury in multiple regions of the brains of children with CCHS," said Rajesh Kumar, PhD, first author on the study and a UCLA neurobiology researcher. "This damage prevents different parts of the brain from communicating with each other and blocks the nervous system from responding to involuntary reflexes."

At least 70% of CCHS children tested possess a mutation of PHOX2B, a gene related to brain structures that control blood vessel diameter. Harper hypothesizes that the mutated gene prevents normal development of these regions, resulting in narrowing of the blood vessels and inadequate blood flow to the brain sites that control breathing. "We think that insufficient blood flow starves cells of oxygen in the brain structures that regulate breathing," Harper said. "The breathing disorder results from the brain's inability to develop completely."

Light Treatment May Help Teens Wake for School
Researchers at Rensselaer Polytechnic Institute's Lighting Research Center (LRC), Troy, NY, believe some teenagers who experience difficulty waking up in the morning may actually be suffering from sleep deprivation because their "internal" clocks conflict with the schedules they keep. The LRC research group theorizes that a form of light treatment could help alleviate sleep deprivation in teens by readjusting their internal clocks. However, this can be a problem because some teenagers leave for school very early in the morning either before daybreak or before they have reached their minimum core body temperature. This may result in a delay in falling asleep at night.

LRC researchers are exploring ways to combat this problem, including the development of a light scheme that removes blue light in the morning before the teenager has reached minimum core body temperature. The idea is to use orange glasses in the early hours of the morning to block blue light, and then to expose the teen to blue light later in the morning inside the classroom after the teen has reached minimum core body temperature but is unable to be exposed to daylight.
Research Links Nighttime Deaths and Sleep Apnea to Brain Cell Loss
A recent UCLA study suggests that some people die in their sleep because they stop breathing due to a cumulative loss of cells in the brain's breathing command post. The online edition of Nature Neuroscience reported the findings on August 7.

Jack Feldman, PhD, principal investigator and distinguished professor of neurobiology at the David Geffen School of Medicine at UCLA, and his team had earlier pinpointed a brainstem region they dubbed the preBötzinger complex (preBötC) as the command post for generating breathing in mammals, and identified a small group of preBötC neurons responsible for issuing the commands. This time, the researchers studied the role of the preBötC neurons in generating breathing during sleep, and what would happen if these brain cells were destroyed. When the scientists injected adult rats with a cell-specific compound to target and kill more than half of the specialized preBötC neurons, the team was "surprised to see that breathing completely stopped when the rat entered REM sleep, forcing the rat to wake up in order to start breathing again," said Leanne McKay, postdoctoral fellow in neurobiology. "Over time, the breathing lapses increased in severity, spreading into non-REM sleep and eventually occurring when the rats were awake, as well."

Because mammals' brains are organized in a similar fashion, the scientists believe that the rat findings are relevant to the human brain. "We speculate that our brains can compensate for up to a 60% loss of preBötC cells, but the cumulative deficit of these brain cells eventually disrupts our breathing during sleep. There's no biological reason for the body to maintain these cells beyond the average lifespan, and so they do not replenish as we age," Feldman said. "As we lose them, we grow more prone to central sleep apnea."
BRPT Board Approves Computer-Based Testing
The Board of Registered Polysomnographic Technologists (BRPT) has approved a change to computer-based testing for the RPSGT examination, along with several far-reaching certification and recertification program changes for 2006. BRPT has formed a relationship with Pearson VUE, a leading professional electronic testing company that will oversee the conversion from paper and pencil-based testing to computer-based testing for the RPSGT examination. The first examination administration in this format will occur in March 2006.
---
New Recertification Policies Effective March 2006
The BRPT Board has also approved several new recertification policies, which will go into effect January 2006. Recertification ensures that all credentialed technologists maintain a high level of competence and stay up-to-date with evolving techniques and standards in the field of polysomnography. The new recertification policy requires an RPSGT to recertify every 5 years through continuing education credits designed to provide continued competency.

Breast Cancer Can Cause Sleep Disruptions
Appearing online in Supportive Care in Cancer, a new study by Sonia Ancoli-Israel, PhD, and fellow researchers at the University of California at San Diego suggests that breast cancer can cause fatigue and disturbed sleep before chemotherapy begins. "The point of our study is to examine the relationship between the complaint of fatigue and sleep and circadian rhythms in women undergoing chemotherapy for breast cancer," Ancoli-Israel said.

Using actigraphy, the researchers measured participants' sleep/wake activity before and after chemotherapy. According to the results of the study, the average participant slept for about 6 hours a night and napped for over an hour during the day. The study also found that sleep was reported to be disturbed and fatigue levels were high. "By understanding the causes of fatigue, we might be able to come up with better treatments for fatigue, which would then improve QOL and improve how patients feel as they undergo chemotherapy," Ancoli-Israel said.
ASAA Launches Internet Message Board
The American Sleep Apnea Association, a preeminent provider of information and support to those living with sleep apnea, has launched an online support forum. The Apnea Support Forum, at www.apneasupport.org, is an Internet message board and chat room where people with questions about sleep apnea can get answers, usually from other patients. In its first 6 weeks of operation, the forum had more than 240 registered users, 6,000 visitors, and over 800,000 hits.

Risk-Taking and Sleep Linked in Adolescents
In a recent study found in Behavioral Sleep Medicine, Erin M. O'Brien, MS, at the University of Florida and Jodi A. Mindell, PhD, from St. Joseph's University and the Sleep Center at Children's Hospital of Philadelphia, found that sleep-wake patterns were associated with risk-taking behavior in adolescence. For the study, 388 adolescents (217 males, 171 females) completed the Sleep Habits Survey and the Youth Risk Behavior Survey. According to an abstract of the article, the results indicated that adolescents who reported delayed bedtimes on weekends and higher levels of sleep problems also reported significantly higher levels of risk-taking behaviors. The authors also found that delayed bedtimes among students were related to their academic performance in this sample.