By Todd Morgan, DMD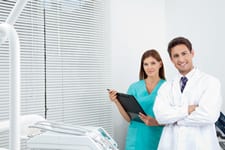 Dental sleep medicine (DSM) is expanding as a field faster than any other area of dentistry. Getting started treating sleep patients requires additional dental training and may initially challenge the novice practitioner from the standpoint of understanding the medical protocols associated with treating this subset of patients. Getting a successful start requires an alliance with a physician or sleep lab and an understanding of the medical management of obstructive sleep apnea (OSA). Helping these patients is challenging but also extremely rewarding. Prior to entering the practice of DSM, dentists need to be familiar with oral appliance education, reimbursement, treatment, and practice protocols. Likewise, sleep physicians who are partnering with dentists to provide oral appliance therapy (OAT) should make sure that the dentist has answered key questions about offering OAT.
1) How can dentists get educated about DSM?
Many good learning courses are available around the country. Dentists should start with the American Academy of Dental Sleep Medicine, which offers courses tailored to the dentist's level of interest and experience. The AADSM has been established for more than 20 years and is oriented to developing a skill set rather than learning one particular device or "turnkey" approach. A number of device manufacturers offer informative courses focused on OSA education and the role of dentistry; however, those that encourage the purchase of expensive equipment or teach a one-device-fits-all approach should be scrutinized. Once a dentist narrows down the choice of devices they would like to use, they can obtain expertise for fitting the appliances from the manufacturer or their supporting laboratory. Courses also can be found online by searching for "dental sleep medicine education."
2) How does the dentist establish a referral network?
One of the essential keys to success in DSM is an alignment with a sleep physician in the dentist's community. This is most easily accomplished by a visit to a local sleep laboratory. Meet with the medical director and bring lunch for the staff. I recommend a humble approach and a solution for the doctor's mild to moderate sleep apnea patients and for those who struggle with CPAP compliance. Building a mentoring relationship that is reciprocal regarding patient referrals and sleep testing is key.
Primary care physicians (PCPs) are also an excellent referral source since these are the physicians that patients see for routine care. Dentists might start networking with patients' primary care physicians, especially those patients who snore and may have OSA. PCPs have much experience with failed CPAP patients and are open to alternative solutions. New potential referral sources also are emerging, such as long-term care facilities, now that Medicare has established reimbursement for oral appliances.
It is also critical that dentists establish in-network relationships with payors if they want to increase their volume of patients. Patients expect in-network relationships, and if they are not formed, the referrals will be slim.
3) How does a dentist identify payors in the market?
Medical insurance processing is one of the major hurdles in DSM, but is quite necessary to master to be successful. Not only do patients expect their medical benefits to be handled smoothly, the physician referring the patient does as well. The quickest way to lose the confidence of a physician is for them to receive a financial complaint from a patient. Becoming a durable medical equipment (DME) provider for Medicare is recommended and opens the door for physicians to have increased confidence in the referral process to the dentist. Dentists should ask the sleep labs about the more prevalent insurance carriers in their area, then contact these companies directly to inquire about credentialing for oral appliances.
4) How does a dentist fit this therapy into their general practice?
There are many patients within a given dental practice who have undiagnosed sleep apnea. If the dentist starts with this patient population, they can expect those patients to benefit from breathing better at night. Start with questions, for example, "Do you snore?" Standardized questionnaires, such as the ARES, Epworth, and Berlin questionnaires, are available and can be completed in minutes, and at a recall visit. These questionnaires can be used to screen for OSA. It sounds clichéd, but to generate interest, dentists should have a sign in the office saying that they treat snoring and apnea. A hygienist can take that conversation further and can invite the patient back to meet with the dentist. The first appointment should be a consultation that includes the "how and why" of airway collapse and proceed to explain how oral appliances work to solve health problems. The rest of the appointment scheduling includes the impression and fabrication, delivery, and then follow-up. Dental auxiliaries can be utilized for most of this process following adequate training.
5) When does a dentist know IF a patient is a candidate for oral appliance therapy?
Finding patients is easy once the dentist knows what to look for. The "classic" patient with OSA is morbidly obese, but actually this may account for only about one third of those patients with apnea.1 OAT works by improving airway caliber in the lateral dimension and typically works best in those patients who display craniofacial narrowing, which is a common characteristic in OSA patients who are not obese. The literature describes best responders to OAT as those patients who have a lower body mass index and a lower apnea/hypopnea index or AHI (milder OSA), and are younger. New research shows that those apneics with a greater AHI while sleeping in the supine position are especially good candidates, although this is not well understood.2 Dentists also should consider patients who have failed other treatment modalities for OSA as candidates for OAT since even a partial improvement impacts quality of life and longevity.3 With that said, contraindications include lack of dental support (lack of teeth, tissue disease, bone loss) and central sleep apnea.
6) How does a dentist measure outcomes with oral appliances?
Measuring the results of treatment is standard practice in medicine and takes the dentist to a new challenge. Both subjective and objective measures are important in OSA. Quality of life questionnaires such as the Epworth Sleepiness Scale, for example, provide some structure in quantifying change in mood and sleepiness. Equally as important, of course, is resolution of OSA.
Home sleep testing (HST) devices have been utilized to measure progressive changes in OSA as a patient is moved through the titration/calibration process. Repeat HST has been popularized in DSM, and has become an important method in optimizing jaw position prior to referral back for a final polysomnogram in the sleep lab. However, this raises controversy regarding dentists performing diagnostic testing in sleep. Proponents suggest that these "progress" or "calibration" studies help to guide therapy decisions and there is no intent to diagnose outcomes. Further, although there is no stated policy from the American Academy of Sleep Medicine (AASM) regarding final titration of jaw position during PSG, newer literature supports using the follow-up PSG to further adjust jaw position during the night, similar to CPAP titration, and this may improve outcomes even further by as much as 30%.3 Recent studies also have explored oximetry as a screening method.
7) How does a dentist choose the right appliance for each patient?
With more than 60 oral appliance designs currently available, the best advice is to stick with those that are E0486 code verified and have peer-reviewed evidence supporting their use. A number of appliances with peer-reviewed support include the Herbst-type appliances, TAP, Klearway, Somnodent, and PM positioner. Noncustom appliances lack luster and are not recommended for long-term use. Make sure that the appliance used has FDA clearance for the treatment of OSA. Finally, all appliances seem to create side effects in a percentage of patients. The popular trend to counter occlusal changes is use of "morning repositioner" appliances and/or exercise. Part of choosing the right appliance is watching for side effects and careful follow-up.
Patient satisfaction and comfort are always important factors in long-term adherence to therapy. The final decision on appliance design may involve the patient's input and tailoring treatment to their needs. This is a lesson learned from the CPAP world and is analogous to selecting the correct mask for a patient.
8) What records and documentation should the dentist keep?
When a dentist practices dental sleep medicine, they must follow the medical model for documentation of the sleep diagnosis, patient complaints, physical inspection, as well as a plan for treatment, timely follow-up, and interaction or referrals to other practitioners when necessary. Dentists are responsible for having a documented physician referral and order for OAT, copies of sleep studies, and data on noncompliance with CPAP (if tried). When dentists treat OSA, they are treating a medical disorder and billing medical insurance companies that expect a standardized approach leading to a claim. An easy way to ensure proper documentation is by purchasing software that guides the dentist through a SOAP (subjective observations, objective observations, assessment, and plan) style of record keeping. There are also inexpensive web-based patient management systems that are available.
9) How should a dentist follow up with sleep patients?
OSA is a chronic disease, similar to diabetes or periodontal disease, and must be managed over time. Routine follow-up is essential until a decision is potentially made to pursue other therapies, which is a decision that belongs to the patient and their physician. This is why co-management, along with physician colleagues, is paramount to success. Patients have a duty to contact their sleep dentist or physician when a problem is perceived, of course, but best practice suggests a yearly "recall" appointment to check fit, therapeutic effect, and any impact upon dental health. Dentists may be sharing these patients with a family dentist, as well, who can be of help and should be included in periodic progress updates. The effectiveness of OAT may diminish with time due to added body weight or other health problems, leading to a return of sleepiness and fatigue. Sleep testing is, therefore, highly recommended on a periodic basis, and should be tailored to suit each patient's risk. An agreement between the dentist and the partnering physician on how patients should be followed is helpful and cements the relationship.
10) When should a dentist get started in dental sleep medicine?
Currently, there is plenty of opportunity for dentists to offer oral appliance therapy. Given the high prevalence of undiagnosed OSA and its devastating effects on health and quality of life, dentists can expect the DSM field to become an even more important choice for OSA patients in the years to come. The dentist contemplating entry into DSM will likely find an abundance of patients in their own practices who need oral appliance therapy. As soon as dentists begin to recognize the signs and symptoms of OSA in patients, sleep apnea patients will begin to realize the tremendous service the dental community can provide.
Todd Morgan, DMD, is board certified in dentistry and dental sleep medicine. Morgan is internationally recognized as an expert in the field of dental sleep medicine, and has completed several clinical research studies and published many scientific papers on the treatment of snoring, sleep apnea, and headache with dental devices. Questions for Morgan can be submitted to [email protected].
References
1. Young T, Shahar E, Nieto FJ, et al. Predictors of sleep-disordered breathing in community-dwelling adults: the Sleep Heart Health Study. Arch Intern Med. 2002;162(8):893-900.
2. Chung JW, Enciso R, Levendowski DJ, Morgan TD, Westbrook PR, Clark GT. Treatment outcomes of mandibular advancement devices in positional and nonpositional OSA patients. Oral Surg Oral Med Oral Pathol Oral Radiol Endod. 2010;109(5):724-31.
3. Almeida FR, Parker JA, Hodges JS, Lowe AA, Ferguson KA. Effect of a titration polysomnogram on treatment success with a mandibular repositioning appliance. J Clin Sleep Med. 2009;5(3):198-204.