By Loretta Colvin, APN-BC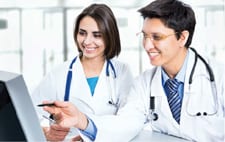 The face of health care is rapidly changing. Forced out of the comfort zone of their training, physicians are becoming computer-toting, e-prescribing professionals, multitasking as clinical experts, team managers, and business leaders. As health care continues to change, physicians and other health care leaders are faced with pressures to control costs and improve access, while maintaining quality. Consequently, there is a shift to use other specially trained health care providers, including advanced practice nurses (APNs) and physician assistants (PAs) within clinical settings.
Additionally, pressures are felt within sleep medicine. The shift to home-based testing is changing traditional diagnosis and treatment paradigms. As treatment shifts toward home positive airway pressure (PAP) auto-titration, the effects will be felt within the sleep clinic as therapy issues previously identified and addressed during attended titration present in the office setting. Additionally, the recognition and acceptance of behavioral approaches to treat insomnia exert more pressure for time on the clinicians in the sleep clinic. The need for trained sleep providers will presumably increase with the anticipated rise in insured patients seeking health care. And, with recent changes to sleep physician board certification, there is a potential rate-limiting step for physicians entering professional practice within sleep centers.
As APNs and PAs become more visible within sleep centers, sleep professionals need to learn more about their background, training, and capabilities. This will lead to a better understanding of the APN and PA in general and prepare those who may be considering employing these professionals in a sleep role.
Terminology and Background
APNs are nurses who generally have a master's degree and some have a doctoral degree. Within sleep clinics, the nurse practitioner (NP) and the clinical nurse specialist (CNS) are the more commonly encountered APNs. Their training and certification are specific to either a patient population (eg, pediatrics) or a practice environment (eg, primary care). The NP is most commonly found in direct patient care, while the CNS is often in a clinical expert role such as a staff educator. Most APNs hold national certification in their area of training; no specific sleep disorders certification is available nor is sleep a significant portion of a formal curriculum. Some states, employers, insurers, or other regulatory bodies may require national certification to perform certain functions (eg, drug prescribing). State boards of nursing oversee APN practice.
PAs have a bachelor's degree, often in a biology or health-related field, and generally earn a master's degree in their PA program. PA training is a generalist training with rotations in office and facility settings. A national certification examination is available and such certification is generally held by PAs. As with APNs, certification may not be required for all duties, but can be a requirement for certain functions such as medication prescribing. There is no specific sleep certification or formal curriculum in sleep of any significant amount. PA oversight is through the state medical board.
Colleagues outside the professions can struggle with the terminology. It can be difficult to use a term that is suitable to both professional groups and describes them collectively. The Drug Enforcement Agency (DEA) uses the term mid-level provider and the Centers for Medicare and Medicaid Services (CMS) uses the term non-physician practitioner. Some sources classify these professionals as other health care provider. It may be the preference of individuals to be referred to collectively as APNs and PAs or separately by their own training or certification background (eg, PA, NP, or CNS).
Although differences exist between APN and PA background, education, and roles, the differences are not necessarily apparent to the patient or staff in the clinical setting.
Formal Education and Training
APNs and PAs complete a core curriculum that includes physiology, pharmacology, physical assessment, diagnosis, and treatment management. All programs will include clinical rotations in a variety of settings. The exact number of hours devoted to a particular subject or clinical experience may vary; programs are approximately 2 years of full-time study.
Recent graduates from an APN or PA program can perform a medical history interview and physical examination and utilize this information to develop a plan of care. Their training is in common medical disorders or those they encountered in clinical rotations; however, their knowledge of sleep disorders may be limited. Generally, billing is not a topic covered in formal education programs.
Do Your Research
For those who are considering hiring an APN or PA, it is helpful to seek advice from colleagues. Reach out to another practice in the area that employs APNs or PAs to ask general questions. They can offer information about skills and roles within their practice environment and share their experience with insurers and state boards. If the opportunity exists, talk directly with the APN or PA in the practice and get their advice. Additionally, they will have advice on models that seem to complement APN or PA skills. Connecting with sleep medicine colleagues who employ APNs or PAs can provide insight into their experience and guidance for a successful transition into the world of sleep.
Evaluate Practice Needs
How will an APN or PA supplement the practice? Commonly, the APN or PA may practice within a PAP clinic environment either providing direct mask and equipment education or working in partnership with another team member such as a respiratory therapist to provide this type of care. Additionally, the APN and PA can provide extensive evaluation and education to patients with insomnia, which can include the incorporation of behavioral elements. The APN or PA is qualified to review sleep study results, discuss them with the patient, determine a plan of care, and document this discussion during a billed visit. The role an APN or PA plays in scoring and review of sleep study data may vary; final interpretation of sleep study results is the responsibility of the physician. Many APNs or PAs have other roles including triaging patient phone calls, establishing protocols or procedures, and interacting with durable medical equipment providers and other vendors.
Finding the Best Fit
When reviewing resumes, look for relevant work experience or educational experience. Ask candidates to provide details on their clinical rotations including patient population and clinical site. Request sample patient write-ups (de-identified, of course) to evaluate the complexity of the patients they were responsible for. Ask them if they had education and training for the age groups you anticipate they would serve. If they can use the electronic health record, view patient schedules, and find key clinical locations, this can shorten the training time after hire, allowing more focus on the sleep-specific content of the training.
During the interview, ask the candidate about their own assessment of their skills, interests, and strengths. One candidate may prefer face time with the patient as their primary role, while another candidate may be more interested in an administrative role. Have they worked in an outpatient practice before and billed in this role? Assess their personality: would they be approachable to patients experiencing problems with device therapy or patients reluctant to adopt behavioral changes to treat their sleep disorder?
The Fine Print
The regulatory limitations for APNs and PAs vary widely by state. Contact the respective state board and ask them for guidance. In particular, ask about geographic limitations, collaborative physician oversight requirements, controlled substance prescribing, and any certification concerns or requirements. If there is a need for advanced mental health care, ask questions specific to this.
CMS recognizes APNs and PAs as professionals eligible to provide billed medical services to the extent allowed by their state. Individual private insurance companies determine their own policies. Local colleagues can help navigate the ins and outs of individual insurers. In some cases, insurers may require hospital privileges in order to be approved as a member of the insurer network. If this is required, ask the practice's affiliated hospital about the process for an APN or PA applying for a hospital appointment and the timeline.
Also, keep the timeline for the regulatory and billing elements in mind. Insurers may not review an application until the APN or PA has state licensure or other necessary approvals. Additionally, they may await hospital approval before beginning their review. Submitting paperwork to the relevant state boards prior to the employee start date may speed up the process to move a newly hired employee into a position to bill independently when needed and ready.
When considering using an "incident to" billing model, do thorough research. It applies only to certain billing codes and settings, has requirements for establishing and maintaining the plan of care, and requires an on-site physician when the care is delivered. This is an area often misunderstood and could be the target of insurer review; consider seeking information from a billing or compliance expert. Each insurer will have their own guidelines that may not follow CMS guidelines.
Plan for Sleep Training
Be prepared to provide sleep training through on-the-job training and formal educational opportunities. The APN or PA has a background in clinical care, not necessarily in interpretation of diagnostic tests like polysomnography. Start with shadowing in the clinic before sitting the APN or PA down to review sleep study scoring. If they will have an active role in PAP therapy management, time with a respiratory therapist is helpful. Prioritize diagnosis groups based on what is most commonly seen within your practice. If the office sees a large percentage of OSA patients, then focus on these patients for the first months. This allows the APN or PA to develop skills in sleep interviewing, sleep study report review, and diagnostic criteria and to become familiar with diagnostic and therapeutic equipment.
Unfortunately, there is little formal training available for the APN or PA in sleep. It may be necessary to provide relevant clinical guidelines and articles with the appropriate clinical focus specific to the APN and PA role. Investing in education and travel expenses is necessary in order for the APN or PA to take advantage of educational opportunities specific to their needs. These opportunities and conferences also offer a chance to network with other APNs or PAs to help them identify other educational resources and learn more about role development.
Take the Plunge
Adding an APN or PA to the practice team can be a rewarding experience with the right knowledge and expectations. The addition of an APN or PA may offer the "face time" that patients crave and certain sleep disorders require, but be sure the current practice model is able to support these roles, or be prepared to make necessary changes.
Having the appropriate expectations is critical; they are not "mini sleep fellows" entering the job market with extensive medical and sleep training following a formal and recognized curriculum. They come with varied educational, work, and life experience, which will be strengths they bring to the practice. However, an individualized training structure may be needed.
APNs and PAs are professionals interested in developing a long-term career. There is an investment in time initially, but the rewards and return on investment will pay dividends.
Loretta Colvin, APN-BC, is a nurse practitioner at Clayton Sleep Institute in St Louis. She has practiced within sleep centers for over 6 years, with experience in both academic and community-based settings. Questions can be e-mailed to sleepeditor@allied360.com.