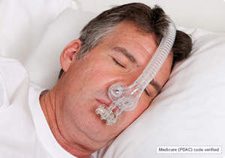 Airway Management (AMI), a leading manufacturer of oral appliances for snoring and sleep apnea, earned one of three product awards at the Medtrade Spring 2013 conference, which was held in Las Vegas on March 19-21, 2013.
The company's CPAP delivery device, the TAP PAP Nasal Pillow Mask, won the Provider's Choice Award at the conference.
Airway Management released the TAP PAP Nasal Pillow Mask in February. The mask features an overhead design that anchors to the upper teeth to provide extra stability and virtually eliminate air leaks, while making headgear optional, according to AMI.
Read more about the product in Sleep Review here.