Anuj Chandra, MD, DABSM, learned as a child the importance of community outreach—a practice he continues today, whether working with patients at the Advanced Center for Sleep Disorders or teaching future sleep medicine professionals in the developing world.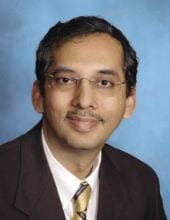 Anuj Chandra, MD, DABSM
As a child in India, Anuj Chandra, MD, DABSM, would often find neighbors and strangers at his front door seeking medical advice from his family of doctors.
"People would come to our house from all over—whether it was the person who did the lawn or some of the neighbors' relatives," he recalls. "People would just saunter in and say, 'Oh, can I have my blood pressure taken?' For me, it was just this whole culture of healing and caring that I grew up in."
This culture of healing and caring for one's community has greatly informed how Chandra now runs his own AASM-accredited sleep medicine practice at the Advanced Center for Sleep Disorders, which has locations in Chattanooga and Cleveland, Tenn.
Founded in 2005 by Chandra, the center's main location in Chattanooga is literally and figuratively a home. Set up in a modified house to create a home-like environment, the center is determined to make patients comfortable—to make them feel at home.
"Outside and inside, it's just like a home. It's a home that functions as a sleep center, yet it has the highest technological standards," says Chandra, adding that each room contains a flat screen TV, computer, and high-speed Internet for patient use.
But beyond the creature comforts, the Advanced Center for Sleep Disorders prides itself on looking at the whole patient and addressing multiple sleep disorders.
"When the patient comes to you, he doesn't have only one particular sleep disorder. Chances are, if you're really looking, one, two, three, or four other things are going on. The patient who has sleep apnea may also have insomnia or possibly restless leg syndrome, so we really look at the whole gamut," says Chandra. "We have a comprehensive sleep center and offer diagnosis and treatment for the entire spectrum of sleep disorders."
The center boasts a diverse team of sleep professionals who, according to Chandra, are at the heart of its success. "From the sleep center coordinator who goes the extra mile to accommodate patients' schedules, to the premed students, visiting physicians, and nurse practitioners, to a sleep medicine educator—everyone is so focused on improving patient outcomes," he says.
And while this team approach sometimes means higher overhead, Chandra maintains that the cost is worth it. "I sleep better because I know the patients we see at our center are getting the best care."
For Chandra, providing patients with the best care also involves making them active participants in their treatment. The key to this is patient education.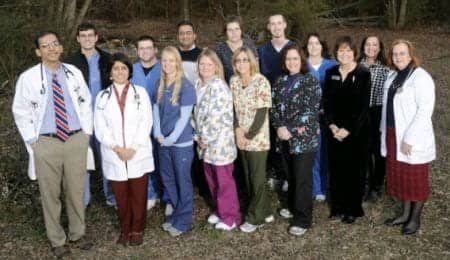 Anuj Chandra, MD, DABSM, and Advanced Center for Sleep Disorders staff.
"One of the ways we really stand out is that we spend an enormous amount of time and resources in patient education. We feel that awareness and education about sleep disorders and making the patient part of the treatment regimen are critically important," says Chandra. "We ask the patient to be a partner in the treatment."
Scaring the patient with the risks and complications of noncompliance with treatment does less good than making sure a patient really understands their disorder and why a particular treatment option is best, according to Chandra. And this focus on patient partnership, adds Chandra, has resulted in higher compliance rates.
"We have very high compliance rates with CPAP—over 85%, which is unique because nationally we know that only 40% to 50% of people are using CPAP at any given time," he says.
And the reward for getting patients to comply with treatment, says Chandra, is seeing them get better.
"It's really rewarding to see patients who have failed treatments at other sleep centers come to us and get better," he says. "One of the most gratifying things to me has been that we serve over a 150-mile radius. People are not driving such long distances because of lack of availability. We are succeeding in getting them compliant with their treatment, whereas they had failed in the past."
Chandra brings a unique perspective developed over the last 14 years to his practice and patient treatment. A graduate of the University College of Medical Sciences in New Delhi, India, he pursued a graduate degree in otolaryngology at the University of Delhi. Upon coming to the United States, he did several rotations at Beth Israel Deaconess Hospital in Boston, an affiliate of the Harvard Medical School, and went on to do his internship and residency in internal medicine at the University of Connecticut. He also pursued a 1-year fellowship at the University of Utah Medical Center in Salt Lake City.
Chandra sees his start in internal medicine and as an ENT as an advantage for his patients at the center. "It [gives] me a whole perspective of both the surgical aspects of the treatment of sleep apnea and then also the medical aspects of sleep disorders in general."
Ultimately, Chandra found his way to a sleep specialty after repeatedly seeing patients who were never asked about their sleep history as a part of the diagnostic process and realizing what a disservice this was to their health.
"There were patients coming in all the time and nobody even bothered as a physician to take their sleep history," he recalls. "They'd been treated for five other medical problems, but sleep history had never been addressed. I found that [sleep medicine] was still a field that was so untapped and there was such a huge need."
Chandra pursued studies in sleep medicine at the Stanford School of Sleep Medicine, the Atlanta School of Sleep Medicine, and the American Academy of Sleep Medicine. In 2004, he became board certified in sleep medicine through the AASM. In 2010, he received an additional board certification in sleep medicine from the ABMS (American Board of Medical Specialities).
Besides running the facilities in Chattanooga and Cleveland, he also has an office at the Memorial Regional Sleep Center and reviews sleep studies at Parkridge Hospital (an HCA facility).
As a sleep physician, Chandra realizes his impact can reach beyond the doors of his practice to serve his larger community just as his family did back in India.
"To me, [pursuing a specialty in sleep medicine] was a unique opportunity, not only to practice this field as a doctor, but also to educate the entire community," he says.
And the community he is reaching is large. Chandra hosts a segment on WDEF Channel 12 News, the local CBS station in Chattanooga, focusing on sleep problems. And viewer response has been good.
"The telephone lines are off the hook with calls from patients. They are all just great questions," he says.
And for Chandra, such a response from the general public shows how big the need is to address sleep health.
"It just reaffirms my belief that sleep disorders are among the most underdiagnosed of any conditions because they masquerade as so many other things," he says. "It looks like fatigue, lack of energy, tiredness. People get used to feeling a certain way, but once they get treated, they get this resurgence of energy and this feeling of rejuvenation."
In addition to his TV segment, Chandra has taken on more grassroots education outreach opportunities in his community, helping organize Chattanooga's first AWAKE chapter. AWAKE, which stands for Alert, Well, and Keeping Energetic, is a support group for people with sleep apnea and other sleep disorders.
Chandra, whose wife Lokita Pandit is also a doctor with a specialty in sleep medicine, has even gotten the couple's two daughters—Anjali and Alisha—in on his outreach efforts to stress the importance of sleep.
"There is so much sleep medicine that's discussed in the house that they have both become little representatives of the betterment of sleep in their schools and among their friends," he says.
But just as his outreach efforts to bring awareness to sleep do not stop at the center's doors, they do not stop at Chattanooga's city lines. They extend all the way to the developing world.
Since 2005, Chandra has served as part of the international teaching faculty of the National Sleep Medicine Course, a physician education initiative that brings sleep medicine training to his native India.
"We have physicians who come from all over India to attend," he says. "It's been very gratifying because people have gone on to start their own sleep centers. We've had such wonderful feedback."
According to Chandra, the course continues to grow and the team has received requests to bring the course to other parts of the world.
"So far, what we've done has borne good results, and it's continuing to bear fruit and grow," he adds.
Pervading Chandra's work is the message that sleep is vital to overall health—it is a message that he reiterates to patients at the Advanced Center for Sleep Disorders and that he extends to his community in both Tennessee and abroad.
---
Sarah Russel is a freelance writer based in Reseda, Calif. Alison Werner is associate editor of Sleep Review. The authors can be reached at sleepreviewmag@allied360.com.