by Franklin A. Holman
ABC News asks, "Should we all be on Provigil?"
Calling Provigil "Viagra for the Brain," a recent segment on Nightline seemed to almost challenge viewers to join a "secret society" of underground Provigil users who take the drug to get an advantage in being successful. The segment provoked a statement from the American Academy of Sleep Medicine (AASM) and gave reasons for added diligence among health care providers who prescribe the drug.
"I am very concerned that people have discovered yet another wonder pill they can pop when they get tired instead of figuring out how to change their lives in order to get the rest they need," said Craig Schwimmer, MD, MPH, FACS, founder and medical director of The Snoring Center. "Not a day goes by in my practice that a patient doesn't ask me for a prescription for sleeping pills or for a drug to increase their alertness during the day. It is a growing problem."
The problem was highlighted by the users of the drug who were featured in the accompanying article to the Nightline segment. "[It] can be the difference between I'm just making it through the day to I had the best day of my life," Dave Asprey, an executive of a billion-dollar Internet security firm who often starts his day at 4:45 am by popping Provigil, told ABC News.
WEB POLL
An ABC News article about Provigil says prescription sales for this class of drugs have increased by 73% in 4 years, from $832,687,000 in 2007 to $1,440,160,000 in 2011, according to IMS Health. Is Provigil overprescribed?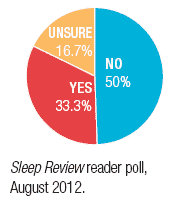 Another user, a lobbyist who wakes up at 5 am to hit the gym, told ABC News, "I could not do this without Provigil. You know, it just wouldn't be the same. It's amazing. … I just don't get … why more people don't know about it."
According to the AASM, there is little evidence to support the use of Provigil or any other drug to improve learning and memory, and no medication provides such benefits without side effects. Provigil is a schedule IV controlled substance that carries risk for abuse and dependence and should be used only under the supervision of a doctor for the treatment of excessive sleepiness caused by narcolepsy, obstructive sleep apnea, or shift work disorder.
"It strikes me as shortsighted and dangerous to think that we can outmaneuver our innate need for sleep by popping pills—particularly pills with no long-term safety data," Schwimmer said. "Is there really any reason to think that this latest pharmacological fad is any different than all those that came before it that are abandoned once the risks are ultimately proven to exceed the rewards? This is a deeper problem that needs to be addressed by promoting a healthy lifestyle that includes adequate sleep."
This is where you, the sleep professional, come in.
"Sleep professionals need to be aware and educate patient/consumers that the drug has only three unique indications and to go outside of these has not been tested and will potentially put you at risk," says Gregory W. Bernard, DC, RPGST, of HealthPartners/Regions Hospital, Minn.
Read the ABC News article and join the discussion about Provigil use at Sleep Review?'s LinkedIn page.
—Franklin A. Holman
[email protected]