Untethering patients from sleep study equipment can be advantageous—but there are potential aspects that could trip up sleep specialists.
By Lindsey Nolen
Sleep lab manager Jay Hemnani, RPSGT, has had more patients ask him than he can count: "Can't they make [sleep study equipment] wireless?" So when the equipment at sleep disorders center FusionSleep in Atlanta was reaching the end of its useful life, it didn't take much convincing to purchase a wireless system for improved patient comfort.
"We use the [Nox] A1 system with all of our patients including pediatrics, except for the select few that require an extended EEG montage," Hemnani says. "Patients can sleep on either side of the bed and in whatever position is comfortable for them without any concern of getting tangled up in the equipment. We have also noticed that patients are more comfortable getting up and going to the restroom in the middle of the night, since there is nothing that needs to be disconnected by their technologist."
Nox Medical's A1, which launched in the United States and Canada in 2020 and several years earlier in Europe, is one of several PSGs on the market with wireless sensors.
SOMNOscreen HD, which SOMNOmedics launched in the United States in 2016, was designed to accept up to six wireless sensors. The first of those—a wireless periodic limb movement sensor—was released in 2019.
Julia Sarmiento, director of SOMNOmedics America, says wireless sensors were the next logical step for the company. "We see the trend going to more ambulatory studies in general and also more studies where the patients apply the sensors themselves at home. Therefore, a focus of making the process of applying the sensors easier will make the measurement results more accurate and reliable," she says, adding that SOMNOmedics wireless sensors have built-in amplifiers and "the sleep tech can even choose the sampling rate and adjust it from 64-512 Hz."
Why Wireless?
Dennis Hwang, MD, a sleep and pulmonary medicine physician at the Kaiser Permanente San Bernardino County Medical Center, sees advantages to wireless technology. He uses the Nox A1 PSG, which was designed with the option for patients to use it at home. "We are using the Nox A1 to push the envelope and expand the spectrum of appropriate diagnostic approaches for sleep disorders with the goal of making the process more effective, efficient, and personalized to the needs of each individual patient," Hwang says. "We're able to perform polysomnography and even multiple sleep latency tests at home in the patient's natural sleep environment. Utilizing [wireless PSG] in this fashion improves patient access to care by improving our testing capability and removing barriers for patients unable to undergo polysomnography in a sleep center overnight. We believe that this is an important strategy to help address racial and demographic disparities that exist in healthcare."
According to Nox Medical's chief product officer Ingvar Hjalmarsson, "Today's technology offers an abundance of opportunities to facilitate wireless sleep medicine. Our product vision goes much further than just wireless. We have a lot of experience with Bluetooth, and we see opportunities with technologies such as edge computing, cloud computing, IoT [Internet of Things], machine learning, and artificial intelligence."
CleveMed and Compumedics developed wireless PSG systems early, nearly two decades ago. Hani Kayyali, president and CEO of CleveMed, says the original objective was to improve equipment portability and simplify setup in a sleep center, on the hospital floor, or at home. Kayyali is happy to see stronger movement in that direction.
"We believe simplification of usage and support have a future in all applications, especially high-volume often-complicated procedures like PSG," Kayyali says. "Being the original manufacturer of the hardware and software gives us an advantage in making and supporting demand. The other important aspect of our system is that it is totally wireless, including the audio/visual. So our software links in data from the wireless camera and intercom with the PSG data for a complete wireless setup."
Having offered wireless PSG/EEG since 1998, Compumedics currently provides a range of equipment that encompass both wired and wireless hardware solutions. "Our belief is that there will always be a need for a mix of capabilities and hardware solutions. While the focus or most prevalent demand may shift in time, there will be a need for both wireless and wired solutions, as there is a need for simple [home sleep testing] and screening type diagnosis and more complex multimodal diagnosis, along with research needs as well," says Warwick Freeman, chief technology officer at Compumedics. "The direction is to have a range of solutions where each solution is more tailored to a particular usage scenario. The analysis and reporting, as well as data management, should layer seamlessly over the data collection process." Compumedics wireless and wired solutions are supported by a common software platform and management system to ensure analysis and reporting activities are shared.
Todd Eiken, RPSGT, FAAST, vice president of product development at Dymedix Diagnostics (which makes two-in-one sensors to reduce wires but does not make wireless sensors), also believes the development of wireless PSG is a worthwhile endeavor. Eiken believes removing wires can increase testing availability to the undiagnosed population, as well as make it easier for providers to establish level 1 testing services in existing facilities with minimal renovations.
[RELATED: In-Lab Polysomnography (PSG) Comparison Guide]
But Watch Out For
With fewer wires, patients are generally less threatened by the technology. But Nox's Hjalmarsson stresses wireless technology must be sound and built on industry standards—proprietary wireless technologies have a tendency to stray from the herd in terms of development and capabilities, in his observation.
SOMNOmedics America's Sarmiento says challenges include wireless technology being more expensive than its wired counterparts and extra requirements like internal batteries that must be charged and recharged. Also, the wireless sensor must communicate with the correct main device during the whole measurement and data recorded wirelessly must in sync with the rest of the measurement. Another risk to watch out for: Sarmiento has witnessed wireless sensors "disappear;" that is, they are so small that patients and staff forget they exist—until the sensors are later rediscovered in a load of laundry.
Where Next?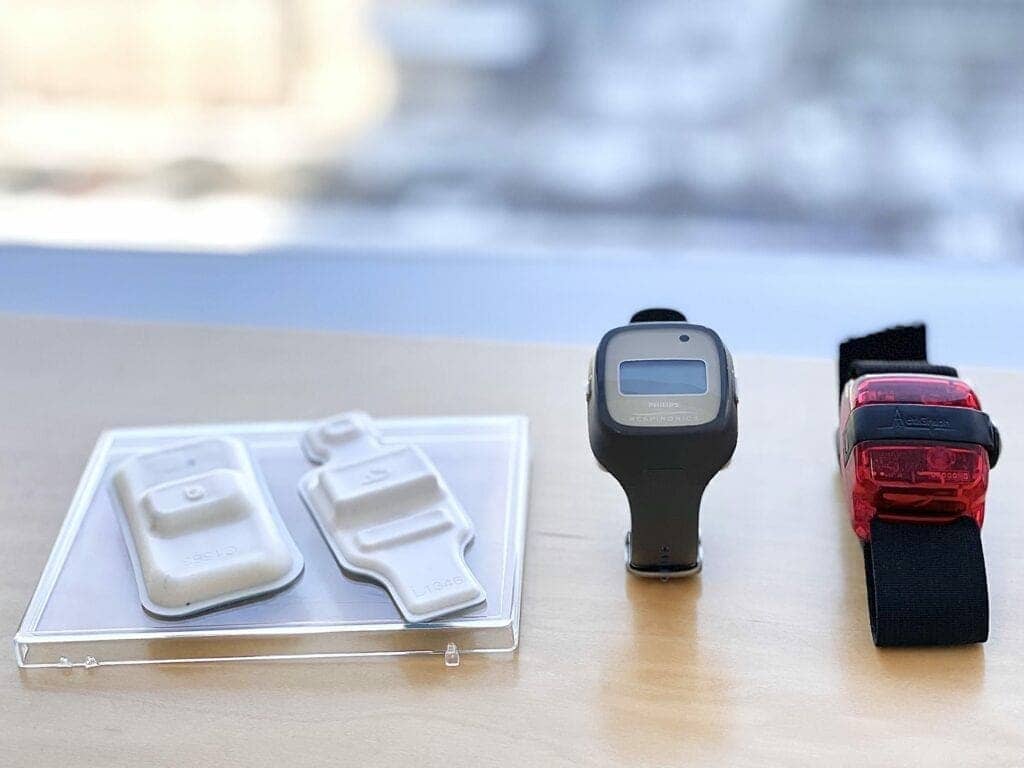 Adam Horin, PhD, a postdoctoral research fellow at Shirley Ryan AbilityLab, is part of a team that studies wireless technology. In a recently published study, the team showed how it is possible to reduce the number of sleep study sensors to as few as five wireless sensors versus the 13 wired sensors commonly used for polysomnography—while still yielding high performance for sleep stage classification.1 In-lab PSG "is very accurate, but also costly and time-intensive," Horin says. "Additionally, we may not be getting a good picture of someone's real-world sleep structure and behaviors when they are sleeping in an unfamiliar clinic setting, with many wires around their head and body. Wireless sensors allow for a more comfortable experience, and sleep measures can be calculated from these sensors and made readily accessible."
New sensor modalities will play a large role in the advancement of wireless sleep monitoring, Horin says. "There are a variety of sensor types, such as flexible adhesive sensors, watches, and wireless electroencephalography (EEG), which can noninvasively capture these signals," he says. "Wireless EEG is an impressive advancement and key sensor modality that would improve the accuracy of sleep monitoring using wearable sensors since sleep staging is largely based on changes in brain activity throughout the night. Ideally, we want sensors comfortable and durable for continuous wear, while measuring the best signal quality. But the technology to measure these physiological signals is only half the battle. Processing this data is computationally intensive. Machine learning is a powerful tool to learn the underlying patterns of these signals and automatically derive sleep quality measures from them."
Lindsey Nolen is a Jacksonville, Fla-based journalist who has been writing about healthcare for over 5 years.
Reference
Boe AJ, McGee Koch LL, O'Brien MK, et al. Automating sleep stage classification using wireless, wearable sensors. NPJ Digit Med. 2019 Dec 20;2:131.
Illustration 74548860 © N.l – Dreamstime.com