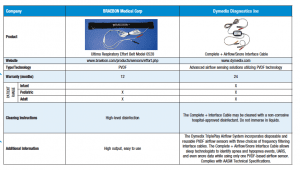 Compare 5 electrodes, monitors, and sensors side by side. Click on the thumbnail above or on "Electrodes122015" to view the full matrix at a legible size. Sleep Review's matrix compares features such as type/technology, warranty, patient range, and cleaning instructions for the following products: BRAEBON Medical Corp Ultima Respiratory Effort Belt Model 0528, Dymedix Diagnostics Inc Disposable Airflow Sensor, Dymedix Diagnostics Inc Complete + Airflow/Snore Interface Cable, Nihon Kohden America Inc NE-134A,Philips Respironics LoFlo, and S.L.P. Inc SleepSense ThermoCan.
A version of this comparison guide was published in the 2016 Product Guide (December 2015 issue). If your company is missing, please e-mail editor Sree at sroy@allied360.com so you can be considered for the next update.
Find out about the latest product releases at www.sleepreviewmag.com/products.