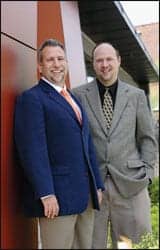 Joseph Ojile, MD, FCCP, DABSM (left) and Eric Powell, PhD, are taking research and education to the next level.
When Joseph Ojile, MD, FCCP, DABSM, CEO and founder of Clayton Sleep Institute (CSI) established the facility in 2002, the St Louis market already had dozens of sleep centers around town. But Ojile's vision was to build more than just a testing laboratory for OSA. Instead, he saw CSI becoming a comprehensive sleep testing service, research center, and education facility that could grow without the constraints of a large academic institution.
Naturally, Ojile wanted CSI to be successful, but also he wanted CSI to be a sleep center that would allow him and his colleagues to pursue their passion for sleep medicine. "For us, it's our life's blood," says Ojile. "It's our vocation and our avocation."
Today, CSI is responsible for a total of 26 beds (including a St Louis University site that it manages), treating more than 300 patients per month. When not treating patients, CSI staff conducts both academic and investigator-initiated research for new sleep technologies, pharmacological treatments, and multicenter studies.
However, Ojile says that one of CSI's most important missions is education. As part of that mission, CSI created the Midwest Sleep Updates, a conference and continuing medical education (CME) program that invites six experts to share the latest sleep research.
MORE THAN 150 YEARS OF EXPERIENCE
Though CSI was established just 51/2 years ago, Ojile points out that he and CSI's clinical staff have more than 150 years of experience between them. Aside from Ojile, who is board certified in internal medicine, pulmonary diseases, and sleep medicine, CSI's staff includes two other physicians, two PhDs, 14 RPSGTs, and two RTs, as well as an administrative staff.
Assembling all that experience in one center was not as challenging as one might expect. "St Louis has quite a robust sleep community because St Louis University has a long history of sleep researchers," explains Ojile. "They have a sleep PhD program, and some of the top names in the field and around the country have come through that program."
Like most sleep laboratories, CSI's patient caseload consists mainly of sleep apnea-related cases.
"That's by far the vast majority of our patients, about 80% to 85%," says Eric Powell, PhD, director of research and director of CSI's insomnia center. He adds, "The only difference now is that we're seeing more complex sleep apnea. Especially now that we have the dedicated insomnia center, we're seeing more of those cases as well."
CSI AS A CENTER FOR RESEARCH
Ojile envisioned the institute to be a center for research from CSI's inception. Their first studies were in-house, theoretical studies. While that type of research continues at CSI, the institute has also performed large database reviews of clinical populations and investigator-initiated trials testing sleep devices and sleep medications. Current projects include research from a broad range of sleep areas:
One research project has CSI collaborating with a pain specialist to evaluate sleep disturbances in patients with chronic low back pain (as opposed to patients with neuropathic pain).
CSI is participating in a multicenter study that is investigating a new restless leg syndrome (RLS) medication developed by a pharmaceutical company.
In a study supported by another pharmaceutical company, CSI is investigating the effectiveness of an insomnia medication in treating menopausal-related insomnia.
Also related to RLS, researchers at CSI are working with St Louis University and its PET/CT imaging modality in order to better understand the pathophysiology of RLS.
CSI is participating in a double-blind, placebo-controlled trial to determine the efficacy of auricular therapy in improving insomnia symptoms.
CSI has recently been given the opportunity to evaluate a European device that enables physicians to noninvasively monitor a sleep patient's cardiovascular parameters, such as beat-to-beat blood pressure, cardiac output, cardiac resistance, heart rate, and vascular resistance.
In the area of CPAP compliance, CSI is in the early stages of research that will look at certain characteristics that may identify those patients who will need closer management.
In all, CSI is currently involved with more than a dozen clinical studies. In addition, it continues its theoretical work, which is sometimes performed with external partners, such as St Louis University or other scientists in the field.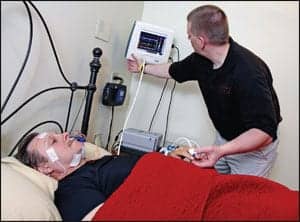 Sleep technician Kurt Bergmire preps patient Steve Dashner for an overnight sleep study.
The funding for all of the research varies by the subject, but can come from both grants as well as industry when sleep pharmaceuticals and devices are being evaluated. Subjects for studies are all recruited from the St Louis area.
CSI hopes to present some of its latest in-house findings at next year's Midwest Sleep Updates conference. One of the projects that Powell is currently preparing for presentation and publication explores the relationship between stress and sleep.
He says, "We've found an interesting relationship in how people vary the amount of sleep they have on a daily basis. That is, not how much sleep they get, but how they vary it. For example, on 1 day they get 3 hours of sleep, and the next day they get 7 or 5. Those people are more susceptible to stress, meaning that the variability of sleep could have some driving force in at least the perception of stress. We also found that the quality of your sleep plays a similar role as well too."
In addition to Powell and Ojile, the research arm is staffed by two research coordinators, one subject recruiter, three undergraduate interns, and a St Louis University graduate intern in psychology.
CSI'S NEW INSOMNIA CENTER
In September 2007, CSI launched a dedicated insomnia center that Ojile says came out of their research and clinical experience. He says, "We were doing so much research in insomnia and then found that it was a particular clinical service that is really quite underserved."
According to the National Institutes of Health, 10% to 15% of adults report having chronic insomnia,1 yet few centers focus on treating the condition. Ojile believes that there are economic factors in the lack of dedicated insomnia centers due to the fact that assessing insomnia generally does not require inpatient sleep testing.
"That means that the economic driver for treating insomnia patients is pretty limited, yet these are frustrated and unhappy people who are struggling with this issue, and it's affecting many aspects of their lives, including their psychological profiles, their ability to work, their interactions in life with their families and colleagues, and their health."
Seeing this underserved need, CSI looked at the prevailing research in insomnia as well as their own research and developed a proprietary program to comprehensively treat insomnia patients with psychological testing, as well as polysomnography when appropriate. To benchmark their success, assessment tests include measuring levels of anxiety and fatigue and other factors during the initial evaluation, and then measuring the same parameters again at the end of CSI's treatment plan.
Sleep aids are often part of the solution, but it is not the entire treatment. Ojile says, "Sometimes they need psychiatry, or lo and behold, that person really has sleep apnea. So we fix that first and then see what that does to the insomnia. But most of these people have multiple evaluations. They really need a combination of cognitive behavioral therapy and some pharmacological intervention. So we try to help with that entire process."
Ojile remembers one patient who had multiple issues contributing to his lack of sleep. To start, it was apparent that he had sleep apnea, but as Ojile continued the initial consultation, more factors became apparent.
"The more I talked to him, the more I picked up on his nonverbal cues. I uncovered that he was drinking 12 to 18 beers a night to go to sleep, and this poor man was feeling a tremendous amount of guilt because that isn't what he wanted to be. He hadn't set out in life to drink. So as we talked, it became clear that he had an untreated anxiety disorder and that's why he was drinking. So we got his sleep apnea fixed; we did all of this testing that showed that he had a very high anxiety level and a high fatigue level."
After 3 months of CPAP, behavioral therapy, and pharmacologic intervention, the patient's psychological testing parameters returned to normal, and he had quit drinking as well.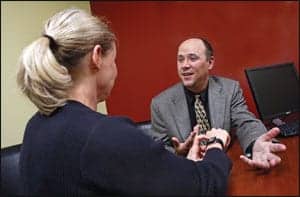 Eric Powell, PhD, counsels insomnia patient Mary Dischert on how she can improve her sleep with help from the Insomnia Center.
Ojile estimates that the Insomnia Center sees three to 10 patients per week. Ojile is also educating primary care physicians, who may not be aware of the condition's true underlying causes and the available treatments beyond a sleep aid. As a result, when Ojile makes presentations to educate physician groups, he says he often receives an enthusiastic response.
"We were in a doctor's office yesterday at a large practice, and they were flabbergasted that we had an insomnia service," he comments. "They said, 'That's a service we really need and can use.' So, we're still breaking those barriers down."
CSI'S MIDWEST SLEEP UPDATES
CSI's mission is not only to educate physicians about insomnia and other sleep research, but also to share their knowledge with the sleep community.
Each year, CSI's Midwest Sleep Updates conference brings six notable sleep experts to St Louis to speak to participants about the latest advances in sleep medicine. The gathering not only brings valuable information to participating clinicians, but also provides qualified CME credits for various credentialing bodies.
Last year's conference included lectures from William C. Dement, MD, PhD; Sean P.A. Drummond, PhD; Leslie W. Miller, MD; Michael T. Smith, PhD; Mark R. Pressman, PhD; and David P. White, MD.
Currently, CSI is preparing for the 2008 conference. "We're expecting 250 people or more this year," Ojile says. "We already have commitment from Doctors [Meir H.] Kryger, [Thomas] Roth, and Dement." Leslie W. Miller, MD, will also be returning to the conference this year, and Ojile is presently confirming the final two speakers. The 2008 conference is scheduled for November 7 and 8.
Ojile is excited about this year's Midwest Sleep Updates—and about the future of CSI. He says, "There are so many aspects of things that we can assist with, from athletic performance, to safety on the roadways, to weight loss, to general health. They're all issues that are so compelling, and we just hope that we'll have a chance to help people in any way that we can."
---
Tor Valenza is a staff writer for Sleep Review. He can be reached at sleepreviewmag@allied360.com.
Reference
[removed]www.sleepfoundation.org/site/~[/removed]. Accessed April 2, 2008.