While the exact number of surgical patients suffering complications due to obstructive sleep apnea (OSA) is unknown, for Frances Chung, MBBS, FRCPC, professor of Anesthesiology at Toronto Western Hospital, University Health Network, University of Toronto, reducing the risk of any adverse episodes has become the focus of her career.
For Chung, the increased incidence of OSA demands far more than the development of screening questionnaires; it demands increased awareness among the entire surgical staff in managing OSA patients and a more involved role for anesthesiologists in their care and survival.
SEEKING A GREATER CHALLENGE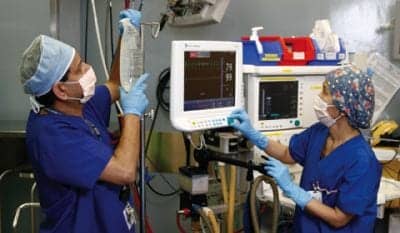 Frances Chung, MBBS, FRCPC, (right) and Sazzadul Islam monitor a sleep apnea patient. The team is aware of the increased likelihood of repeated episodes of apnea, slow breath, or desaturations.
After finishing medical school at the University of Hong Kong, Chung started out as a general practitioner, but soon came to anesthesiology seeking a greater challenge. She wanted to provide acute care to patients, and she wanted a hand in the advancement of surgery, because, as she says, "I think without anesthesia there is no advancement of surgery." Eventually, she found herself drawn to the issue of sleep apnea and anesthesia because of her own experience seeing OSA patients experience difficulties in the PACU and ICU at 300-bed Toronto Western Hospital (TWH).
An estimated 90% of the patients with OSA in the general population are undiagnosed. It is this population of undiagnosed surgical patients who face the greatest risk in the perioperative environment. The OSA patient presents the anesthesiologist with several concerns, including more difficult airways and increased sensitivity to sedatives and analgesic medications. Diagnosed OSA surgical patients do not always fare much better. Even if they share their history before surgery, the fact is that OSA patients are still at risk in the perioperative setting.
In 2006, the American Society of Anesthesiologists (ASA) published guidelines for caring for OSA patients. In addition to recommending that anesthesiologists screen patients for sleep apnea, the ASA put forth a 14-question checklist (12 for adults and 14 for children) to do so. While Chung applauded the ASA's efforts, the finished product was ultimately too burdensome and "difficult to do," she says. Chung, meanwhile, had begun working on an alternative questionnaire—STOP-Bang.
STOP-Bang, an easy-to-remember acronym, was designed for anesthesiologists to screen patients for OSA. The questionnaire started with four questions: S: Do you snore loudly? T: Do you often feel tired, fatigued, or sleepy during daytime? O: Has anyone observed you stop breathing during sleep? And P: Do you have or are you being treated for high blood pressure? Two out of four affirmative answers would signify high OSA risk. To increase the questionnaire's sensitivity, Chung added the Bang—B: body mass index greater than 35; A: age greater than 50; N: neck circumference greater than 40 cm; and G: gender male. Three out of eight positive on the STOP-Bang questionnaire indicates a patient is at high risk of OSA.
The STOP questionnaire was validated against both the ASA checklist and the Berlin Questionnaire, another screening option, and the results were published in Anesthesiology. Chung found the STOP questionnaire was similar to the larger questionnaires in its effectiveness at determining OSA risk, but with the benefit of being "short and sweet," and eliminating the need for physicians to have a piece of paper in front of them when questioning a patient. The 25 anesthesiologists at TWH screen all patients using the STOP-Bang questionnaire.
"The reason I'm a fan of the STOP-Bang questionnaire is because it is much more simple than some of the other screening processes that have been suggested," says Frank Overdyk, MD, executive medical director at GE Healthcare and adjunct professor of anesthesiology at the Medical University of South Carolina.
With STOP-Bang, Peter C. Gay, MD, professor of medicine at the Mayo Clinic, adds, "[Chung] was able to achieve a very high sensitivity for OSA, which she then went on to verify in a pretty large group. This was yeoman's work."
Chung says sleep centers also have begun to use it as a preliminary screening tool for patients to better allocate limited PSG resources.
It is a commitment to work like this that won her the 2009 Distinguished Service Award and Excellence and Innovation Research Award from the Society for Ambulatory Anesthesia (SAMBA), recognizing her significant contribution to the field as both a clinician and researcher. In addition to her work on sleep apnea and anesthesia, Chung has developed many tools used by ambulatory anesthesiologists, including the post-anesthesia discharge scale (PADS) and the postoperative quality of recovery scale (PQRS).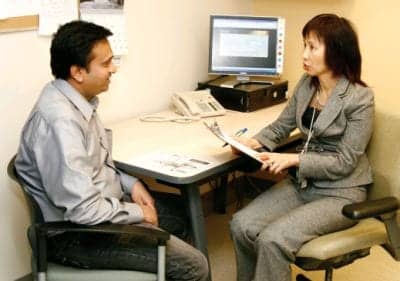 Frances Chung, MBBS, FRCPC, (right) uses the STOP-Bang questionnaire to determine a patient's risk for obstructive sleep apnea. The questionnaire was designed for anesthesiologists to screen patients for OSA.
KNOWLEDGE IS POWER
According to Chung, how a patient is handled after screening in large part depends on the hospital, as well as the type of surgery the patient is undergoing, the type of narcotics prescribed, and whether the patient has a comorbidity such as heart disease or diabetes. While Chung recommends that patients ranked as high risk for OSA receive a sleep study prior to surgery, the seriousness of sleep apnea is often overlooked.
For Chung, a surgical patient with sleep apnea should be no different than a surgical patient with heart disease, untreated angina, or uncontrolled diabetes. She points out that when a patient presents in the preoperative clinic with any of these conditions, they are referred to an appropriate specialist. However, when a patient presents with a sleep disorder like sleep apnea, the same does not hold true. Chung maintains that the surgical team, including anesthesiologists, need to be aware that "these patients are sick" and, if feasible, need to be referred to a sleep physician before proceeding with surgery. In some patients, CPAP treatment may be necessary.
Still, much of the burden is likely to fall on anesthesiologists to handle the patient. And here, knowledge is power.
"Knowing the patient has the potential gives you the heads up so you can identify the patient and prevent postop complications," says Chung. This knowledge allows anesthesiologists to prepare for difficult airways associated with OSA patients and to make different choices in terms of anesthetics. Frequently after surgery, OSA patients suffer obstructions. According to Chung, short-acting anesthetics are preferable to long-acting ones to reduce this risk. Finally, foreknowledge allows a patient to be more closely monitored postoperatively to see if they have repeated episodes of apnea or slow breath, or if they are desaturating.
But, she admits, following these recommendations is not always realistic, as the resources to do this level of monitoring are not always available.
In the August 2010 issue of the Canadian Journal of Anesthesia, Chung and her colleagues at TWH published a protocol they devised for their hospital. According to Chung, the protocol differs a bit from the ASA's recommendations in that it does not require as much monitoring, which makes it more feasible from a resource position. Throughout, her approach has aimed to "use what is the existing evidence and come up with solutions that are appropriate."
Still, Chung maintains that awareness, not increased monitoring, has been the focus at TWH. "We don't actually extra monitor these patients in our hospital. It's the extra awareness that helps us," she says.
AWARENESS IS KEY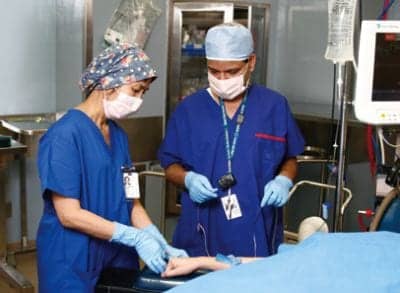 Frances Chung, MBBS, FRCPC, (left) and Sazzadul Islam prepare a sleep apnea patient for surgery. The patient presents the team with several concerns, including increased sensitivity to sedatives and analgesic medications.
While Chung says awareness among anesthesiologists has increased in the last few years, "OSA is still an issue that is not being recognized and dealt with."
According to Chung, a lack of training is one factor of the awareness problem. While anesthesiologists spend time training in cardiovascular, outpatient, pediatric, and general anesthesia, they do not necessarily train on issues related to the OSA patient. Chung has advocated to the ASA that the field encourage residents to do a specialty in perioperative sleep medicine.
"At present, you have ENT surgeons, dental surgeons, psychiatrists, neurologists, and chest physicians who specialize in sleep medicine, see patients, and give treatment. If you think about it, psychiatrists and neurologists don't even deal with the airway of the chest, and they are practicing as sleep physicians. However, anesthesiologists are actually airway specialists. We see the airway and deal with the airway every day. We know how to manage the airway. So, I do think it is time that anesthesiologists play a big role," she says. "I'm advocating that we, as a specialty, should broaden ourselves, and we actually have done that. We have broadened ourselves into critical care, pain medicine, echocardiography, etc." For Chung, sleep medicine is the next step.
SPEARHEADING THE NEXT STEPS
Recently, Chung's passion for the challenges of sleep apnea led her to spearhead a conference looking at the issue. In 2009, while attending the ASA meeting in New Orleans and presenting a number of abstracts on the issue, she was frustrated that she did not have time to engage with colleagues in depth about the issue. A desire to discuss it with colleagues from both anesthesiology and other specialties with a stake in the problem and its solution spurred the organization of a special, stand-alone conference, presented by the UC San Diego School of Medicine and the University of Toronto, in San Diego last October. The conference aimed to discuss "the basic and more controversial areas of sleep apnea and anesthesia."
"We've been trying to get the doctors from the different specialties together because it really is going to require a multidisciplinary approach to solve this problem. We need the surgeons, the sleep doctors, the anesthesiologists, to get the right data for us to investigate," says Overdyk, one of the conference presenters.
More than 120 medical professionals attended, a greater turnout than expected, providing a forum in which to devise a plan on how to answer the questions surrounding sleep apnea and anesthesia.
"It was not a symposium of answers. It was more a symposium of what are the important questions, what are the urgent questions we need to ask," says Overdyk. "One is people will not commit resources—either hospitals, physicians, or patients—unless they believe there is a problem. So, one of the first things we need to do is measure the extent of the problem—in other words, what is the real morbidity/mortality in OSA patients, and what distinguishes those who make it through [surgery] without any problems and those who don't."
Overdyk adds that while there is some good data on this out there, it is "porous and too sparse," and it is just "not convincing enough." To convince everyone that this is a serious public health issue, he contends that the gaps need to be filled in.
Chung sees the same challenge. "I think a lot of the questions are not answered because we don't really know which patients should be treated and what level of AHI [apnea/hypopnea index] or oxygen desaturation they may have in the preop screening that [may indicate] who may suffer significant morbidity/mortality if they are not treated." Figuring out who is at risk is key.
A PATIENT'S SLEEP
In order to fill in research gaps and start to answer questions, Chung is organizing another symposium like the one held in San Diego ahead of the fall ASA meeting in Chicago. In addition, along with David Hillman, MBBS, FANZCA, Norman Bolden, MD, Ralph Lydic, PhD, and Peter C. Gay, MD, she is developing the Society of Anesthesiology and Sleep Medicine (SASM)—the impetus for which came out of the San Diego meeting. The new organization aims to create a bridge between anesthesiology and sleep medicine, two fields that share an intrinsic relationship, according to Chung, as anesthesiology is concerned with the surgical "patient's sleep."
"She has been very interested in finding a place where sleep physicians and anesthesiologists can come together with this common interest in the crossroads between OSA and perioperative complications after anesthesia," says Gay.
Overdyk echoes Chung's appreciation for such a multidisciplinary approach. "The people who have done some of the most impressive research in this area have been sleep doctors. However, they are not up on the anesthetic effects and some of the respiratory effects of opioids and anesthetics, so that's where we can contribute to the equation. It is clear that sleep doctors have input into this to educate the rest of us. Sleep doctors are as important, if not more important, than the other specialties in this regard," says Overdyk.
---
Alison Werner is associate editor of Sleep Review. She can be reached at [email protected].