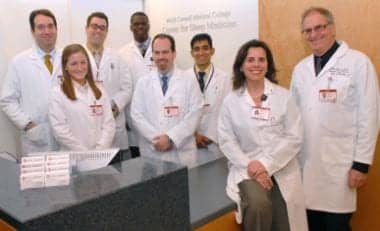 At the Weill Cornell Center for Sleep Medicine in New York, NY, the staff is not just dedicated to improving patients' sleep—they are focused on improving patients' overall health, today and tomorrow. This means not just diagnosing and treating patients' sleep disorders, but providing comprehensive care, implementing smart practice processes, and completing research intended to advance the discipline of sleep medicine.
"We try to move the field ahead," Arthur J. Spielman, PhD, co-director of the Center for Sleep Medicine and adjunct clinical professor of psychology in neurology at the Weill Cornell Medical College of Cornell University, also in New York, says of the clinic's philosophy.
The center first opened in 1985 at Weill Cornell Medical College and moved to the Manhattan area in the 1990s. About 2 years ago, the sleep center moved again, into a new facility designed specifically for the sleep team's use. Located in the Upper East Side of the city, it is near the Memorial Sloan-Kettering Cancer Center and The Rockefeller University.
The Weill Cornell Center for Sleep Medicine collaborates with both institutions on research designed to advance sleep science. Currently, it is enrolling patients for two clinical trials in sleep apnea and recently closed enrollment on a third study on sleep bruxism and desensitization in myofascial face pain. "We don't want to just stand on current knowledge. We actively investigate," Spielman says.
CENTER BASICS
The team at the center is comprised of a number of specialists, including Spielman, a clinical psychologist and a noted expert in insomnia. Ana Krieger, MD, MPH, Spielman's fellow co-director, is a pulmonologist with expertise in sleep apnea. Other team members specialize in neurology, internal medicine, pulmonary medicine, ear, nose, and throat (ENT), pediatrics, psychiatry, bariatric surgery, nutrition, and endocrinology.
A nurse practitioner and technologists round out the clinical staff. With studies running 6 nights a week, there can be up to five technologists working through the night, Spielman notes. A support staff manages the office and proper paperwork, and visiting physicians perform research and hone their sleep medicine skills.
Patients come from neighboring institutions and the associated medical facility, but also from the metropolitan area. Patients may be referred or can come in on their own.
EXPERT TREATMENT
With almost 50 years in the field (Spielman was at the first sleep center certified in the United States), he has seen it all—or nearly. "There is a rare growling sleep disorder that I've never seen," Spielman says.
He is perhaps best known for his work in insomnia and, subsequently, sees many patients with this disorder. "Insomnia is the most prevalent sleep disorder there is, but the health consequences of obstructive sleep apnea, as well as the very effective treatment regimens and management we have for that, bring in many patients with that condition," Spielman says.
Sleep apnea patients are often treated with CPAP. "CPAP is the most reliable treatment for obstructive sleep apnea, but about one-quarter to one-third of patients openly don't use it," Spielman says.
To improve patient compliance, the center offers an intense adaptation program: patients come into the lab to try on different masks; the staff work with them to test the different pressures, show them how to use the equipment, teach them relaxation techniques, and evaluate what works best for each individual. "It's an extensive number of hours," Spielman says.
Spielman notes compliance is an issue experienced and addressed by many sleep centers, and solutions can be innovative. Spielman has studied hypnosis as a method to help patients adapt to CPAP during the first month, with some success.
QUALITY MEASURES
The adaptation program will likely be modified moving forward. The staff is constantly seeking ways to improve care, and no improvement is too small. The process is evolutionary, and no procedure is static—even the tools are dynamic. The new space has installed state-of-the-art equipment in the 12 sleep rooms and the control center.
"Everybody is concerned with making things absolutely right," Spielman says. And while perfection is a constant objective, while they pursue it, the staff at the Weill Cornell Center for Sleep Medicine are definitely making things better.
Renee Diiulio is a freelance writer based in Manhattan Beach, Calif. She can be reached at .
---
Weill Cornell Center for Sleep Medicine
425 East 61st Street, 5th Floor
New York, NY 10065
646.962.7378
www.weill.cornell.edu/sleepcenter