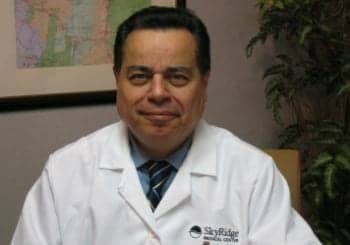 As a boy growing up in Syria, Ahmad M. Ibrahimbacha, MD, became interested in medicine while watching his mother give his grandfather insulin shots. Ibrahimbacha's mother picked up on her son's curiosity, and as good parents do, she inspired Ibrahimbacha, telling him she would send him to London or America to be a famous doctor. That inspiration led Ibrahimbacha to study in the United States to become a sleep physician where today he uses the same kind of motivation to help patients achieve optimal sleep health.
After graduating from the Aleppo School of Medicine in Syria in 1982, Ibrahimbacha came to the United States to further his education and focus his scope of practice. "I came to the United States because it is the best place on earth to achieve your dream and goals and the country offers the best education," he says.
In the United States, Ibrahimbacha completed his residency in internal medicine at St. Barnabas Hospital in the Bronx, NY. He finished his fellowship in pulmonary and critical care medicine at New York Medical College in Valhalla, NY.
Practicing sleep medicine since 1995 and achieving board certification in internal, pulmonary, critical care, and sleep medicine, Ibrahimbacha now serves as the director for the Sleep Disorders Center at SkyRidge Medical Center, Cleveland, Tenn, as well as a physician adviser and chairman of the utilization review committee for the SkyRidge Medical Center. In addition, he is director of Sleep Labs of the South, also located in Cleveland. The Sleep Disorders Center at SkyRidge Medical Center features six beds and is accredited by the American Academy of Sleep Medicine (AASM). The fact that Ibrahimbacha is certified in four subspecialties gives him an edge when delivering high-quality care to his patient base in Cleveland. "It's a one-stop shop for my patients," he says.
Ibrahimbacha sees the full spectrum of sleep disorder patients including sleep-disordered breathing (SDB), insomnia, restless legs syndrome, and a wide variety of other disorders. With SDB being the most commonly treated disorder, Ibrahimbacha has structured an individualized approach to care. SDB patients who are treated with continuous positive airway pressure (CPAP) are carefully managed by Ibrahimbacha. For patients who struggle with the therapy, Ibrahimbacha has established an effective network of physicians that can offer patients alternatives to CPAP treatment. Ibrahimbacha has developed relationships with dentists who specialize in offering oral appliances and ENTs who can offer patients surgical treatments for obstructive sleep apnea. This network will serve the facilities well as health care reform takes place and as proposals like the American Academy of Sleep Medicine's Integrated Delivery Model potentially take shape.
The Integrated Delivery Model starts with a patient referral to a sleep specialist who decides the patient's treatment pathway. Within the context of this model, not only would the sleep specialist provide durable medical equipment (DME), but they would also have a network of dental sleep medicine and surgical specialists to whom to refer patients. Having these established relationships and direct access to DME would close the treatment loop, creating a more seamless management process that keeps the sleep specialist at the center with the patient.
"We need to figure out how sleep medicine will fit in health care reform, and more specifically, how to deliver a more integrated sleep management model to keep doctors more engaged throughout a patient's care period," Ibrahimbacha says. "Integrated sleep management is important because it creates a patient management system that stays with the patient from beginning to end."
As sleep medicine evolves, Ibrahimbacha looks forward to advancing the facilities where he is based to ensure patients are receiving top-notch treatment. Although keeping up on a rapidly changing health care profession takes time and commitment, Ibrahimbacha has not forgot his roots in Syria. "I visit every 2 to 3 years to do work by giving free consultations to the community and to exchange knowledge and experience with doctors," he says.
Nina Silberstein is a contributing writer for Sleep Review. She can be reached at .
---
Ahmad M. Ibrahimbacha, MD
SkyRidge Medical Center
Blue Ridge Pulmonary Medicine, PC
110 Dunhill Place
Cleveland, TN 37311
423.476.2212
www.skyridgemedicalcenter.net