Multiple surgical procedures have been used to refashion or remove excess tissue that contribute to OSA. Until recently, such interventions have been associated with variable results and patient morbidity.1 Newer methods have shown promise to be better tolerated and more effective.
A 33-year-old male patient with OSA who did not respond to CPAP underwent a partial midline glossectomy and lateral pharyngoplasty performed with Coblation technology. Using this procedure to treat the patient's lower pharyngeal structural abnormalities associated with sleep apnea resulted in improved airway structure and function.
BACKGROUND
The use of uvulopalatopharyngoplasty (UPPP) in patients with sleep apnea who have not responded to conservative measures addresses only anatomic abnormalities of the upper pharyngeal airway. It does not, however, address airway obstruction in the lower pharynx attributable to the presence of excessive soft tissue at the tongue base, lateral hypopharyngeal walls, lingual tonsils, and supraglottic larynx. These factors, along with obesity and skeletal dysmorphism, contribute to sleep apnea and snoring.
PHYSICAL EXAMINATION
The patient, a 33-year-old obese male, complained of poor sleep quality, nocturnal awakenings, loud snoring, restless sleep, excessive daytime sleepiness (EDS), drowsiness while driving, and temper/mood issues attributed to sleep deprivation.
Physically, the patient stood 6 feet, 1 inch tall, weighed 305 pounds, and had a BMI of 40.2 with a neck measurement of 18.5 inches. He was retrognathic, with a severe overbite, enlarged inferior turbinates, and a very large tongue that obstructed view of the pharynx (tongue position 4/4). Tonsils were only moderate in size (2+). Supine, endoscopic, end-expiration examination of the pharynx revealed severe lateral wall/palatopharyngeus muscle bulk, with severe concentric narrowing of the velo- and oropharynx as well as tongue base collapse.
POLYSOMNOGRAPHY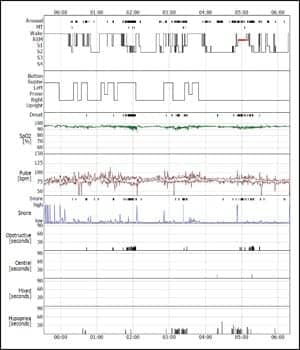 Figure 1. Initial PSG summary graph.
The patient was referred for polysomnography, which revealed OSA, with an apnea-hypopnea index (AHI) of 32. His total sleep time was 242.0 minutes, with a wake time during the sleep period of 120.2 minutes in a total sleep period of 362.2 minutes; he awakened 35 times and had a total of 61 snoring episodes. His sleep efficiency was 59.3%, and his sleep was severely fragmented. Both sleep onset and rapid-eye motion (REM) sleep were delayed; he also demonstrated decreased REM sleep and no slow-wave sleep (SWS). Lowest oxygen saturation was 88%.
MANAGEMENT
Treatment with CPAP failed despite sequential attempts to improve comfort through the use of various interfaces. Although a humidifier was built into his CPAP equipment and his mask fit properly, he reported nasal irritation and dryness, nosebleeds, and discomfort. After multiple efforts to manage his OSA with noninvasive measures failed, he underwent surgery to increase the size of his airway.
Hypopharyngeal airway obstruction due to tongue size and position is an indication for midline glossectomy, but the procedure is rarely performed due to high morbidity. In patients with OSA, contraindications for traditional glossectomy include the presence of swallowing or speech problems, lingual thyroid, and poor pulmonary function. Use of Coblation technology for glossectomy, however, is associated with low morbidity and permits surgeons to perform less aggressive, staged procedures that reduce risk of dysphagia in such patients.1
The patient underwent partial midline Coblation glossectomy and inferior turbinate reduction in August 2007, followed by lateral pharyngoplasty in October of the same year to increase airway space by reducing soft tissue bulk and by repositioning the palatopharyngeus muscle.
Midline Coblation glossectomy was performed via a midline incision using a bipolar radio-frequency ablation wand (Coblation®, Arthrocare Corp, Sunnyvale, Calif). A midline retraction suture was placed as far posteriorly as possible (Figure 2A), and a midline incision was created. Then two lateral traction sutures were placed, and the plasma wand was manipulated to excise tissue from the midline in a progressive manner (Figure 2B).1 Lateral pharyngoplasty with palatopharyngeus suspension was performed using Coblation 2 months later to reduce the effects of lateral pharyngeal wall collapse (palatopharyngeus and superior pharyngeal constrictor muscles).
The patient tolerated the procedures well and had an uncomplicated recovery with minimal pain and limited postprocedure use of narcotics for pain relief.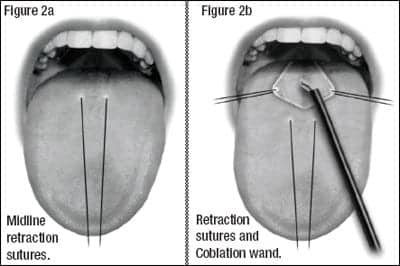 Figure 2. Coblation midline glossectomy.
FOLLOW-UP AND OUTCOME
At follow-up in June 2008, 8 months after completion of the final procedure, the patient reported improved sleep quality and considerable reduction in snoring, and stated he felt much more refreshed after a night's sleep than he did before the procedures. He also reported improved daytime alertness, and improvement in mood symptoms. His weight dropped from 305 to 265 pounds, and his BMI decreased to 36.
Postprocedure polysomnography demonstrated improvement in all sleep parameters, with an apnea-hypopnea index of 3. His total sleep time was 402 minutes, with sleep latency of 33 minutes and latency to REM 88 minutes. His sleep efficiency had improved from 59.3% to 85%, and sleep was consolidated with three REM periods. Lowest oxygen saturation was 87%.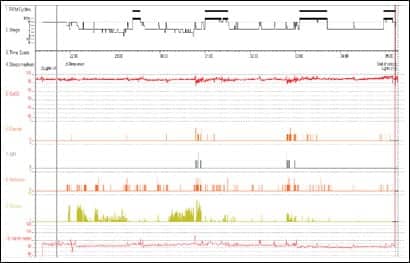 Figure 3. Postoperative hypnogram.
DISCUSSION
Although obesity is positively associated with sleep apnea and weight loss can help to improve nighttime respiratory function, this patient exhibited significant symptomatic improvement following the procedures and prior to significant reduction in weight. Although his weight loss undoubtedly contributed to this patient's successful outcome, the presence of significant structural dysmorphism suggests that weight loss alone would be unlikely to bring about the degree of improvement reported here.
Partial glossectomy using CO2 laser, electrocautery, radio frequency, and traditional surgery have been described previously in the surgical literature as components of treatment for OSA; success rates for single- and multi-stage have ranged from 25% to 80%.2-6 Germane to the current case report, Robinson and colleagues reported a series of cases in which 15 consecutive patients underwent bipolar radio-frequency submucosal tongue base excision for sleep apnea. Among patients who underwent a single procedure (n = 10), 40% met criteria for success—respiratory disturbance index (RDI) <20 and RDI reduced by >50%; among those whose treatment involved additional procedures (n = 5), the success rate was 80% (4/5).6
Stay updated on research related to sleep and obesity by subscribing to
Sleep Report
Results of a systematic literature review and meta-analysis suggest that multilevel surgery for OSA is associated with improved outcomes, based on 49 multilevel surgery articles comprised of 1,978 patients with mean minimal follow-up times of 7.3 months (range 1 to 100 months). Meta-analysis results show the success rate to be 66.4%, based on a reduction of AHI ≥50% and AHI <20; complication rate across all studies was 14.6. The authors of the review comment that these results are supported largely by level 4 evidence and that prospective, controlled studies should be conducted.7
Coblation (bipolar radio-frequency ablation) relies on a low-temperature plasma field. Its corona of activated ions permits removal of lymphoid tissue and muscles with minimal blood loss and without char, minimizing tissue trauma, intraoperative bleeding, char formation, and postoperative pain.1 In the author's experience, the technique described here has a number of potential advantages. In addition to fast recovery, as described, it offers improved visualization and reduction in blood loss as well as limited requirement for postprocedure narcotic analgesia. Coblation also permits the surgeon to remove significant volumes of tissue and to treat multiple areas responsible for airway obstruction (ie, palate and tongue base) with minimal damage to surrounding tissues, and differs from alternative procedures in facilitating graded excision of tissue in single or multiple stages. It also preserves the tongue mucosa and taste buds, reduces edema and pain from trauma to tissues, has a low complication rate, and can be performed under local or general anesthesia.1,6
This case illustrates the applicability of Coblation bipolar radio-frequency ablation to a variety of procedures that can help to improve airway structure and function in patients with OSA, particularly with respect to the tongue base and the reduction of lateral pharyngeal bulk.
---
Ofer Jacobowitz, MD, PhD, is a partner at Hudson Valley Ear, Nose & Throat PC and chairman of the EENT department at Orange Regional Medical Center in Middletown, NY. The author can be reached at .
REFERENCES
Woodson BT. Innovative technique for lingual tonsillectomy and midline posterior glossectomy for obstructive sleep apnea. Operative Techniques in Otolaryngology. 2007;18:20-28.
Fujita S, Woodson BT, Clark JL, Wittig R. Laser midline glossectomy as a treatment for obstructive sleep apnea. Laryngoscope. 1991;101(8):805-809.
Mickelson SA, Rosenthal L. Midline glossectomy and epiglottidectomy for obstructive sleep apnea syndrome. Laryngoscope. 1997;107(5):614-619.
Woodson BT, Fujita S. Clinical experience with lingualplasty as part of the treatment of severe obstructive sleep apnea. Otolaryngol Head Neck Surg. 1992;107(1):40-48.
Chabolle F, Wagner I, Blumen MB, Sequert C, Fleury B, De Dieuleveult T. Tongue base reduction with hyoepiglottoplasty: a treatment for severe obstructive sleep apnea. Laryngoscope. 1999;109(8):1273-1280.
Robinson S, Lewis R, Norton A, McPeake S. Ultrasound-guided radiofrequency submucosal tongue-base excision for sleep apnoea: a preliminary report. Clin Otolaryngol Allied Sci. 2003;28(4):341-345.
Lin HC, Friedman M, Chang HW, Gurpinar B. The efficacy of multilevel surgery of the upper airway in adults with obstructive sleep apnea/hypopnea syndrome. Laryngoscope. 2008;118(5):902-908.