Michael L. Gelb, DDS, MS, is all about the airway.
By Greg Thompson | Photography by Jane La Motta Photography
Michael L. Gelb, DDS, MS, learned early on that the dental profession could encompass far more than teeth. With his father, Harold Gelb, DMD, pioneering treatments for the temporomandibular joint (TMJ), the young Gelb saw a commitment to total wellness.
"He treated headaches, neck pain, and back pain," remembers Gelb, owner of The Gelb Center with offices in New York City and White Plains, NY. "He'd put heel lifts into people's shoes and give injections to the neck, back, and shoulder. He'd be doing stuff that no other dentist in the United States was doing."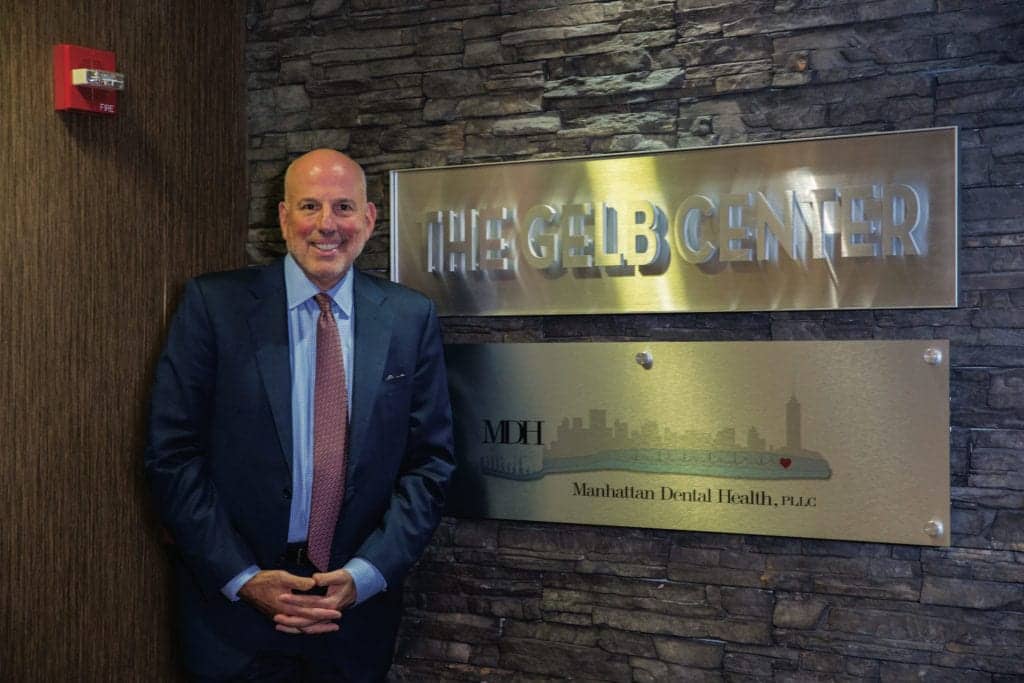 The elder Gelb opened a 4,500-sq-ft office in the heart of Manhattan in the early 1970s, and Michael Gelb now practices in that same office, splitting time between The Big Apple and the White Plains location 45 minutes away.
"From the beginning, my practice was 50% TMJ," says Gelb, who received his DDS from Columbia University College of Dental Medicine and his MS from SUNY at Buffalo School of Dental Medicine. "I never went into dentistry to fill teeth."
As clinicians increasingly transitioned the abbreviation "TMJ" to a more accurate and descriptive TMD (temporomandibular disorders), so too Gelb's clinical and academic understanding grew, thanks largely to an eagerness to learn every nuance, along with a willingness to accept new ideas. The exploration inevitably focused in on the importance of the airway, but it wasn't until 1989 that Gelb began to view the airway's primacy through the particular lens of sleep.
Right about that time, Gelb had taken over at New York University's facial pain program as director. Two speakers—dentists Jon Parker, DDS, and Wayne Halstrom, DDS, DABDSM—made a particular impression. "Halstrom would show pictures of his Cadillac, which he had totaled three times after falling asleep at the wheel," says the 63-year-old Gelb. "This was right at the beginning of testing for sleep apnea, and also the infancy of dental sleep medicine."
Once again reviving an old debate started in part by his father, Gelb began to explore the effects of jaw positioning and its relation to better sleep. "It was almost heretical to bring the jaw down and forward when all the dogma had been to set the jaw back in the socket, which was actually closing the airway," he says. "In many ways, I feel like I'm part of the history of dentistry. Students say they read about my dad and the Gelb philosophy. It's interesting to come from that philosophical approach to dentistry, which I now understand much better 30 years later."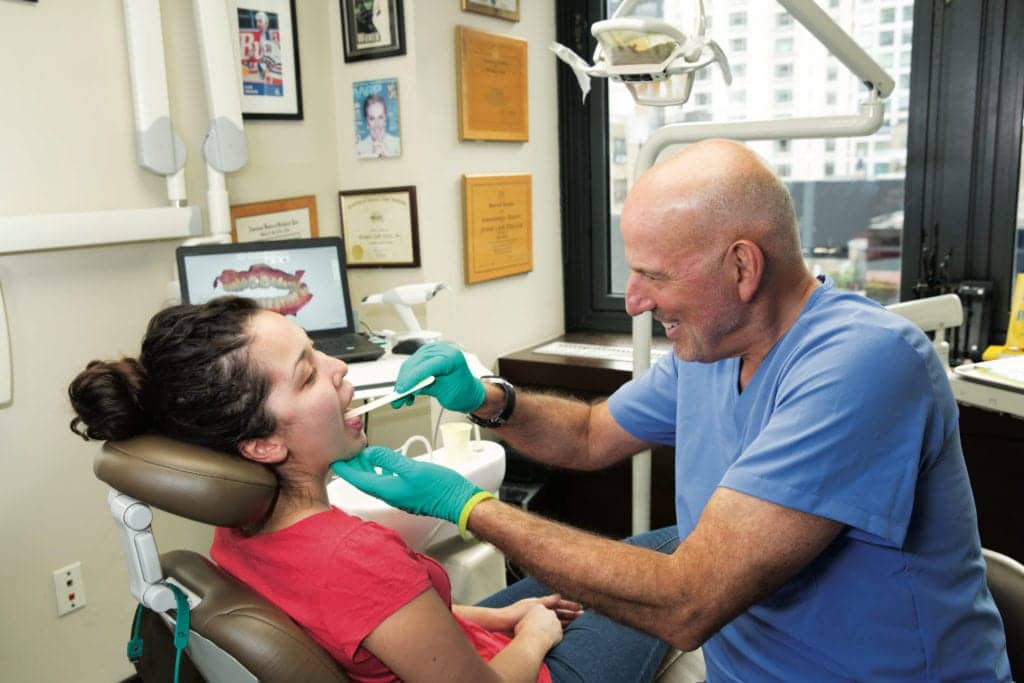 Friend and colleague Leonard B. Kobren, DDS, says, "Michael began to realize that the need to open the airway meant that the lower jaw needed to be moved downward and forward, which would anatomically open the airway and allow much greater oxygenation and restorative sleep. He wrote about this in the Journal of the California Dental Association,1 where he coined the term AirwayCentric dentistry." Gelb Technologies LLC was granted a trademark for "AirwayCentric" in April 2014.
Particularly in the early days, Gelb's approach did not always resonate. "Initially, Michael was frustrated with dentists who were not getting what he was saying," explains Kobren, who practices at Westchester Prosthodontics in White Plains, NY, and is an immediate past chair of the American College of Prosthodontists Education Foundation. "Our reticence to buy in was often more than he could take.
"In these early days, he was kind of condemning practitioners who were not getting it, and saying, 'I'm here to tell you that teeth don't matter. It's only about the well-being of the patient, controlled by oxygenation and airway. And the second he would say those things, restorative dentists were turned off. I worked with him to find different ways to present the material so that diligent dentists like me would be excited about a new paradigm, as opposed to being told our way was antiquated and ineffective. That was my challenge to Michael."
Softening the message helped, eventually leading to reliable referrals from practitioners who appreciated the AirwayCentric focus. "You only need one or two ENTs who really get it," Gelb says. "I have the 80/20 rule. Eighty percent of any profession are not going to get it, but there's always a number of practitioners who want to work collaboratively and understand and are not afraid to refer out."
Otolaryngologists can see the airway problems, and they often refer to Gelb prior to trying surgical procedures. "It's the same with cardiologists," he says. "They're treating patients with arrhythmia or high blood pressure, and they now understand that sleep apnea is a very strong contributing factor. Over time, you develop relationships. There's always one or two sleep docs who appreciate what you do and will refer patients."
Not all of the affiliated dental disciplines are on board, but Gelb believes that's only natural for what amounts to a paradigm shift. "Prosthodontists are deathly afraid of changing the bite," Gelb says. "The patient could be dying, but as long as you don't change the bite, they're pretty happy. Dentists have been brainwashed that the bite should be a certain way, much like orthodontists who have been ignoring the airway for years."
Expanding Understanding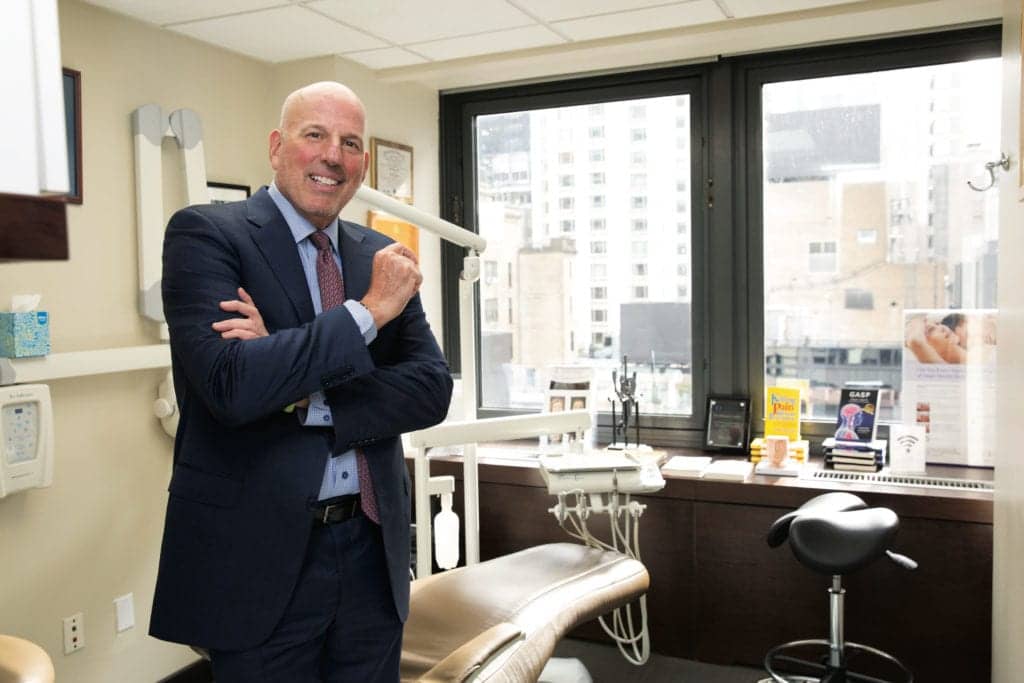 Eventually, Gelb and Howard Hindin, DDS, started an organization called the American Academy of Physiologic Medicine and Dentistry (AAPMD), as well as the Foundation for Airway Health. The effort to expand understanding of the AirwayCentric approach has progressed, but Hindin and Gelb were aware from the start that it would not be easy.
"About 15 years ago, we were sitting in a diner having breakfast, and we talked about how we might change the world, and we wrote our ideas on the back of a placemat," remembers Hindin, owner of the Hindin Center for Whole Health Dentistry, Suffern, NY. "We said, 'Let's start an organization, let's write a book [which became GASP: Airway Health – The Hidden Path to Wellness], let's start a foundation, and let's invent an appliance. We did all of those things in the last 12 to 15 years."
Also at that time, Gelb took his considerable passion and expertise in the field of dental sleep medicine and made the decision to stop practicing traditional dentistry once and for all. Now the practice at both locations is about 60% TMD and 40% sleep.
[RELATED: Establish Healthy TMJ Prior to Oral Appliance Therapy]
"There comes a time in your life when you look at your schedule and you get that uneasy feeling about certain patients with complicated dental cases," Gelb says. "The majority of my training was always in TMD/facial pain, and then sleep, so I always gravitated and was probably better at treating these complicated TMJ pain and headache cases. I later found out that most of the patients who had TMJ also had concurrent coexisting sleep conditions."
Much as he practiced in his earliest days, Gelb continues to rapidly embrace technology to aid in screening and treating sleep disorders. As a self-proclaimed disruptor and early adopter, Gelb says, "I'm on my fifth cone beam CT [computed tomography, also known as CBCT] scan now."
While some technologies admittedly flamed out, costing time and money, the willingness to explore all possibilities has mainly led to progress. "The thing that has changed this field more than anything else I can think of is the ability to image the airway—to see the airway," Gelb says. "In the past you'd have to go to an ENT, who would do an endoscopy," Gelb says. "They'd have to stick a tube down your nose to look at your airway."
With so much of the medical world embracing the importance of sleep, Gelb is able to reflect on his ongoing career, knowing that his ideas about sleep medicine are catching on throughout the continuum of care. Having once taken the torch passed down from his dad, Gelb takes pride in his own adult children, both of whom are doing well and living in New York.
As for the decision to focus solely on TMD and sleep medicine, Gelb need only ponder the patients he has helped to know he made the right choice. "I had a patient who was afraid to go to sleep," Gelb says. "She had anxiety and panic attacks. Because I had the cone beam, I noticed this woman had a very small retruded chin and jaw and a very narrow airway.
"We were able to open the airway with a device and create a safe environment where she felt safe to go to sleep. We got rid of her fear, also with the help of a behavioral sleep therapist. It was a radical transformation, and I was never able to do that by treating TMD alone. Treating the airway and sleep has exponentially influenced the transformative process that I now can achieve with my patients. This is far beyond what I ever imagined I'd be able to do."
"Michael's level of expertise is extraordinary," Kobren says. "He had access to all of the earliest champions of TMD and has spent his time distilling that and then being open-minded enough to see the value of sleep and how it affects overall health. I'll add that he is one of the most quietly competitive amateur athletes you can imagine—a superior tennis player and golfer, a great dad, and a loyal friend."
Hindin adds, "Michael is an incredible people person, and he's passionate and excited about what he does. If I opened a restaurant, I'd want Michael to be the maître d'. A lot of the people who come into his practice have probably seen ten other practitioners before they came to him. When people go down that path, they get very discouraged, and they lose hope. He's very good at giving them hope."
Greg Thompson is a Loveland, Colo-based freelance writer.
Reference
Gelb ML. Airway Centric TMJ Philosophy. Journal CDA. 2014 Aug;42(8):551-62.
Editor's Note: The photos featured here were taken prior to the start of the COVID-19 global pandemic.