Recently recognized with the National Sleep Foundation Lifetime Achievement Award, Michael Thorpy, MB ChB, has built an illustrious career as a pioneer in sleep medicine.
Michael Thorpy, MB ChB, has climbed the ladder to success by filling holes. Much like the early explorers of geography and space, he was intrigued by new frontiers. While medicine is an old science, there is a constant need for new discovery, and Thorpy wanted to be on the front lines. He was, therefore, naturally drawn to the emerging fields of neuroendocrinology and sleep medicine, where there was (and still is) much to explore. Traveling this new "land," Thorpy became a pioneering spirit, helping to lay the groundwork that is sleep medicine today.
Thorpy completed his first fellowship at the Montefiore Medical Center in the Bronx, NY, the first sleep center to be accredited in the country. He was particularly intrigued by the opportunity because Montefiore was also home to the first—and at the time only—time-isolation facility. It was where he became immersed in the world of sleep.
An enthusiastic go-getter, Thorpy joined the sleep associations and participated on the committees that developed the first guidelines for the practice of sleep medicine. He produced his first textbook, the Handbook of Sleep Disorders, published in 1990. When he noted that the range of sleep disorders and the criteria for their diagnoses were unclear, he coordinated and pulled together the first edition of The International Classification of Sleep Disorders.
In 1994, noting a lack of educational material taking advantage of new technology, he published the first edition of SleepMultiMedia, a computerized textbook for sleep medicine professionals. He followed this endeavor with annually updated editions, as well as the Sleep Medicine Home Page.
Today, Thorpy continues to practice at Montefiore Medical Center, where he is now director, and is on the faculty at Albert Einstein College of Medicine as a professor of clinical neurology. He is a leading expert on narcolepsy and helped to found the National Narcolepsy Registry to aid further research in what was once a misunderstood condition—again filling a hole.
And he continues to close gaps, publishing texts intended to become complete topic references for sleep physicians. The subjects he chooses are telling, offering predictions for where the future of sleep medicine may lie. Works recently published or in various stages of development cover parasomnias, sleepiness, neuroimaging, and sleep genetics. If these new texts match the quality of Thorpy's past endeavors (and there is no reason to suspect they will not), they can be expected to help further the education of sleep physicians and continue to define the field.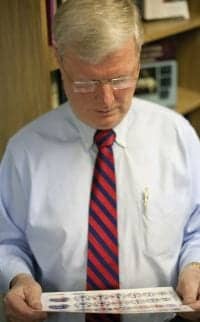 Michael Thorpy, MB ChB, examines the results of a neuroimaging scan. These scans are used to determine the underlying cause of sleep disorders that might be associated with a neurological disorder.
Recognition, Not Retirement
These numerous and noteworthy accomplishments earned Thorpy the National Sleep Foundation's Lifetime Achievement Award earlier this year. The honor represents the foundation's highest award and is given to an individual who has demonstrated sustained professional productivity and leadership in the field of sleep medicine.
According to the foundation Web site, nominees have made outstanding contributions in one or more areas of sleep medicine that include original research; development and/or leadership of an enduring or effective program, organization, or department; volunteering to lead and develop public and professional organizations; mentoring; teaching; policy initiatives and advocacy; additional activities that have clearly advanced sleep science, sleep medicine, or the public health related to sleep; and other contributions that the NSF Board of Directors deem to be appropriate.
Thorpy's work crosses many of these boundaries and is likely to continue to do so for some time to come. His colleagues, many of whom have also become friends, describe Thorpy as an explorer, an adventurer, and an educator. In his introduction of Thorpy at the NSF award ceremony, William C. Orr, PhD, senior scientist and president emeritus, Lynn Health Science Institute, Oklahoma City, noted that "never has a person done so much for a field with so little recognition."
Despite the humorous connotations of a "lifetime achievement award" (recognized by Thorpy during his acceptance speech), the honor is not just about the past. It also recognizes the passion Thorpy carries for advancing the science of sleep medicine and the impact his work is likely to have in the future as he continues to fill in holes.
Opportunity Knocks
Thorpy's interests were influenced toward medicine rather than, say, space, in part by his mother. Before his birth, she worked as a nurse during the war at St. Mary's Hospital in London, England, where Alexander Fleming had discovered penicillin (1928). Eventually, she relocated to New Zealand, where Thorpy was born in 1948.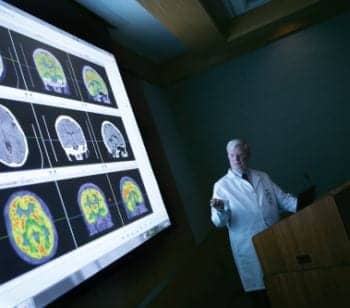 As a forward-thinking educator and sleep researcher, Thorpy believes neuroimaging techniques will help researchers further understand the impact of sleep disorders on cognition.
Thorpy studied medicine at the University of Otago in Dunedin and completed his early postgraduate training at the Dunedin Public Hospital. Following the path taken by most New Zealand physicians, Thorpy decided to complete a portion of his training overseas, originally intending to return after 3 years.
His interests and circumstances led him to India (where he studied neurology), London (where he continued his studies, waiting 2 years to complete the US visa process), and the United States (again studying neurology, this time in Syracuse, NY). Throughout this period, he developed a simultaneous interest in the field of endocrinology and decided to delve into the developing discipline of neuroendocrinology.
Opportunities were limited for the new science, but two fellowship options presented themselves, one at the Montefiore Medical Center. At that time, Eliot D. Weitzman, MD, had established the first time-isolation chamber and was completing pioneering research in the study of sleep science and endocrinology. "It was exciting research and was receiving a lot of media attention, and I didn't have to be persuaded to become involved," Thorpy says.
The opportunity allowed him to study neuroendocrinology, focusing on sleep during the latter portion of his fellowship. When Weitzman left to open another time-isolation facility at the Weill Cornell Center for Sleep Medicine, also in the New York City area, Thorpy was given the opportunity to take over at Montefiore and accepted. "And I have been in that position to this day," Thorpy says.
Naming the Beast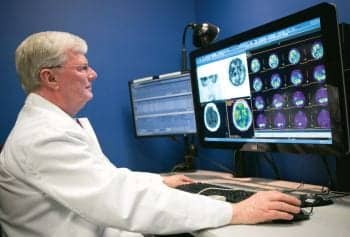 Thorpy believes that in the near future more sleep physicians will focus on exploring sleep disorders using methods such as imaging.
As the first sleep disorder center to be accredited, the facility was on the front lines of sleep medicine, and Thorpy would often take in the big picture, note what was missing, and set about doing what was necessary to rectify the situation—no matter the challenge. Consider that he spent more than 5 years and traveled the globe to complete The International Classification of Sleep Disorders.
"I saw an opportunity to really help define more clearly the range of sleep disorders that we deal with," Thorpy says. His well-traveled background made him ideally suited to take on the challenge of bringing together the many disparate opinions worldwide for a truly "international" classification.
"This was a monumental effort to put on paper the diagnosis and the way to diagnose all the different sleep disorders," says Sonia Ancoli-Israel, PhD, professor of psychiatry at the University of California San Diego (UCSD) School of Medicine, director of the Gillin Sleep and Chronobiology Research Center in San Diego, co-director of the Laboratory for Sleep and Chronobiology at the UCSD General Clinical Research Center, and director of education at the UCSD Sleep Medicine Center.
Thorpy concurs, noting he carried drafts everywhere, including his children's football practices and swimming lessons. But the effort was a success. International agreement was fostered, and the document was published in 1990, with a second edition released in 2005.
Thorpy chose not to participate in this subsequent edition, believing it was better for the development of the project. "It's good to have new people come with new ideas and new ways of thinking about disease," Thorpy says.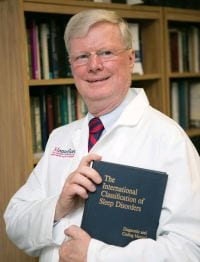 Thorpy spent more than 5 years and traveled the globe to complete the first edition of The International Classification of Sleep Disorders.
Medicine and Media
Always excited by the new, Thorpy was immediately drawn to digital media as it emerged, attending meetings on the topic and imagining the potential of the advances in technology communications. "I found the meetings absolutely fascinating and could see that digital media held much better potential for educating physicians. Whereas books and journal articles were very static and print and mainly black and white with no color pictures, through digital format, you could incorporate not only color pictures and text, but also audio and video," Thorpy says.
So he combined his interest in the emerging technology with his interest in the field of sleep medicine and produced a multimedia educational program. SleepMultiMedia 1.0 was first published in 1994 and is now at version 7.5, released last year. The program covers a wide breadth of topics, including the physiology of sleep, chronophysiology, neurophysiology, respiratory physiology, sleep disorders, and the pharmacology of sleep.
Similarly, the Sleep Medicine Home Page has become a leading resource for sleep medicine information online. Launched in 1995, the effort was another product of Thorpy's combined interests in medicine and media. "I could tell the Internet was going to be very powerful in our field," Thorpy says. So he set up a site where the many online resources could be found in one place. The site provides links to a wide variety of resources, from professional associations and discussion groups to sleep disorder centers and businesses to journals, books, and other educational resources.
Never Asleep on the Job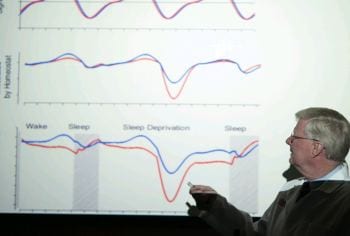 Thorpy instructs an audience about the impact of sleep deprivation. Sleep deprivation has a major impact on subsequent daytime performance.
Thorpy did the same for narcolepsy research. His desire to see wider research in the field led to the National Narcolepsy Registry, first developed through the National Sleep Foundation and now managed by Stanford University. Thorpy has become an expert in narcolepsy, in part because Montefiore supported a large patient population early in his career (and continues to do so). The facility's pioneering status ensured many early referrals and a specialty development.
"At that time, there was a lot of great research going on, particularly at Stanford University, and I wanted to try to develop a registry with the National Sleep Foundation to make available the data for subsequent research," Thorpy says. With funding from a donor, the project was able to take off; when funding ran out, the project was passed onto Stanford.
Thorpy was just one of many researchers able to make use of the data. "We did a study using data from the National Narcolepsy Registry, looking at the median age of onset of the disease and the median age of diagnosis in 1,000 patients with narcolepsy. We found the median age of onset was 16 and the median age at diagnosis was 33," Thorpy says.
No Final Frontier
The information was telling in regard to the challenges that existed in identifying sleep disorders and, in some cases, still exist today. While much has changed in the field of sleep medicine and many frontiers have been explored, the knowledge has not yet fully penetrated the broader medical community nor is the general public very aware. "I do feel that large numbers of patients are undiagnosed and unrecognized," Thorpy says.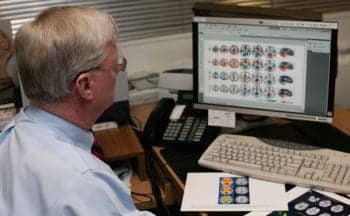 Thorpy expects neuroimaging, in which sleep professionals can view the body and the brain noninvasively, to play a larger role in sleep studies in the future.
His focus on education is one way to change that, and as more sleep scientists and physicians join his ranks writing and lecturing, awareness increases. Thorpy believes that primary care physicians and nurse practitioners will become more adept at recognizing and treating the more common sleep disorders, such as sleep apnea and insomnia. This will leave sleep physicians to focus on the remaining disorders, using new methods to explore disease, such as imaging and genetic research.
"We've been focused on doing sleep studies that involve placing electrodes on the outside of the body. And I think in the future, eventually, that form of investigation will disappear. Neuroimaging, where you can see into the body and the brain in a noninvasive way, will play a much bigger role, particularly as the techniques of doing these studies get simpler, less complex, and more available than in the past," Thorpy says.
He notes he has just sent a completed manuscript to the publisher covering the topic of sleep and neuroimaging. His next book will cover sleep genetics, another development poised to have big impact in the field of sleep. "I'm excited about being involved in areas that hold the potential in the future to help patients get more effective treatment," Thorpy says. The statement is no surprise—he's just filling in another hole.
Renee Diiulio is a freelance writer based in Manhattan Beach, Calif.