Five sleep medicine locations explain how mask selector apps have changed their workflows for the better.
By Karen Schotanus
The process of fitting a patient for a CPAP mask has been a traditionally high-touch, time-consuming event. If the mask doesn't fit properly, patients are less likely to use it properly, or at all. The COVID pandemic accelerated a drive to find a better way, remotely. Mask-fitting technology using a simple camera and carefully designed algorithms has brought the subspecialty a way to get accurate mask fits in less time. For some, it's been more than a temporary solution for use during a pandemic; it's a game changer.
Sleep Metrics, Portland, Ore
Devan Schiedler, RPGST, lead tech at Portland, Ore-based Sleep Metrics, has seen remote mask fitting software drastically change the home sleep testing and therapy company's business model.
Over 95% of their clients use SleepGlad software to select their CPAP masks, letting the app recommend their top three nasal masks plus a full-face mask option.
Sleep Metrics was one of SleepGlad's first users, adopting the software late in 2020. "They were the most customizable," says Schiedler, noting they can tailor the software to the specific masks they carry. Also, SleepGlad requires no special hardware (such as a specific camera) or equipment for patients who already have a smartphone (it works with all smartphone brands).
The pandemic made it difficult to safely perform mask fittings. Before it adopted the software, Sleep Metrics shipped fit packs to patients and waited for the patients to send them back and then used the results to find a mask. That system now feels antiquated to Schiedler, who says the software is much more time and cost efficient. "We've saved half our shipping costs," he says.
The software has also been an efficient way to manage fittings with a limited clinical staff. "Anyone trained to work with the masks and machines can do it," Schiedler says. "We just train them to utilize the dashboard."
As the company transitions back to the office, Schiedler says it will continue to use the SleepGlad software in-person. "It helps streamline the setups and gives confidence to the patient," he says.
Schiedler interacts with SleepGlad representatives to discuss how the app is performing and go over any updates. For example, some elderly patients and others not used to taking a "selfie" style portrait would take a low confidence image. SleepGlad upgraded the app to make it more like taking a picture of a credit card—it directs the patient until the image is optimal.
Breathe LLC, Overland Park, Kan
Breathe LLC is an independent diagnostic testing facility located in Overland Park, Kan. While it does not sell CPAP equipment, it provides home sleep tests that qualify patients for CPAP therapy. Amber Watt, CEO of Breathe, recently adopted remote CPAP mask-fitting software from sovaSage. Breathe uses its own proprietary platform and customizes the software to integrate with it.
For Breathe, sovaSage's TherapistAssist software adds value to clients and fits in with its technology-forward business model. "We are very software-driven," she says.
When COVID hit, Breathe's durable medical equipment (DME) clients had to quickly pivot and find more efficient ways to do things. "Once a patient qualifies for CPAP based on our test results, we send them the sovaSage mask software platform," Watt says.
The patient uses the platform to take a "selfie" with the software, which collects the necessary datapoints. The DME client receives the fitting results, allowing it to drop ship the mask to the patient. According to Watt, TherapistAssist has a 2% refit rate, which was a big factor in choosing the software. Also, results aren't limited to just one brand of mask.
Many of Breathe's clients are dealing with staff shortages, recall-related issues, and effects of the pandemic. "Anything we can do to create more efficiency for them is our goal," Watt says. This way, clients can better utilize their respiratory therapists with higher acuity patients versus tying them up with mask fittings. "And you definitely don't want time spent on re-fitting," she says. "If they integrate with us, they don't even have to schedule anything. They just get the order and ship it out."
Watt sees this type of technology gaining traction throughout the health care world because of its efficiency and accuracy. "It's simple and seamless," she says. "It just makes sense."
Binson's Medical Equipment & Supplies, Multiple Locations
Simple and seamless was just what Sherry Krug, vice president of business development at Binson's Medical Equipment & Supplies, sought when the pandemic hit. Krug oversees respiratory marketing and sales for the durable medical equipment company with several locations surrounding the Detroit area, and one in Florida.
During the shutdown, several Binson's storefront locations closed, and it had to find a way to service patients safely and maintain CPAP adherence. At first, it moved mask fittings from the retail floor to curbside. Then,ResMed introduced Binson's to ResMed MaskSelector. "It was clear right away that it would work," Krug says. "It was a lightbulb moment."
The consistency and efficiency of the remote software allowed Binson's to provide the same level of customer service experience as it had pre-pandemic. "It's very hard on a sales floor to get the exact measurement without taking out every mask," Krug says. "And during COVID, the goal was setting patients up safely with minimum contact."
With ResMed's software, Binson's shifted from working face-to-face with customers to shipping masks directly to them. The software allows Binson's to get mask-fitting recommendations remotely via a tool sent to the patient in an email. "It measures the nose and eyebrows down to the chin and gets the patient's size very quickly," Krug says.
Binson's created QR codes with a quick reference guide to accompany each machine. While patients are offered an appointment with a respiratory therapist, most simply opt for a phone call. Patient confidence from the video and trying the machine on their own was high enough that most just need a quick call to answer any questions.
Even though the remote option came out of pandemic necessity, Krug sees it as the way forward—and an important pivot for the company. "This is a tool you can give your tech and they quickly get to that result instead of half an hour later," Krug says. She projects that a year from now Binson's will still be using the software, but even more so as an in-person option.
Mayo Clinic Center for Sleep Medicine, Rochester, Minn
The Mayo Clinic's Center for Sleep Medicine in Rochester, Minn, is currently performing a clinical trial to evaluate AR Medical Technologies MaskFit AR app. Previously, sleep techs or nurses would assist with fitting, using sample masks. The equipment was expensive, and it required a high level of training to sterilize the masks. In addition, many patients didn't receive the best fit the first time.
"Nearly 30% of patients swap out masks within the first month or so, indicating that we really need a better way to get it right the first time," says Timothy Morgenthaler, MD, co-director of the Center for Sleep Medicine at Mayo Clinic in Rochester and director of the Mayo Clinic Sleep Medicine Specialty Council for all of Mayo Clinic.
With the onset of COVID, finding a better way became even more of a priority. The trial hopes to determine whether the app, which provides no-touch remote mask-fitting, results in a higher success rate of the right fit the first time, as well as better overall satisfaction and usage.
Morgenthaler is confident that most people should be able to use the app without much difficulty. "Answering the questions as honestly and accurately as possible is the key," he says.
While the app doesn't require new equipment, the software did have to go through the necessary security checks required at Mayo Clinic to ensure that patient health information would remain secure. While that took some time, Morgenthaler is satisfied with the security.
He hopes, through ongoing research and collaboration with AR Medical, to continue to improve the app by adding clinical insights. For now, the team is focused on the trial to collect baseline data and experience to inform future decisions.
While Morgenthaler waits to see if the research shows any benefits of the app, he believes it is likely to prove helpful to providers who prescribe sleep therapy. "I really believe that this will be a standard part of issuing new PAP equipment or to help us deal with patients who have already had difficulties with PAP therapy," he says.
Aeroflow Sleep, Asheville, NC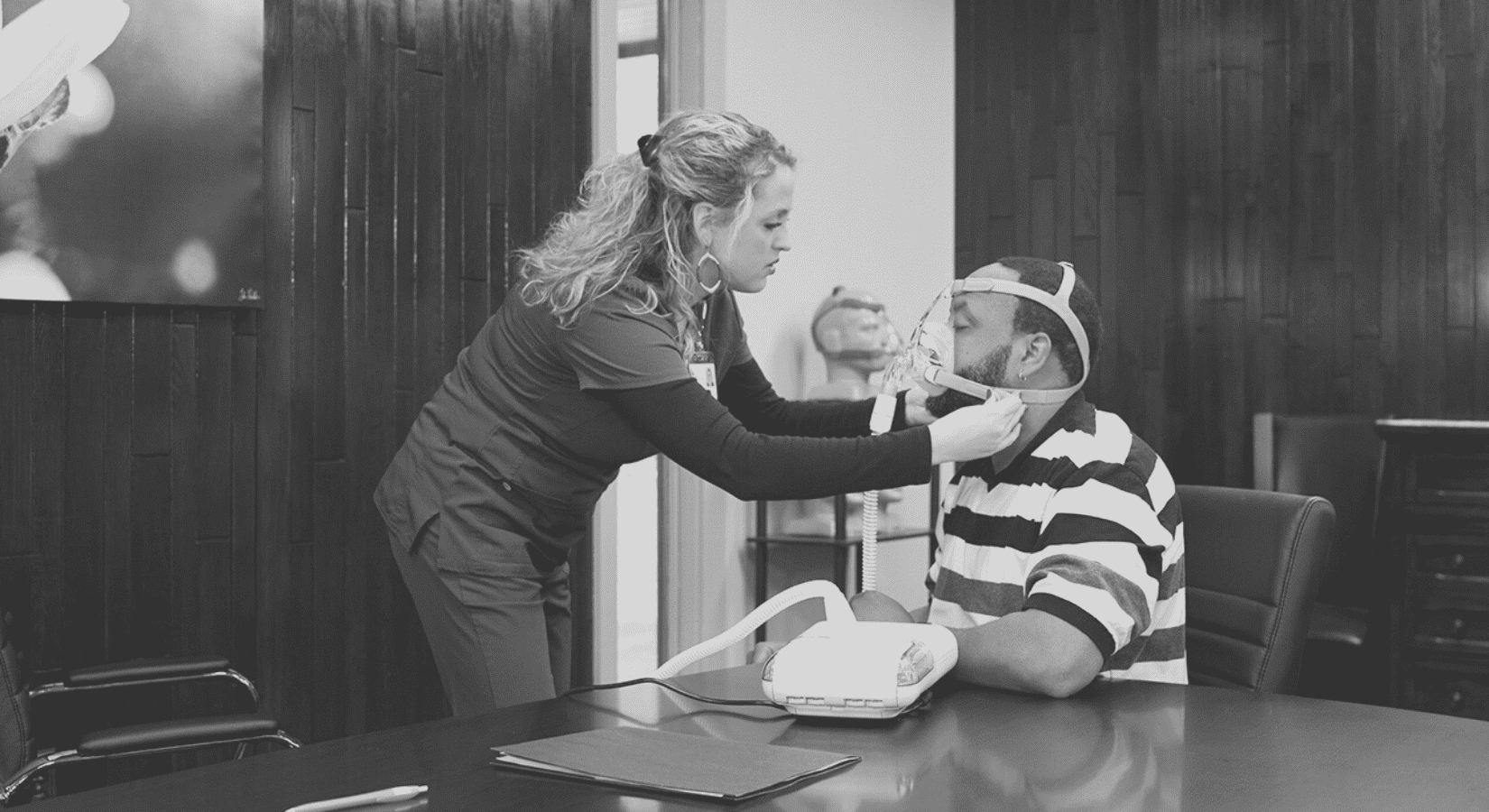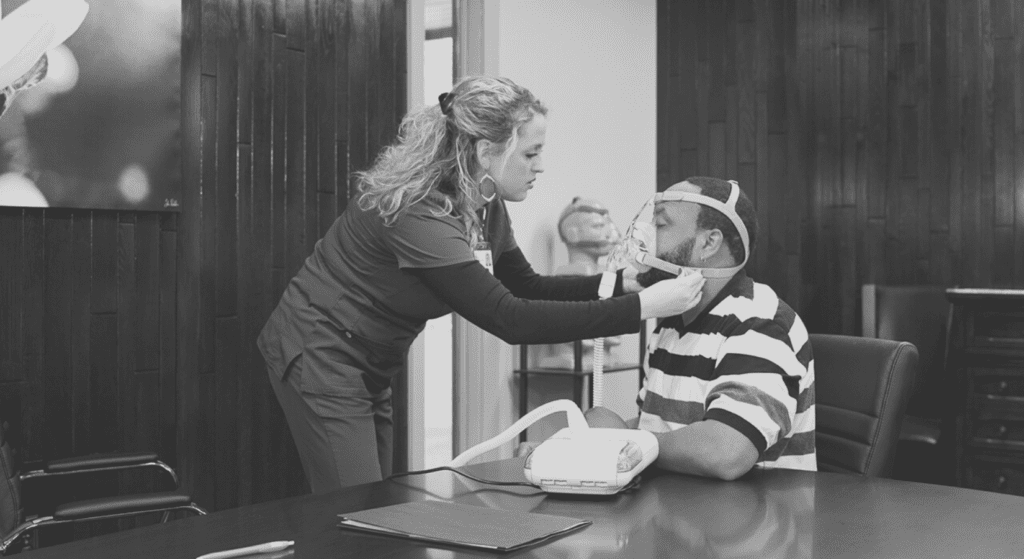 Aeroflow Sleep in Asheville, NC, has embraced telemedicine for years, so when it began looking for a more efficient way to do mask fitting, a remote software application was great for its existing model. It investigated several products, looking at outcomes, efficiencies, and the science behind the products.
"We were most interested in sovaSage," Eric Mongeau, national sales director at Aeroflow Sleep, says. "It was easy to use, and we could white label it with our branding and messaging." Aeroflow piloted it as well as tested several other options. Impressed with the data, it adopted sovaSage. Aeroflow Sleep then utilized the custom options of the software to integrate its own custom formulary, as well as the Aeroflow Sleep branding, messaging, and user experience.
The software is offered to all patients whether through telehealth or in-person. Mongeau estimates around 60% to 70% of patients utilize it.
The product came ready out of the box; no unique equipment was needed for the clinical or patient side. Mongeau says a huge benefit is the high patient satisfaction with finding the best possible fit. A secondary benefit is the efficiency on the clinical side. "Our clinicians are really embracing the merging of the science and art of the mask fit," says Mongeau, adding the software doesn't take the process out of the clinicians hands, it actually gives them more data to work with.
Moving forward, Mongeau hopes to further automate the mask-fitting process. He hopes to get another 20% of patients using the software. "Essentially, every patient would use this technology and see the value in it," he says.
Mongeau sees the future of the product offering more opportunities to collaborate, partnering with key referrals like sleep labs and physicians' offices. "If a patient is there at an appointment, why not get them fitted right away? Then the lab would already know, and they don't have to do a mask fitting," he says.
"For us, it really came down to trying to drive value through solutions," he says. "This aligned nicely with that."
Karen Schotanus is a Kansas City, Kansas-based communications professional with more than a decade of writing and editing experience.
Photo 146434395 © Shao-chun Wang | Dreamstime.com