Wayne Giles, MD, director of the CDC's Division of Population Health, is advancing government recognition of the importance of sufficient sleep and support for sleep as a pillar of public health.
With sleep disorders reaching epidemic proportions, sufficient sleep is fast gaining traction as a public health concern. At the forefront of our national response is Wayne Giles, MD, MS, director of the Centers for Disease Control and Prevention (CDC) Division of Population Health.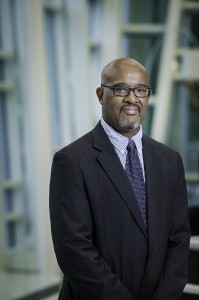 A 1996 CDC collaboration with Emory University's Sleep Center sparked Giles' interest in sleep health. At the time he was with the CDC as an epidemiologist in cardiovascular health. Emory contacted Giles with a request. "They were interested in looking at some of the national data around hours of sleep and the incidence of stroke," he recalls.
Giles agreed to collaborate; analysis of CDC data revealed that people who slept less than 7 or more than 9 hours a day had a statistically significant increase in stroke. "Those findings piqued our interest," says Janet Croft, PhD, branch chief, Epidemiology and Surveillance, of the CDC's Division of Population Health, who worked with Giles on the project. Both consider those findings a critical marker in the CDC's increased engagement in sleep issues.
"Fifteen years ago, sleep was seen as one risk factor associated with cardiovascular disease," Giles says. "Now CDC has a very broad portfolio of surveillance data that specifically focus on sleep health." He notes research performed around sleep in relation to obesity, chronic obstructive pulmonary disease, and cardiovascular disease, along with areas such as drowsy driving. "The interactions are much more cross-cutting," he says. "For us at CDC, that is very exciting."
"Under Dr Giles' leadership, we've made amazing strides in national surveillance systems," Croft says, including sleep-related questions added to the Youth Risk Behavior Survey in 2007 and the Behavioral Risk Factor Surveillance System in 2008, "and it's just ballooned since then." She praises Giles' openness to new projects, programs, and ideas. "He gives me and my staff the leeway to use initiative and innovation to develop our own solutions."
Building Awareness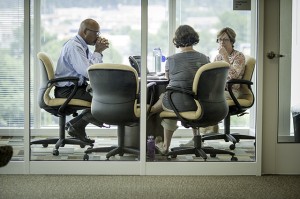 Croft notes that Giles has furthered the Division of Population Health's role as an incubator for new programs and partnerships to fight chronic diseases. The National Healthy Sleep Awareness Project, a 5-year initiative launched in November 2013 with the American Academy of Sleep Medicine (AASM) and the Sleep Research Society, is a case in point.
Healthy Sleep has three goals as stated by Giles: to combat sleep disorders by increasing medical evaluations of people with obstructive sleep apnea; to reduce vehicle crashes due to drowsy driving; and to increase the rate of US teens and adults who get sufficient amounts of sleep.
"This is a very timely project," says Safwan Badr, MD, immediate past president of the AASM. "It reflects an increased awareness of the cumulative impact of sleep illness and chronic sleep loss on almost every key public health indicator."
From his position as a member of the Healthy Sleep Steering Committee, Giles is working to define the project's goals and keep it on track. One of the committee's first priorities is to establish authoritative recommendations for optimal sleep duration; to that end, it is assembling a panel to review literature and make recommendations. "We're pushing hard to get those recommendations out," Giles says.
Other Healthy Sleep priorities include increased surveillance. "We'll be looking at new questions and new metrics, and observe how they have been implemented by the community," Giles says, "so that after 5 years we can see if we are achieving the goals we set." In pursuit of those goals, the project will also be looking to broaden participation among provider groups.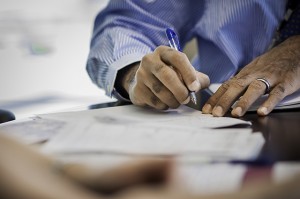 Teen sleep health is another area the project will address. "There has been and continues to be a lot of activity around worksite sleep policy. But there are also opportunities to think about policies around things like school start times," Giles says. "That is the new frontier, and it's an exciting opportunity." He notes innovative policy originating in some school districts. "When they make those changes, and you look at the data, you see that academic performance improves, and also things like motor vehicle crashes go down. So these are important activities for academic well-being and student safety. What we need to do is quickly disseminate the lessons learned."
The issue of drowsy driving is also a Healthy Sleep priority. "We are looking at driver's education," says Giles, "including questions about sleep in driving tests, and whether driver's ed stresses the importance of getting an adequate amount of sleep and not driving when drowsy."
The project launched the "Sleep Well, Be Well" campaign in May 2014 to promote widespread awareness of the dangers of chronic sleep loss and the health benefits of sufficient sleep. The campaign encourages quantity, quality, and regularity of sleep hours, and encourages people with untreated sleep problems to seek help.
Impact and Recognition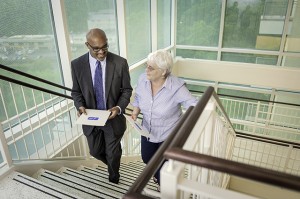 Giles stresses that sleep education is about changing norms, in both the provider community and society as a whole. "Many people, both providers and the public, see sleep as a luxury," he says. "But we know that insufficient sleep can have huge short-term impact on things like motor vehicle crashes and injuries that come from them, and also long-term impact on things like diabetes or cardiovascular disease. So getting adequate and good quality sleep is vitally important."
He is encouraged by the amount of media attention that sleep and sufficient sleep is getting. "People are increasingly talking about the importance of sleep as they think about behaviors," Giles says. "We're seeing providers beginning to ask about sleep—'Are you having problems sleeping? How many hours of sleep are you getting?'—as part of their patient assessment. For us at CDC, that is very powerful."
Croft says, "Wayne Giles has brought a greater emphasis on sleep health to CDC. He has been essential to sleep health epidemiology and building public awareness about the importance of sleep."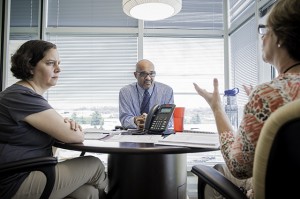 For his commitment to sleep health, Giles is the 2014 recipient of the American Academy of Sleep Medicine's Mark O. Hatfield Public Policy or Advocacy Award, established by the AASM to acknowledge an individual who has developed policy that positively affects the healthy sleep of all Americans.
In a statement about the award, the AASM expressed its enthusiastic selection of Giles, in recognition of his commitment to improving public health and safety by promoting national awareness of the importance of healthy sleep. The statement went on to say, "As a physician and scientist who has a background in epidemiology, Dr Giles has a unique ability to grasp the widespread public health impact of insufficient sleep and untreated sleep illness, and he has played an instrumental role in expanding the involvement of the CDC in healthy sleep promotion and sleep illness prevention."
"This is really a testament to Dr Giles, to his vision, his leadership, and his depth of understanding of the complex relationship between sleep and other diseases," Badr says. "Historically, people thought of sleep as an incidental thing, because it's not an organ, it's not a heart, a kidney, or a foot. It's a state of being. Every function of your body is affected by sleep or lack thereof. Dr Giles' work with the CDC in recognition of the significance of sleep is a major step. It will increase the awareness of the value of sleep in our society."
Dara O'Brien is a New York City-based writer. This is her first article for Sleep Review.