Everyone knows that teenagers listen attentively to parental advice in a constant effort to gain new wisdom. Right? Well, maybe not. But what happens if you change the messenger? Might the audience become just a wee bit more receptive?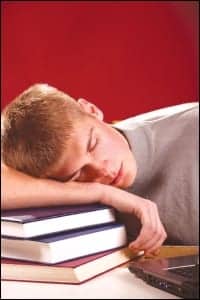 When it comes to sleep hygiene, 14-year-old Anita Rao believes the grassroots approach may work. The ninth grader from Pearland, Tex, started Project SIESTA in hopes of convincing teens and adolescents to stop destructive sleep habits and get more shut-eye.
SIESTA stands for Students Involved in the Education about Sleep hygiene for Teen Adolescents. When Rao decided to start the program last year in eighth grade, she found seven like-minded friends and began spreading the word.
Communication via the Internet is augmented by a willingness and talent for public speaking among all members. Rao's enthusiasm fuels the group, with crucial expertise provided by friend and mentor Lata Casturi, RPSGT, who manages the Houston-based Baylor College of Medicine (BCM) Sleep Center. "Anita was in seventh grade when we first talked about sleep as a possible topic for a science project," says Casturi. "She was skeptical about it, but now it's amazing for a person her age to show so much interest."
With additional help from the medical director of the BCM Sleep Center, Casturi and Rao created a questionnaire to determine the sleep habits of adolescents. Armed with the new mission, Rao convinced more than 100 fellow students to detail their sleep habits. Zeroing in on ubiquitous electronic devices, Rao determined that portable media such as cell phones, MP3 players, and game pads all contributed to poor sleep hygiene, a trend that affected daytime alertness and academic performance.
In addition to the successful science project 2 years ago, a Frontline special on public television, called "Inside the Teenage Brain," piqued Rao's interest. In the show, Mary A. Carskadon, PhD, professor in the Department of Psychiatry and Human Behavior at Brown University, outlined the common problems associated with poor sleep. "What you see in the classroom is a sea of sleepy faces and drool on their notebooks," said Carskadon in the Frontline special that originally aired in early 2002. "When we bring those kids into the laboratory, what we see is a phenomenon that's of a lot of concern for us. They start to look as if they have a major sleep disorder."
The show provided an additional spark for Rao who soon decided to use her infectious enthusiasm to spread the word to the community. "I was able to relate to the Frontline show," says Rao. "I knew what it was like to be sleep deprived and have to go to school."
In a 7-minute Youtube video (go to www.youtube.com and search for "Project SIESTA: Hippies of Sleep's Past"), Rao and her friends humorously act out common errors of sleep hygiene, such as eating candy prior to bed and binge sleeping—which is the practice of catching up on sleep during the weekends after too few hours during the week. In conjunction with the videos, which are aimed at teenagers, Rao speaks directly to students and youth groups about the importance of proper sleep.
Last year, while visiting grandparents in India, Rao spoke at two schools. This summer she returned and ended up speaking at five schools. "It started last year when I contacted principals in India not expecting a reply," says Rao. "I ended up getting two replies, so I went and spoke to them [in English] about the project. It was about 80 to 90 kids, all in 10th and 11th grade. Our goal is to go international. Everyplace I go I want to be talking about SIESTA."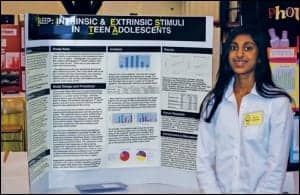 Anita Rao presents research findings at a science fair in Texas.
SPREADING THE MESSAGE
Teenagers are not known for low energy levels, but the sheer volume of energy drink logos advertised during teen programming sends a different message. Why would anyone need that much caffeine and sugar? "A year and a half ago, I would not have thought twice about all that advertising," says Rao. "But when you understand how big a problem sleep is, you don't want people to be doing those types of things. Kids definitely use the drinks as a crutch."
Worse yet, functioning without slumber is still almost a badge of honor among many teens. "I think kids even take pride in it [lack of sleep]," confirms Rao. "I have seen a lot of kids boast that they have had an 'all-nighter' and drank this many cans of Red Bull. They think it is a cool thing to do. If more people started saying, 'No,' it might stop being cool. You are able to run on a few hours of sleep, and you may think you are fine, but people don't realize that the lack of sleep affects them academically and athletically."
It's no coincidence, says Rao, that teachers advise students to get a lot of rest before a big test. "Whenever you sleep and hit the REM cycle, everything you learn the previous day is getting stored and you retain that knowledge," says Rao, echoing a message she repeats often to students looking to improve their grades. "When you don't get the right quality and quantity of sleep, it affects your learning big time. Especially for high schoolers applying for college, everything is so competitive that a few grade points can matter."
Teachers, parents, and clinicians are spreading the message of sleep, but Casturi points out that Rao and her student colleagues are ultimately the best messengers. Raising that initial awareness may open the door for teens with debilitating sleep problems who may have thought that nobody realized the seriousness of these conditions. "The top-down approach has been tried by so many physicians and valued researchers," says Casturi. "But the bottom-up approach, where kids talk about it and try to talk to other children, that is the grassroots approach that can work."
From her perspective as someone who has lived in India, Australia, and now the United States, Casturi believes the problem is worst right here in America. "We have drug education at schools, but sleep education is lacking," says Casturi. "I think when it comes to sleep, we in America are world leaders in sleep deprivation. And since we are the world leaders, we need to take the lead in trying to set it right. When I travel, I see that everyone wants to do what America does, but there are some things we need to learn."
A HELPING HAND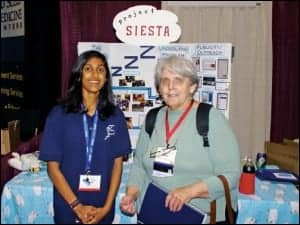 Anita Rao shares her enthusiasm about Project SIESTA with Mary A. Carskadon, PhD.
Familiar manufacturers such as ResMed, Philips Respironics, and Embla have taken an interest in Project SIESTA by sponsoring the group and offering advice when appropriate. Tammy Harden, CRT, RPSGT, first heard about Project SIESTA through an e-mail from Anita Rao.
As a regional clinical specialist for the ResMed Corp, Harden championed Rao's message, sending word up the chain at the San Diego-based company. "I saw the good in what these teens were doing and felt strongly about what they wanted to do," says Harden. "I wanted to support them as much as possible, and as word was passed throughout ResMed, the interest and support grew to higher levels."
Harden agrees that there is certainly room for additional research on the topic of teen sleep. Electronic devices, lack of physical activity, and poor dietary habits all affect teens and adolescents, but to what extent is not yet fully known. "I believe we will start to see more research in this age group due to the increasing obesity and unhealthy lifestyle of teens and even younger children," says Harden, who works from her home office in Arp, Tex. "Education has to be the priority, and that is what is so special about Project SIESTA. Teens tend to listen more to their peers than to adults.
"The message Project SIESTA has is perfect to reach across America and the globe, but they cannot do it alone," continues Harden. "It takes a multitude of resources to provide education, not only to the public but to the medical community. Physicians and nurses need to know the signs to look for and the questions to ask to determine if a teen should be tested for a sleep breathing disorder. ResMed has embraced Project SIESTA's message, and we are excited for their future. We will be hearing about this group as cell groups begin to pop up across the country."
---
Greg Thompson is a contributing writer for Sleep Review. The author can be reached at [email protected].
PRESENT AND FUTURE: A CHAT WITH ANITA RAO
Sleep Review (SR): How many kids are currently involved in Project SIESTA?
Anita Rao, founder of Project SIESTA: Project SIESTA started with eight kids in June 2009. We now have about 20 active kids in different schools in the Houston area, and we are actively promoting the program with other schools in the area. On August 17, 2010, Dr Mary Rose, Lata Casturi, Tammy Harden of ResMed, and I will be addressing 200 school nurses of the HISD [Houston Independent School District]. We are hopeful that there will be more active participants in the coming months.
SR: Do you currently have other chapters? If not, do you think expansion is a possibility?
Rao: We already have a very active chapter in Corpus Christi, Tex. Our goal is to have 25 new chapters in the next 12 months. I have already made a great start on it. I have been in India for over a week now [August 2010] and I spoke to five schools—Bhartiya Vidya Bhavan, Delhi Public School at Secunderabad, Delhi Public School at Hyderabad, NASR school for girls, and Glendale Academy. The response has been overwhelming. I think we will have at least three chapters starting in India.
SR: How many speaking opportunities has Project SIESTA generated?
Rao: I have had more than a dozen speaking opportunities thanks to Project SIESTA at schools, conferences, and meetings.
SR: How did your science project do?
Rao: My science fair project for 2010 got second prize in the Houston Science and Engineering Fair in the Intermediate Division. As a winner, I also had a poster at the ExxonMobil Texas Science Fair in San Antonio.
I wrote up my project and submitted it to the CHEST 2010 conference in Vancouver. It has been accepted, and I was notified that the Awards Committee will be honoring me in November in Vancouver for being the youngest author of a paper ever at their conference.
SR: What are the group's near-term local goals?
Rao: Project SIESTA's immediate goal is to create similar programs in 25 new schools with the following objectives: 1) continue the task of sleep education in local communities; 2) celebrate Healthy Sleep Awareness Week twice a year; 3) incorporate recommendations of the sleep community into the curriculum; and 4) become members of a larger state/nationwide organization.
We are proposing the creation of a package called "Sleep Smarts." We received the $5,000 McCaffrey Grant from the Chest Foundation. The McCaffrey Grant is intended to partially defray the expenses associated with the development of the Sleep Smarts package. In the next phase of the project, we are looking to get the materials formalized and vetted by professional educators and sleep specialists to ensure they are appropriate for the target audience (teens), and then produce them in quantities for distribution to the target schools. The continuous and constructive feedback we have received in person, by e-mail, and via Facebook has been critical to developing a collaborative toolbox, which will be available to numerous schools and institutions.
SR: Do you want to pass the torch to other eighth graders once you start high school?
Rao: A group of incoming seventh and eighth graders from my school have already picked up the mantle. In fact, two of them came to San Antonio and manned our booth there.