By Judith Owens, MD, MPH, Adam Amdur, and Edward Grandi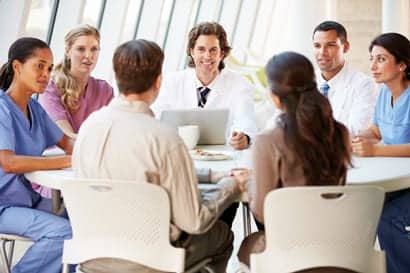 The American Sleep Apnea Association, founded in 1990, is a 501c3 not-for-profit based in Washington, DC, and has led the way as the only sleep apnea patient advocacy organization in the field for nearly a quarter century.
Our association's website www.sleepapnea.org has consistently provided patient engagement with support, continuing education, and empowerment. We have adapted as technology has evolved, and we continue to be on the forefront with patient education using our online patient forum moderated by experienced apnea patients. Our A.W.A.K.E. (Alert, Well and Keeping Energetic) Network of support groups allows patients, family members, sleep techs, and RTs to interact and share valuable experiences to make CPAP therapy easier to manage. Most recently, the A.W.A.K.E. Network has begun to support families of children dealing with OSA. As sleep apnea pioneer Dr Christian Guilleminault from the Stanford Sleep Center said this past summer at the 10th triannual World Congress on Sleep Apnea in Rome, "Without inspiration, you wind up with expiration."
By embracing social media outlets like Facebook and Twitter, the ASAA has been able to get valuable information to those who want to feel better and live a healthy life. The use of mobile devices has allowed the ASAA to develop into an online centric organization. To support our movement to ASAA 2.0, we have created a Living, Breathing Road Map to propel our association forward. The association has appointed a new Board Chair, Adam Amdur, a patient who has made it out alive after 35 years of undiagnosed and untreated sleep apnea to reflect on his own and his family's battle with extreme chronic sleep apnea syndrome. In addition, new Board member Will Headapohl, author of Sleep or Die, and others are helping the association communicate with the next generation in helping them overcome their OSA before it overcomes them. As the ASAA enters a new and exciting era, we outline below a set of proposed initiatives that we hope to introduce over the next several years.
Targeting Pediatric Sleep Apnea
The association welcomed a new president and chief medical officer this year, Dr Judith Owens, director of Sleep Medicine at National Children's Medical Center. Owens, a pediatric sleep specialist, will provide guidance as we seek to help parents of children with sleep issues including sleep apnea. We recognize, with other thought leaders in the sleep field such as Dr Guilleminault, that early identification of, and intervention for, sleep disorders in children could not only mitigate the immediate consequences (school failure, increased injury risk, behavior and mood disturbances) but also prevent later sequelae (cardiovascular and metabolic diseases) in adulthood.
The ASAA is proposing a set of new initiatives to help improve diagnosis and treatment of sleep apnea in children. These include:
Promoting early and regular screening in primary care settings for sleep-disordered breathing in children;
Increasing public awareness (including parents, educators, coaches, and allied health professionals) of the symptoms and impact of, and treatment options for, sleep apnea in children;
Educating providers and parents about sleep studies for children and how to assess the quality of available diagnostic services;
Improving access to quality care, especially in high risk populations (including children from low income and minority families); and
Identifying and increasing awareness of new and novel evidence-based therapeutic options for children with OSA.
An example of this last goal would be to collaborate with the pediatric orthodontic community in identifying multifaceted plans for promoting proper jaw growth in all children, in order to prevent development or worsening of apnea. Another relatively new and potentially important therapy involves myofunctional reeducation for drooling, mouth breathing, and increased nasal resistance (myotherapy).
Providing Positive Airway Pressure Support
The ASAA is particularly proud of the success of its CPAP Assistance Program (CAP). We have gotten hundreds of CPAP machines and supplies into the hands of those who couldn't afford them. We also are establishing an emergency response initiative with the American Red Cross for those who are caught off guard during a natural disaster. Having proper sleep in the wake of major tragedy and devastation is essential for the road to recovery for both the victims and the caregivers. We also are developing a laminated emergency preparation card with QR codes so that all of the patient's vital information is instantaneously available if all other documentation is lost. In this way, all medications and CPAP pressures will be accessible with their log-in information on an encrypted cloud-based database. This service will be available as part of an expanded membership in the association.
Addressing Sleep Apnea in the Workplace
The ASAA continues to work with special populations as well. The conferences held over the past 3 years worked to address sleep apnea and sleep deprivation in the transportation community. Most recently, the 2012 conference addressed the economic consequences of sleep apnea in the workplace, highlighting the benefit to employers of screening, treating, and managing their employees who have OSA. Documented results of employee productivity increases were shown as well as the noticeable decrease in employee accident rates in the workplace. The direct effects on health care costs for the employer also were conveyed. Speakers were from organizations ranging from the likes of Union Pacific Rail, Schneider Trucking, ResMed, Massachusetts Transit Authority, and others.
Providing Leadership in Patient Advocacy
The ASAA led the way this past summer at the world congress in Rome by hosting a roundtable of patient associations from around the world. The Dutch Sleep Apnea Association shared their tremendous success stories of the patient-based rating system created for the sleep labs in the Netherlands. They left it up to each of the individual sleep centers to decide about voluntarily publishing the association's findings. This has a tremendous positive effect on the quality of care for all the Dutch sleep apnea patients.
As follow-up to the first ever roundtable, we are working on a "Call to Action for Sleep Apnea Patients." The "Call" will serve as a rallying point for apnea patients worldwide. We circulated a draft in Rome, and once our Board approves it, it will be circulated to sleep apnea patient groups for their sign-on. Another face-to-face meeting at the World Association of Sleep Medicine congress in Valencia, Spain, in the fall is in the works.
The Affordable Care Act, Competitive Bidding, and other actions are guaranteed to affect the diagnosis, treatment, and management of OSA. The association continues to be the voice for the sleep apnea patient at the table through numerous collaborative efforts with other patient and professional organizations in our nation's capital.
Expanding Our Expertise
The ASAA is working to expand our Board of Directors. A larger, more diverse board will help us connect with the larger community affected by OSA. We are establishing a Scientific Advisory Board made up of medical professionals from outside the sleep field in order to broaden our reach to all of the other comorbidities (diabetes, heart disease, mental health) that are directly linked to untreated sleep apnea or sleep-disturbed breathing of any kind.
Raising Awareness
April 18 is Sleep Apnea Awareness Day. This year we collaborated with ResMed to host a webinar and Twitter chat session. The association is exploring the launch of its own video garden resource outlet that will be populated by members of our association via online short video competitions on YouTube. Sleep professionals on our board will vet the videos. It can be argued that videos are a better way to educate sleep apnea patients than the written word, given the difficulties in concentration that accompany untreated sleep apnea. Topic examples will include:
What is a DME?
Common challenges in dealing with insurers;
CPAP side effects;
How to best clean and travel with your CPAP machine or oral appliance;
When to change parts and supplies;
Tricks of the trade from experienced users;
OSA and your love life; and
How the law protects you, the patient, when it comes to your OSA and job discrimination.
We are also in the early developmental stage of a social media application that will give our members "Sleep Status" on all the most popular social media outlets if they are so inclined. This is also a push in the direction of creating research information for the quantified patient in respect to how their sleep apnea treatment is going for them on a day-to-day basis.
A new sleep apnea medical directory and speaker's roster will be available for all regional media outlet requests for either a sleep apnea patient or sleep professional board member via a professional membership to our site.
Establishing Partnerships
The ASAA seeks to expand its collaborative efforts. We are working with the Board of Registered Polysomnographic Technologists on the Clinical Sleep Educator Certificate program. We are reaching out to patient and professional associations like the Association of Black Cardiologists to develop co-branded materials for their members to use with their patients. And we will continue to develop other opportunities to serve as the "go to" for educational materials on OSA.
We have entered a period of change with respect to health care delivery and communication. The landscape for the diagnosis, effective treatment, and efficient management of sleep apnea is changing as well; however, the American Sleep Apnea Association's mission remains unchanged—to reduce injury, disability, and death from sleep apnea and enhance the well-being of those affected by this common disorder. SR

Judith Owens, MD, MPH, is president and chief medical officer of the ASAA and director of Sleep Medicine at Children's National Medical Center, Washington, DC.
Adam Amdur is board chair of the ASAA.
Edward Grandi is executive director of the ASAA.
Questions for the authors can be submitted to [email protected].