The National Sleep Foundation (NSF) released the results of a new survey of American teens highlighting their attitudes and behaviors about drowsy driving.
Teens reported driving drowsy at high rates, especially considering their status as new drivers. Teens also said school and job commitments were the top factors keeping them from getting the sleep they need to drive alert. A corresponding NSF survey of US adult drivers showed similar results about the top contributors to their drowsiness behind the wheel but with greater frequency of driving while drowsy. Teens and adults called drowsy driving "highly risky."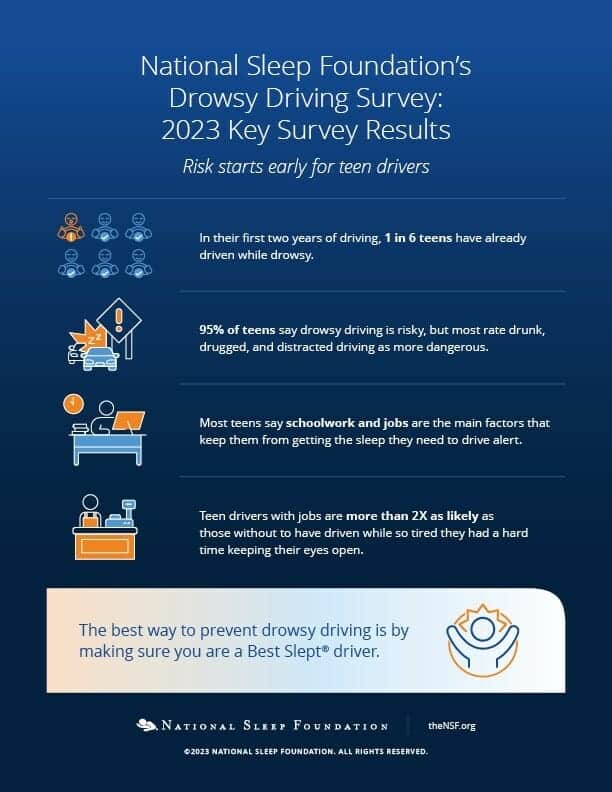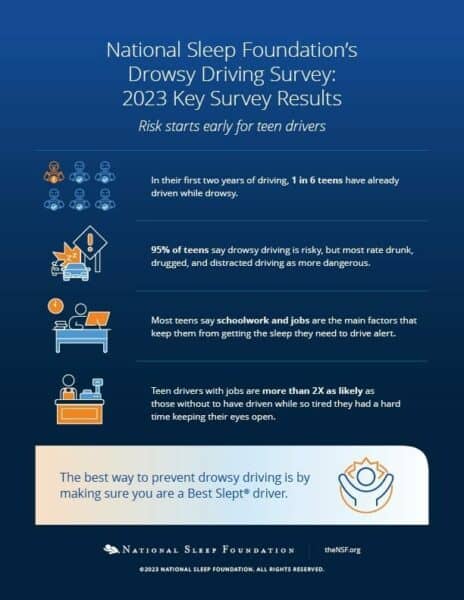 NSF's 2023 Drowsy Driving Survey was fielded as part of Drowsy Driving Prevention Week, NSF's annual campaign to help Americans get the sleep they need and reduce the number of drivers who get behind the wheel while sleep-deprived.
Drowsy driving is a public health issue linked to thousands of car crashes each year, killing an estimated 6,400 people annually in the US alone, according to the AAA Foundation for Traffic Safety. NSF and other expert sources believe crash and fatality data are likely underestimated.
NSF's 2023 survey data show drowsy driving is common among American adults, where six in 10 adult drivers admit to having driven a car when they were so tired they had a hard time keeping their eyes open. These findings are consistent with NSF's 2022 results, reinforcing the ongoing need for education about the importance of sleep health.
Key results from teen drivers, featured this year, showed:
In their first two years of driving, 1 in 6 teens have already driven while drowsy.
95% of teens say drowsy driving is risky but most rate drunk, drugged, and distracted driving as more dangerous.
Most teens say schoolwork and jobs are the main factors that keep them from getting the sleep they need to drive alert.
Teen drivers with jobs are more than twice as likely as those without to have driven while so tired they had a hard time keeping their eyes open.
"Other science and research previously established teens and young people are at high risk for drowsy driving. What we see in our results this year is many teens, early in their driving experience, say they've already driven while drowsy. Overall, teens know the risks of drowsy driving but don't think it's as risky as other forms of impaired driving," says Joseph Dzierzewski, PhD, vice president, of research and scientific affairs at NSF, in a release. "The good news is drowsy driving is preventable, and there's a lot we can teach our young drivers about the importance of getting the sleep they need before they get behind the wheel."
There are steps people can take to help lessen the risk:
Get the recommended amount of sleep before you drive.

While the feeling of a good night's sleep varies from individual to individual, NSF recommends seven to nine hours of sleep per night for adults and eight to 10 hours for teens of driving age.

Plan your long trips with a companion.

A companion passenger can not only help look for early warning signs of drowsiness but also help with the driving when needed. A good driving companion is someone who stays awake to talk to you and will be aware of your alertness.

Schedule regular stops for your trip, every 100 miles or two hours.
Be mindful of warning signs of drowsy driving.

Frequent blinking and yawning or having difficulty with lane and speed control are common signs that you may be driving while drowsy.
Photo 44109286 © Rosshelen | Dreamstime.com