Judith A. Owens, MD, MPH, thrusts pediatric sleep medicine into an era of awareness.
By Greg Thompson
Judith A. Owens, MD, MPH, still encounters pediatricians who confidently proclaim that their patients "don't have any sleep problems." The sentiment often stems from the pervasive belief that children will simply "grow out" of their difficulties. More frequently, however, the practitioner has simply failed to ask the right questions.
Owens understands the reluctance to screen for sleep problems in primary care settings, but she also says a 21st-century approach is more than overdue. For many years, a distinct communication gap has resulted in sleep being the last concern on a lengthy list of potential problems. "There has been a kind of conspiracy of silence in which pediatricians didn't ask about sleep, largely because they were never taught about it during their training and had little background with which to deal with problems," says Owens, who penned A Clinical Guide to Pediatric Sleep in 2003 (updated second edition 2009) with coauthor Jodi Mindell, PhD. "Parents often don't think to ask for advice about sleep or even bring up the issue. At the same time, pediatricians may assume, 'Well, if it was enough of a problem, parents would bring it up.'"
From a research standpoint, the understanding of pediatric sleep issues has often lagged behind that of adults by as much as a decade. Whether the issue is obstructive sleep apnea, restless leg syndrome, or insomnia, studies in the pediatric realm are much fewer in number, partly due to the considerable challenges of conducting sleep research in children. Fortunately, that is changing, and the bellwether just might be Owens' in-basket. "I just turned down another journal review of a sleep article because I have five in my pile right now," says Owens, who serves as director of the Pediatric Sleep Disorders Clinic at Hasbro Children's Hospital and the Learning, Attention, and Behavior Program at Rhode Island Hospital, Providence. "I easily get two or three requests a week now to review, which is an enormous change compared to the way things were when I started in this field 18 years ago."
Among the public, the story is much the same. As an advisory board member for Parents magazine, Owens sees the impact of increased awareness. "Almost every month, there is an article in the magazine about sleep," she says. "Parents are increasingly aware of the impact of insufficient and/or poor quality sleep on children's physical and mental health, and this information empowers them to go to their pediatricians and start asking questions."
In the world of the sleep laboratory, the main challenge is to reject the notion that children are merely short adults. "I give full credit to my dear friend and colleague, Dr Carol Rosen, who has really spent a great deal of time promoting a child-friendly environment in the pediatric sleep lab and recognizing that children have different needs," says Owens. "It is so important to recognize that children are literally and figuratively a moving target, and you are not going to treat a 2-month-old the same way you would treat a 2-year-old or a 12-year-old."
There are many examples of how sleep problems in children may differ fundamentally from those in adults. For example, in regard to insomnia, Owens points out that, in contrast to adults, it is often the caregiver—rather than the child patient—who brings the sleep concerns to the attention of the health care practitioner. Furthermore, the impact of childhood insomnia is often as devastating for the family as it is for the child. This must ultimately be taken into consideration in assessing the potential consequences of sleep problems in children.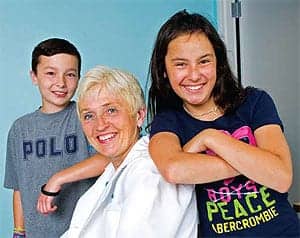 Judith A. Owens, MD, MPH, recognizes that children such as Spencer Mlynek (left) and Sarah Mlynek (right) have different needs than adults.
From a diagnostic standpoint, there are also many factors that distinguish adult from pediatric sleep. For example, when scoring sleep in the first 3 months of life, the characteristic EEG features, of trace alternants and trace discontinue, have no adult equivalent. "Similarly, the phenomenon of hypnagogic hypersynchrony, which are small bursts of theta activity that are normal in early school age children, could be misinterpreted as seizure activity," explains Owens. "There are dramatic changes in sleep architecture that occur across the pediatric age spectrum, which need to be taken into consideration in defining 'normal sleep' in children."
Owens adds that children are also less likely than adults to have EEG arousals associated with respiratory events or periodic limb movements. When the scoring guidelines were revised a few years ago, researchers examined the question to determine if arousals should be scored differently in children. This has important implications when examining the relationship between sleep fragmentation in children and neurobehavioral outcomes. "Ultimately, it was decided that we did not have enough data to change the definition," says Owens. "However, I think that many people feel that our current markers for scoring arousals need to be refined and redefined for children, because we are potentially missing evidence of sleep fragmentation by using the adult definition."
For Owens, one of the most frustrating and challenging aspects of pediatric sleep is the lack of standardization. While scoring has its problems, interpretation is the biggest concern. "For example, we still don't have hard and fast rules for defining an apnea-hypopnea index that is considered pathologic in children," laments Owens. "Partly that is because we don't have enough normative data."
While the American Academy of Sleep Medicine's Standards of Practice Committee (SPC) determined that there was not yet enough evidence to support the development of practice parameters to standardize the diagnostic criteria for obstructive sleep apnea in children, SPC practice parameters regarding indications for polysomnography in children are expected to be published within the next year, a major step forward. "As part of this project, we are also working on practice parameters, which relates to the utility of polysomnography in special populations, such as children with autism spectrum disorder and ADHD in particular," says Owens, a past recipient of AASM's 2006 Excellence in Education Award. Owens was instrumental in developing the SPC's first set of pediatric practice parameters, which addressed behavioral treatments of bedtime resistance and night wakings in young children.
ERA OF AWARENESS
The author of what many call the "bible" of pediatric sleep medicine admits she learned little about the clinical nuances of slumber during her medical education in the 1980s. Owens was not unusual in this regard. And while her influential text is still in wide circulation, the Brown-educated physician is on an ongoing mission to boost sleep medicine training, both for established physicians and for those still in medical school.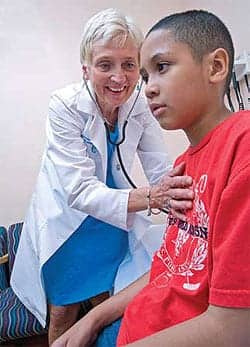 Judith A. Owens, MD, MPH, a strong believer in the child-friendly environment of the pediatric sleep lab, listens for abnormal breathing in patient Eliazar Santus.
As a recipient of a National Institutes of Health (NIH) Sleep Academic Program grant, Owens has sought to convey the importance of sleep health and sleep disorders in children's general health and well-being. In addition to completing a pediatric residency at Children's Hospital in Philadelphia, a fellowship in developmental behavioral pediatrics at Minneapolis Children's Hospital, and a fellowship in child psychiatry at Brown, she earned a master's degree in maternal and child health from the University of Minnesota. "My involvement in sleep medicine has partly been a matter of being in the right place at the right time, and at the right juncture in the field," says Owens.
In her role as chair of the American Academy of Sleep Medicine's Section on Childhood Sleep Disorders and Development, Owens is proud of her efforts to increase membership and to increase the visibility of pediatric sleep within the organization. On her watch, a yearly "report card" was developed to track accomplishments in the field, including the number of publications in pediatric sleep, representation on the AASM board, and intersections within other pediatric professional organizations.
The effort is all part of a mission to recognize pediatric sleep as a unique and growing field. While having a sizable overlap with adult sleep medicine, it is a discipline in its own right. "The thing I am most excited about is the tremendous growth in interest in pediatric sleep medicine, and the eagerness people have for networking and collaboration opportunities," says Owens. "To begin to address that need, 5 years ago we initiated an annual sleep medicine meeting devoted exclusively to pediatrics, in cooperation with the Brown University Continuing Medical Education department."
Mindell and Owens have cochaired the meeting since its inaugural year and are pleased with the results. "We have a wide spectrum of attendees, including primary care pediatricians, child psychiatrists, child psychologists, child neurologists, pediatric pulmonologists, developmental/behavioral pediatricians, and pediatric nurses, among others," enthuses Owens. "It represents how varied our field is, and has really been a wonderful thing. The decision was made this year to alternate the location of the meeting between the United States and abroad to attract a more international audience. In 2010, the meeting will be in Rome in December."
---
Greg Thompson is a contributing writer for Sleep Review.
A CLINICAL GUIDE TO PEDIATRIC SLEEP
As coauthor of A Clinical Guide to Pediatric Sleep, Judith A. Owens, MD, MPH, has helped shape the research priorities and knowledge base in the burgeoning field of pediatric sleep medicine. In a continuing effort to answer questions related to the venerable text, Owens, who serves as chair of the AASM Section on Childhood Sleep Disorders and Development, agreed to respond to Sleep Review reader inquiries. Here are two of her answers.
Sleep Review reader: Your book mentions that "it is not an accurate perception, that children 'grow out' of sleep problems." Could you elaborate further to rid this common belief? Could you provide a common example?
Judith A. Owens, MD, MPH, director of the Pediatric Sleep Disorders Clinic at Hasbro Children's Hospital and the Learning, Attention, and Behavior Program at Rhode Island Hospital in Providence: The most common example we see in our sleep clinic is the children who have what is called behavioral insomnia in childhood, in particular the sleep onset association type. These are children who have essentially never learned to fall asleep independently; in other words, without caregiver intervention. Typically, that's not so much of an issue at bedtime because parents are around, and they are available to sit with the child or stay in the bedroom with them until they fall asleep. However, children—like everybody else—wake up periodically during the night. Because they have never been able to fall asleep independently, they again need the parent's presence to fall back to sleep.
If the parent is not there, that becomes a prolonged night waking and leads to a lot of problems with crying and protests—or the child going into the parent's bed. We often see these children when they are 10 years old, and they are still coming to sleep with their parents every night. Certainly that is not a universal scenario by any means, but it happens frequently enough that we really see this as something that is better addressed earlier on because it doesn't necessarily go away by itself. I think there are also children who have what we call "idiopathic" insomnia; part of this may be due to environmental factors such as exposure to toxins in utero or a genetic predisposition.
These children are predisposed to have sleep onset and sleep maintenance problems, and this can potentially be a lifelong issue. I think we know very little about the natural history of insomnia in children. One of the projects that I worked on was to develop a pediatric insomnia registry, which would allow us to identify children with insomnia and then follow them to see what interventions were successful. We could also see which interventions were not successful, which children naturally outgrew the problem, and which did not. We could also catalogue the risk factors and protective factors. This still very much needs to be done. Until we have that opportunity to follow children forward in time, we're not going to have good answers as to which treatments are most effective.
Sleep Review reader: I'm interested in the coexistence of sleep problems with preexisting medical conditions. It's been mentioned in your book how sleep disorders "can exacerbate other illnesses." Have there been any studies showing the rate of improvement of a specific illness once the sleep problem has been corrected?
Owens: I am not aware of any literature that has looked at that specifically in regard to medical illnesses. However, there has been a lot of interest in the relationship between sleep problems and mental health issues, in particular attention deficit hyperactivity disorder (ADHD). That is one of the areas that I am most interested in. I also run an ADHD clinic, in addition to my pediatric sleep disorders clinic, and the interface between symptoms of ADHD and symptoms of sleep problems never fails to astonish me.
In my presentations about ADHD and sleep, I often talk about a study out of the University of Michigan. In the study they took a group of kids who were having adenotonsillectomies, primarily for OSA, and they compared them to a group of children who were having surgical orthopedic procedures who were otherwise healthy.
Each child was interviewed by a child psychiatrist using a structured standardized interview who was blind to their condition. They wanted to look at what percentage of each of those groups met the criteria for ADHD, and with the control kids it was about 7%, which is what you would expect in the general population. In the adenotonsillectomy group, it was 22%, so there was a significant increase in the number of children meeting the diagnostic criteria for ADHD.
The "kicker" is that a year after surgery, when a child psychiatrist again interviewed the kids using the same structured interview, 50% of the children who were originally diagnosed with ADHD no longer met diagnostic criteria for ADHD—implying that their ADHD had been "cured" by having their tonsils and adenoids removed.
I thought that was a compelling clinical example of how treating a sleep problem can result in dramatic improvements in attention and behavior. I am optimistic that future studies will continue to demonstrate that addressing sleep problems in children will substantially improve health and the quality of life for our most vulnerable patients.
—Greg Thompson