Everyone has a sleep problem until proven otherwise, says Douglas Livornese, MD. But with a patient-centered approach to care, those found "guilty" can be treated and given a new lease on life.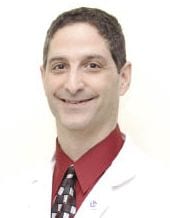 Douglas Livornese, MD
You are in the airport. You see a man who appears to be in late middle age. He is overweight, possibly obese. His face is tinged red, he has neck folds, and his breathing is heavy. Even many laypeople would guess this man is a snorer, and those with any knowledge of sleep disorders would comfortably bet on a diagnosis of sleep apnea as well. But what about the 5-foot, 7-inch Asian man who weighs just 100 pounds or so?
Most would not think this man has a sleep apnea problem, but there is such a patient, and he has one of the most severe cases of sleep apnea that Top Sleep Doctor Douglas Livornese, MD, medical director of Comfort Sleep in Neptune City, NJ, has ever seen. "He had an apnea/hypopnea index greater than 140—catastrophic," Livornese says.
Fortunately, the patient's wife had once heard the patient stop breathing while asleep, and the patient's physician subsequently referred him to a sleep lab. The case is a success story, but there are likely many other patients whose sleep disorders remain undiagnosed, possibly even unnoticed. Livornese's philosophy when it comes to sleep medicine, therefore, is that everyone has a sleep disorder until proven otherwise. "You have to look because there are so many negative effects of sleep disorders," Livornese says.
Appropriate treatment of a sleep disorder can have a significant impact on a patient's life, often for the better. "You have these people walk in who are absolutely miserable, and once you treat them, they are like new people," Livornese says.
The Patient-Centered Care Model
To ensure that every patient has the opportunity to radically improve their health and quality of life, Comfort Sleep has implemented a comprehensive patient-centered approach to care. "Instead of the patient running from physician to physician to get care—the way medicine basically is [set up] now—we've flipped it so that the physicians run to one spot where the patients are," Livornese says.
The facility has a number of medical specialties on staff and on-site. Livornese assists with initial diagnosis, overseeing sleep studies, and decides on a course of treatment for sleep disorders or a specialist referral. Within the clinic, patients may be directed to a second physician, board certified in sleep, who sees patients with insomnia disorders; physicians who assist with nutrition and diets; and/or the dental director, who handles all oral appliances. "Because we have a dentist on staff, we do a tremendous number of oral appliances," Livornese says, noting Comfort Sleep administrators handle billing.
Patients requiring more specialized care may be referred to an outside but local ENT from a team that Livornese works with. Patients with sleep apnea often receive treatment and equipment within the clinic on the same day as diagnosis. To facilitate this model, the founders of Comfort Sleep established a second company, Comfort Sleep Services, to provide durable medical equipment (DME), also on the clinic's site. All equipment is dispensed and managed by three full-time respiratory therapists.
"The vast majority of patients are sleep-disordered breathing patients, but we take care of everybody who comes through the door. And the [referring] physicians know that regardless of what the patient needs, we take care of it," Livornese says.
Livornese contrasts the Comfort Sleep business model with existing sleep models, where the sleep clinic performs and interprets the study but then sends it back to the referring doctor, who must then decide how to proceed.
Experience and Expertise
The one-stop shop format also helps to maintain high quality in the diagnosis and treatment of sleep patients. The current facility was built to Livornese's specifications, which he created with an eye toward the American Academy of Sleep Medicine (AASM) requirements for sleep lab accreditation. Comfort Sleep is now beginning the accreditation process.
"It's somewhat more difficult for a freestanding lab than for a hospital-based lab, but all of our policies and procedures were created to meet accreditation standards," Livornese says. His knowledge stems from a nearly 20-year career specializing in pulmonary, critical care, and sleep medicine.
Livornese's father was a physician, but he encouraged his son to pursue his own career interests—which turned out to be similar. First drawn to the medical field through high school and college-age volunteer efforts as an EMT (ski patrol and ambulance EMS), Livornese found he enjoyed medicine and went on to obtain his MD at the University of Medicine and Dentistry of New Jersey—New Jersey Medical School in Newark. Livornese became interested in sleep during his residency at the Medical College of Pennsylvania Hospital in Philadelphia, which had an active sleep lab. "It had one of the few sleep fellowships in the country at the time and was run by June Fry [MD, PhD], who was [the sitting] president of AASM," Livornese says.
Livornese liked the variety of medicine practiced in pulmonary care but was particularly drawn to sleep as he became more involved with the field in its infancy. Attending sleep medicine conventions and meetings, Livornese realized he was conversing with the pioneers of the discipline, "whereas the founders of internal medicine had been dead 200 years," Livornese says.
Sleep medicine was, therefore, new and interesting and offered a nice balance to the seriousness of critical care medicine. Livornese completed his fellowship in pulmonary, critical care, and sleep medicine (also at the Medical College of Pennsylvania Hospital) and went on to obtain board certifications through the American Board of Internal Medicine (ABIM) in critical care medicine, pulmonary diseases, and internal medicine, and in sleep through the American Board of Sleep Medicine. When ABIM began offering board certification in sleep, Livornese obtained his diplomate status in sleep through that organization as well, becoming the first physician in his area to be board certified in sleep medicine through both institutions.
Accreditation and Quality Control
With a strong background in the field, Livornese is now focused on Comfort Sleep's AASM sleep lab accreditation. Equipped with experience and expertise, Livornese feels accreditation is one key way to ensure quality among sleep clinics. "I think the problem [in sleep medicine] is there is not as much quality control as there should be," Livornese says, worrying the situation could worsen with decreased reimbursement fees, which took effect early this year.
Independent sleep labs, which receive even less reimbursement than hospital-based clinics, will therefore have to be smart about running more efficient businesses and cautious about cutting corners to achieve that same goal. Ultimately, it is patient care that should be the top priority, and with that comes quality control. Livornese would like to see sleep lab accreditation required on a regulatory level for all sleep labs, but even without a law, he has set high standards for the Comfort Sleep lab.
To ensure accurate and consistent scoring, Comfort Sleep's RPSGTs cross-score each other on every exam. Livornese approves every report before it is released. Cameras capture activity throughout the facility, and Livornese occasionally visits the lab during sleep studies to ensure that policies and procedures are properly implemented.
Comfort Sleep: Bed and Breakfast
The commitment to quality enhances patient visits to the Comfort Sleep lab, which has been outfitted to relax nervous patients and imbue a hotel-like atmosphere that even Livornese finds tempting. The sleep laboratory is located within a Class A office building and features an inviting entryway, hardwood floors, and a modern style. The six rooms, soon to expand to eight or 10, include queen-size beds, flat-screen televisions, and digital video recorders; the sleep lab equipment is tucked away behind the headboards to eliminate any health care institution feel.
Going for a bed-and-breakfast atmosphere instead, patients are actually given breakfast, selecting from the menu the night before. And customer service is high. The evening front desk attendant handles scheduling so that patients recognize a friendly voice when they arrive for their sleep study, and the technicians wear soft-soled shoes to avoid waking sleeping subjects. An information packet sent out before a patient's scheduled study includes a map and pictures of the office curbside so elderly patients are more comfortable finding their way. "If a patient has issues coming in, we can also arrange transportation," Livornese says.
Quality and Service
Exceptional quality assurance and service not only are key to providing the best patient care, but they also can be key marketing advantages. Like many sleep doctors, Livornese's main method of building new relationships is through education. One-on-one and group meetings provide excellent educational opportunities, and Livornese likens the efforts to "teaching physicians to fish."
Established in 2007, Comfort Sleep has grown large enough to support physician liaisons who regularly visit primary care and other referring doctors. Occasionally, they screen the physician's patients for a day using a questionnaire developed by Livornese to identify people with sleep disorders. The survey then goes into the patient's chart, where the primary care physician may factor it into a decision to refer someone for a sleep evaluation.
The method works; Comfort Sleep has a sleep study volume that surpasses more than 100 exams monthly and expects that number to grow. The organization not only has plans to add beds to its existing facility, but also is looking into the possibility of opening a satellite office at a second location that would offer similar comprehensive, patient-centered care.
---
Renee Diiulio is a freelance writer based in Manhattan Beach, Calif. She can be reached at .