When patients started begging their parents to let them stay longer to play with the train table, Radio Flyer wagon, and other toys in the waiting room of Golisano Children's Hospital Pediatric Sleep Medicine Services in Rochester, NY, the staff knew they had achieved their goal. Every detail in the office, from the polka dot-covered furniture in the reception area to the brightly colored shirts worn by the staff, is designed to create a warm, friendly environment that puts young patients at ease.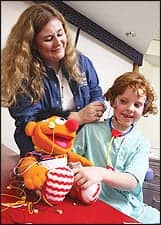 Renee D. Short, RPSGT, prepares Catherine "Lexi" Wolck for a sleep study.
Of course, making patients feel comfortable is only half of the challenge—involving parents and families from the very beginning is this pediatric center's secret to success. "You don't really have just one patient; you have two: the patient and the patient's family," says Heidi V. Connolly, MD, director of the sleep center and associate professor of pediatrics for the University of Rochester. "You have to address the needs of both sets of people in order for everybody to walk away feeling satisfied."
Connolly and her team anticipate parents' needs through every step of the process. They provide as much education as possible at the initial consult, comfortable accommodations for moms and dads during sleep studies, and counseling and follow-up sessions to address issues from CPAP adjustment to daytime behavioral concerns. Taking these steps brings the parents on board with the treatment plan from the beginning and makes them valuable partners when it comes to ensuring compliance.
"Once you do that, it's pretty smooth sailing because they want the same thing that you want, which is to make their kids feel better," Connolly says.
DOUBLE DUTY
Since its modest beginnings 7 years ago within the University of Rochester Medical Center's adult sleep lab, Pediatric Sleep Medicine Services has steadily doubled in size every year. The pediatric side soon had plenty of demand to sustain its own facility and, in May 2006, moved to its own off-campus office, housed in a building alongside many of the university's other hospital-based practices. Today, the center's 13-member staff sees approximately 1,000 patients every year.
Designing a four-bed sleep center to fit into less than 2,000 square feet of office space was a challenge—so the planning committee came up with a unique solution. By day, each of the color-themed rooms serves as an exam room outfitted with tables and benches for consults. At night, all exam supplies are locked away in the cabinets, the table folds up, and two Murphy-style beds fold down—one for the child and one for the parent. Designing space for the parents was key for Connolly, who says parents shouldn't be an afterthought in the design. "We planned with the architects from the beginning that each child would have a parent staying with them," she says.
Because the practice sees patients from newborns through high-schoolers, and even the occasional college student, the center requires different sleeping arrangements for some groups. One room is set up with a crib for babies, and another has a hospital bed for children who require one. Three of the bedrooms share one bathroom, while the fourth has an attached bath for children with special needs.
Doubling up the exam room space with the sleep study rooms helps children acclimate to the lab as well. The rooms each have a brightly colored theme with accents in red, blue, yellow, and orange, and there are toys, DVD players, and flat-screen TVs to create a welcoming environment for children. When they come back for their night-time sleep study, they have already been in the rooms and seen the equipment, so they know what to expect.
SLEEPOVER SUCCESS
The staff see patients with a variety of sleep issues, including snoring because of large tonsils or adenoids, parasomnia, seizure disorders, night terrors, and even behavioral concerns, such as hyperactivity during the day. Most sleep studies are prescribed to rule out sleep apnea, and the lab conducts approximately 14 studies per week.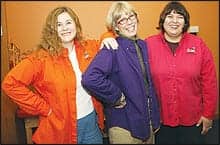 The team at Golisano Children's Hospital Pediatric Sleep Medicine Services is committed to pediatric care. Pictured from left to right are Renee D. Short, RPSGT; Heidi V. Connolly, MD; and Rachel A. Kraus, MS, RN, PNP, APRN-BC.
When a sleep study is needed, a child's main concerns are sleeping away from home, worrying that a parent won't be with them the whole time, and, especially, whether the test will be painful. Parents are encouraged to count down the days to the "sleepover" and constantly remind their children that they will be in the room with them at all times.
Staff also reassure patients about the test itself. "I bring out all of the equipment and let them touch the electrodes to reinforce the idea that there are lots of sticky things, a lot of paste, and a lot of tape, but nothing that will hurt," says nurse practitioner Rachel A. Kraus, MS, RN, PNP, APRN-BC.
Some children are more accepting of the idea of a "sleepover" than others. Those with high anxiety, which can be common in children with autism or Down's syndrome, may require extra steps to boost their comfort level. "We've done things like have them come in during the daytime and just sit in the bed," Connolly says. "And then they come back the next week, and we put an oximeter on their finger. Then the next week, they sit in the bed and lie on the pillow—until they get to the point where they're ready to have a real sleep study done."
Having the patience and flexibility to address the concerns of both patients and parents beforehand makes it much easier to conduct a successful sleep study. "We really want to make sure that when the kids come in for their sleepover, they're ready and don't have any surprises," says lead technician Renee D. Short, RPSGT.
To put patients at ease, techs try to make the experience as fun as possible. Many children are fascinated to learn that they'll be wearing the same kind of sensors that monitor an astronaut's heart rate, for example. "When we start the recording, we do a countdown like they would to go into space, so some of those kids are enjoying the whole experience," Short says. "With the girls, sometimes we'll play beauty parlor and let them pick which color wire they want to use."
Of course, some children still resist the straps, belts, and other equipment. "We have to be prepared for the fact that some of the kids aren't going to like any of the sensors," Short says. "Some of the kids take them off as fast as we can put them on."
Technicians have to think on their feet and be flexible when these situations arise. Often, parents can help ensure compliance. Distracting children with DVDs, stories, or even rewards such as stickers can help them accept some of the equipment. "Sometimes, we have to allow the child to sit on the parent's lap, or let the child apply the electrodes to the parents or a stuffed animal first," says Marie Eaton, RRT, adding that in some cases, the technician will have to come in after the child is asleep to place the electrodes.
FAMILY FOLLOW-UP
Many parents are overwhelmed and don't know how to address their children's sleep disorders on their own. To ensure that patients comply with the treatment they need, Connolly and Kraus work hard to bring parents up to speed. "The interesting thing about working with children is not only do you have to motivate the child to do something, but you also really need to motivate the caregiver or the parent," Kraus says.
Connolly and Kraus encourage parents to establish prebedtime routines that will help trigger sleepiness in children. They also stress the importance of a regular sleep schedule, where kids go to bed at the same time, wake up at the same time, and sleep in the same bed every night, when possible. They also help parents with nutritional counseling and good exercise programs, especially for children who are obese. Parents then take home short, informational handouts that summarize what they have discussed and the goals they can work toward.
RELIABLE RELATIONSHIPS
To get the word out about sleep disorders to the community, Connolly gives regular lectures for audiences, including schools, parent groups, and even pediatric residents and nurse practitioners. The practice also has an informative Web site that will be expanded to include even more details about the sleep study process.
Most important of all is having a staff who loves working with kids. "In the end, we're all here because we love what we do," Kraus says. "And we have a great time doing it."
---
Ann H. Carlson is a contributing writer for  Sleep Review. She can be reached at [email protected].