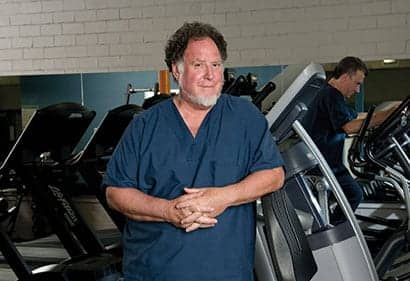 By Mike Fratantoro
America is sleep deprived, with about one-third of the US workforce (41 million workers) sleeping fewer than six hours each night.1 The reasons behind sleep deprivation are many, but for the millions of Americans hoping to normalize their sleep habits, results from a new survey by the National Sleep Foundation (NSF) may offer an effective method to improve their overall sleep quality: namely, exercise.
The National Sleep Foundation's 2013 Sleep in America poll surveyed 1,000 Americans and found "a compelling association between exercise and better sleep." In total, 76% to 83% of exercisers reported "fairly good" or "very good" overall sleep quality, compared to only 56% of non-exercisers. On the same note, non-exercisers were much more likely to report "very bad" overall sleep quality, compared to exercisers (14% vs 3%-4%).
"There's a very strong relationship between good sleep and exercise," says Max Hirshkowitz, PhD, sleep center director, Department of Medicine, Houston Veterans Affairs Medical Center. "People who report exercise sleep better than people who don't exercise. Their sleep quality is better, they feel better, their general health is improved, and they have fewer bad nights of sleep."
Hirshkowitz served as task force chair for the National Sleep Foundation 2013 poll, which surveyed 1,000 American adults, age 23 to 60, and asked them to self-report their physical activity and sleep habits. Based on their reported levels of physical activity, participants were categorized into one of four exercise levels:
• "Vigorous" (18% of respondents): activities requiring hard physical effort, such as running, cycling, swimming, or competitive sports;
• "Moderate" (25%): activities requiring more effort than normal, such as yoga, Tai chi, and weight lifting;
• "Light" (48%): defined as walking; and
• "No activity" (9%): respondents who did not perform physical activity for at least 10 minutes in the previous 7 days.
Hirshkowitz notes that the poll was cross-sectional, with participation from all major geographic, economic, ethnic, educational, age, and gender demographics. "We're not just talking about a region of the country, or young people or old; this was a range, a well constructed sample," says Hirshkowitz, who has been involved in sleep research and clinical study since 1975. He is a member of the NSF board and chairs its research committee. When asked to chair this year's poll task force, he agreed because he thought the poll topic was interesting. "We advocate for things that are good for sleep," he says, adding that the poll had the potential to benefit patients and their sleep disorders, which is "what the National Sleep Foundation is about."
IT'S ALL GOOD
Despite the fact that exercisers and non-exercisers generally reported the same sleep quantity (6 hours, 51 minutes average on workdays and 7 hours, 37 minutes average on non-workdays), poll results consistently showed that exercisers had better sleep quality and fewer sleep problems than non-exercisers. In fact, only 39% of non-exercisers reported a good night's sleep "every night" or "almost every night" on worknights. For exercisers, that number was 56% to 67%.
The poll also found that exercise improves sleep on the day of exercise. More than half of exercisers (51%) reported sleep quality improvement on days when they exercised, with 43% reporting "no difference" and only 2% reporting that their sleep "worsens."
"Not only does exercise improve sleep, it improves a lot of other things," says task force member Barbara A. Phillips, MD, MSPH, FCCP, a board-certified internist, pulmonologist, and sleep physician at the University of Kentucky Good Samaritan Sleep Disorders Center. One of the additional benefits of exercise, Phillips notes, is on overall health; 79% to 91% of exercisers reported "good" or "excellent" overall health, compared to only 58% of non-exercisers. Meanwhile, nearly half (42%) of non-exercisers reported "poor" or "fair" overall health, but they were 12 times more likely than moderate or vigorous exercisers to report "poor" overall health (12% vs 1%).
"The foundation of good health involves exercise, nutrition, and good sleep, and I believe there's a synergy between them," says Hirshkowitz. "I don't care how good your exercise program is or how good your nutritional program is, if you don't sleep well, you're not going to feel well."
The survey results reflect this synergy. Non-exercisers had the highest number of sleep disorder symptoms and highest risk for sleep apnea, according to the poll, which included a modified version of the STOP-BANG sleep apnea questionnaire. Non-exercisers frequently reported snoring (40%), tiredness (72%), observed apnea (32%), high blood pressure (34%), and a BMI greater than 35 (24%). Based on this data, 44% of non-exercisers had a moderate risk of sleep apnea and 6% had a high risk.
VIGOROUS EXERCISERS, BETTER SLEEPERS
Exercisers sleep better than non-exercisers, but task force members said one of the biggest takeaways from the poll was the fact that within the exercise group, vigorous exercisers reported the best sleep and best health. "The first major finding is that exercise appears to be good for sleep, the second is that vigorous exercisers do even better," Hirshkowitz says.
In fact, 83% of vigorous exercisers reported "very good" or "fairly good" overall sleep quality. At the same time, they reported the lowest percentage of "very bad" or "fairly bad" overall sleep (17%). An equally important result was that these active exercisers also have the best overall health, with 91% reporting "good" or "excellent" health. Notably, vigorous exercisers reported "excellent" health nearly seven times more than non-exercisers (47% vs 7%).
Vigorous exercisers were also the least likely to report sleep problems. In assessing their sleep within the past two weeks, they "rarely" or "never" had difficulty falling asleep (69%) or woke up too early and could not get back to sleep (72%). They also reported the shortest amount of time taken to fall asleep, averaging 16.6 minutes on workdays and 14.7 minutes on non-workdays. These figures are well below averages for the other exercise categories.
"You don't have much direct control over how well you sleep, but you do have control over how much you exercise," Hirshkowitz says. "My advice would be if you don't exercise, start an exercise program. Start with walking for 10 minutes per day and work your way up."
BETTER LATE THAN NEVER
Although the majority of respondents (51.8%) who exercised moderately or vigorously did so more than 4 hours before bedtime, a significant number of people exercised within four hours of sleep (21.8%). Until now, sleep professionals had normally discouraged exercising too near to bedtime, for fear it would negatively affect sleep. But, according to the poll results, the sleep and health benefits of exercise were independent of the time of day in which it occurred. "'Dogma' says that you shouldn't exercise within 4 hours of bedtime, but in this poll we found that the people who [did], slept as well as those who exercised at any other time, and they slept better than those who didn't exercise at all," Phillips says.
More than half of exercisers (55%) who worked out within 4 hours of bedtime reported same-day sleep improvement, while 39% reported no effect on their sleep. Furthermore, only 3% of respondents reported that their sleep worsened. These figures are comparable to respondents who exercised more than four hours before bedtime (54%, 42%, 2%, respectively).
Phillips said it is time to do away with this particular "sleep hygiene" myth. "The big message to me is that it's time to put that myth to rest. People need to exercise. It's good for overall health; it's good for sleep. We need to tell people to exercise whenever they can," she says.
TAKE A STAND
In what some task force members called a surprising discovery, there was a significant connection between the amount of time a person spent sitting during the day and their nightly sleep habits and reported overall health. To the point, participants who reported sitting less than 8 hours per day reported better sleep and health, while those who reported more than 8 hours of sitting, reported worse.
Task force member Shawn Youngstedt, PhD, an associate professor at the University of South Carolina and Wm Jennings Bryan Dorn VA Medical Center, calls the findings "unique." "Just sitting appears to be hazardous to sleep and overall health," he says. "We know that sitting has other negative health consequences, but I'm not aware of other evidence in which it has been associated with worse sleep."
Specifically, 22% of participants sitting less than 6 hours per day and 25% of participants sitting 6 to 8 hours per day reported "very good" sleep, compared to only 15% of those who sat between 8 and 10 hours. For respondents sitting for 10 or more hours, their sleep quality is even poorer, with 30% reporting "very bad" or "fairly bad" sleep.
Respondents' overall health also was linked to the amount of time they sat; 25% of respondents who sat for fewer than 6 hours reported "excellent health," while 23% of respondents sitting 10 or more hours per day reported "poor" and "fair" health.
Many people work in office settings, which require extended periods of sitting, and Hirshkowitz says he can relate. He normally reads polysomnograph records in his office for three to five hours per day, he says. But as a result of the poll, he no longer sits for more than one hour at a time and has installed a "standing desk" in his office that allows him to work from a computer while standing. "As much as possible, you have to find clever ways around [sitting too long]," he says, noting the desk has been helpful. "I think it's been beneficial so I continue to do it."
A NATURAL SLEEP AID?
Respondents who reported no exercise had less quality sleep and were more likely to report trouble falling asleep and waking up feeling un-refreshed. Given their consistently poor sleep, it is no surprise that non-exercisers were the most likely to use sleep medication. In fact, nearly one-quarter (22%) of no-activity respondents took sleeping medicine three or more times per week, with one-third (34%) using it at least once in the last two weeks. By contrast, only 7% of vigorous exercisers reported using sleep medication three or more times per week.
Overall, the results showed that usage of sleep medication declined as exercise increased, meaning the more vigorous the exercise, the less likely a person was to take sleeping aids. "People are looking for a non-drug approach to improve sleep—well, here is one," says Phillips.
THE POLL + SLEEP MEDICINE
Although the National Sleep Foundation 2013 poll demonstrates a strong association between healthy sleep habits and healthy exercise habits in respondents, it cannot answer "why" they are connected or prove a definitive cause and effect relationship. For that, task force members said there must be more study, and these results will help make that possible.
"I think [the poll] is going to stimulate more research. I think there's a renewed interest in this area," says Youngstedt, who offered his own theory as to why exercise benefits sleep. "I think it's most likely due to the calming effect of exercise. We know that exercise has a positive effect on reducing anxiety and stress; it also has an antidepressant effect, so I think that's the most likely mechanism."
The National Sleep Foundation has already taken one significant step in response to the poll results. The organization has amended its official sleep recommendations for "normal" adult sleepers to encourage exercise at any time of day, as long as it's not at the expense of sleep, according to Hirshkowitz. "The big surprise in this study was, at least in the general population, the relationship between exercising and better sleep was independent of when the exercise occurred," says Hirshkowitz. "These results have changed what we think are good sleep tips."
Phillips agrees, and says the poll's biggest impact on her own clinical work will be the fact that exercise benefits sleep regardless of when you do it. "I'll be able to say, more emphatically, that it doesn't matter when you exercise, you just need to exercise. It will really improve your sleep. Of course, it improves overall health as well," she says.
"[Exercise] is something that should be paid attention to when we ask patients about their sleep," Hirshkowitz concludes. "We should ask about their activity level, do they sit for long periods, do they exercise, and how heavily do they exercise. I think that information can be important in helping craft an intervention program if there is a sleep problem." SR
---
Questions for the author can be sent to [email protected].
---
Reference
1. Short sleep duration among workers—United States, 2010. MMWR: Morb Mortal Wkly Rep. Centers for Disease Control and Prevention. 2012;61(16):281-285. Available here.