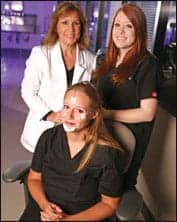 From left: Jennifer Batson, RPSGT, CRT, RCP, chief clinical instructor, and Erin Copeland place electrodes on Helena Hill in preparation for a mock sleep study.
Though the field of sleep medicine continues its rapid growth in the United States, there are still only a handful of college-level programs offering degrees in polysomnography. The relative lack of certified professionals in sleep medicine has been acknowledged by organizations as specific to the field as the National Center on Sleep Disorders Research (NCSDR) and as far-reaching as the Institute of Medicine of the National Academies, which noted in a recent report that "attracting, training, and supporting investigators in sleep-related research is critical for fueling the scientific efforts needed to make important discoveries into the etiology, pathogenesis, prevention, and treatment of chronic sleep loss and sleep disorders."
In response to this clarion call and in recognition of the career opportunities offered by the burgeoning field, however, colleges are beginning to establish degree programs in sleep medicine—setting educational benchmarks for sleep techs today and helping to establish accreditation standards for tomorrow. One such institution, Alvin Community College (ACC), Houston, recently wrapped up the inaugural cycle of its new polysomnography program. ACC offers both an associate of applied science degree for 63 credit hours over 21 months and an advanced technical certificate for 23 credit hours over 12 months.
"It's difficult to find polysomnographers," says Paul McCarver, MBA, RRT, RPSGT, ACC's program chairman and chief instructor. "There are only 13,500 of them internationally. There are still very few schools of polysomnography that are accredited and college-based."
McCarver, who developed ACC's polysomnography curriculum, has worked as a sleep technician and has taught in various respiratory care programs. He was attracted to the idea of teaching sleep medicine because of the need he has seen for qualified, professional polysomnographers. "The thing that I'm most excited about is that our students can walk into a number of different labs with all kinds of different instrumentation, and with a minimum amount of coaching, they can learn how to use it," he says. "They're very well prepared to go ahead and take their place out in the field."
THE RIGHT STUFF
How can ACC's students boast the kind of multivendor proficiency most sleep techs can only dream of? The answer is in ACC's in-house sleep lab, which features two fixed beds designed to mimic those in a commercial lab and four beds in a "training lab." Additionally, ACC has 10 to 12 portable beds designed for classroom use by students and instructors.
"Not all of the beds are up and running at any given time, but we do have the instrumentation for that," McCarver explains. "One of the things that we find very valuable in our program is that we have multiple platforms. The vendors have been very generous with us. We have a Compumedics system, a Grass system, a REMbrandt unit, and a VIASYS system. We've also been very blessed by the CPAP providers."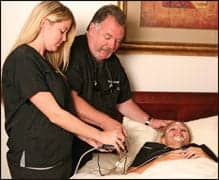 Paul McCarver, MBA, RRT, RPSGT, instructs student Jessica Devries about equipment setup. Helena Hill, another student, acts as the patient.
Maintaining a diverse portfolio of equipment is important to the team at ACC, and they have found that it is important to vendors as well. "We always have a vendor rep on our advisory board," McCarver says. "This is good business for them—the students coming out are going to be the next generation of sleep techs, and we anticipate they'll rapidly work into positions of responsibility in various labs."
ACC polysomnography student Rosalind Franklin knows firsthand the advantages—and the downside—to learning multiple vendors' platforms. Like most members of the inaugural class, Franklin already has a job waiting for her at a Houston sleep lab when she graduates, but what makes her so competitive in the marketplace is also what challenged her the most in the program.
"Scoring was definitely the hardest part," she recalls. "There are so many different platforms out there that each lab uses. You're familiar with this one and then you go to that one, and it's not as clear as the one you're used to. But as time went on, I was able to get beyond looking at the screen, and then everything else just flowed into place."
The lab at ACC is designed for practice and mimics a commercial sleep lab in every possible way "except for having a shower installed," according to McCarver. So when students initially begin learning the ropes, they work on volunteers solicited by the college, family members, and, most often, each other.
"We were each other's guinea pigs," Franklin says. "We got a lot of hands-on experience with each other." After hooking each other up to equipment and talking each other through the process, students critique one another, offering suggestions for better performance. "I always enjoyed critiquing," Franklin notes. "We critique after every time we try things out, and we always ask each other, how was the timing? How could we have done that better? My personal goal is to get the entire hookup done within 45 minutes."
McCarver says that in some cases, the volunteer aspect of ACC's lab draws in those who would ordinarily be intimidated by undergoing clinical sleep studies. "Some people are afraid," he says, "and it's less threatening for them to come to an educational setting, because they feel like they're helping people. A lot of times people find it's easier to get their spouses into our lab, for instance."
The program's clinical coordinator, Lata Casturi, MS, RPSGT, explains that the student-on-student education extends beyond critiques. "What we do quite often is one student sleeps through the night in our lab, and another student is with an instructor all night learning to make appropriate notes," she says. "We do CPAP studies on them, and they can review the data and learn from it."
THE CURRICULUM
Cheryl Rambaud, RRT, RPSGT, a faculty instructor at ACC, came to the program from St Luke's Hospital, where she continues to work full-time in various capacities, including in the sleep center. (St Luke's is a clinical site for ACC.) "All the students want to be sleep technologists," she says. "They're really interested in making this a full-blown career. It's a rapidly growing industry, and the opportunities have really grown—there's so much research being done. We're still in the baby years of sleep."
Typically, Rambaud teaches a scoring class. "Usually, we go over new guidelines, and then there will be hands-on time with different scoring stations," she says. "Afterward, we'll review, and then the students will be quizzed." Another key component of Rambaud's job is teaching students how to communicate effectively with patients. "It's all about making the students understand the significance and importance to the patient, bringing the compassion out in them," she says. "I did a lot with teaching them how to educate patients, and they definitely got it."
Rambaud spoke proudly of one student in particular whose communication problems both inside and outside the classroom were assuaged thanks to ACC's classes. "The first time we role-played educating the patient on sleep apnea and CPAP, he couldn't even communicate," she recalls. "He was so nervous we couldn't understand what he was saying. So I gave him an assignment to practice at home before coming back to do a demonstration for the class. He's one of those exceptional people—he went out and practiced with everybody. He's probably our best educator." Not long after, the student was the first in his class to be hired by a local sleep lab—long before graduation in August. "His communication skills are now his greatest strength," Rambaud says.
Casturi teaches sleep architecture and pharmacology and runs a 3-hour scoring workshop. "The first part of the semester we do studies in-house," she says. "Because this is a 2-year program, we can take it in slow increments. We really teach the students the science of sleep."
The 2-year program includes general education courses, lectures, and lectures with labs. "Class is 2 days a week, and then they may have a 3- or 4-hour lab," McCarver says. "It varies from semester to semester. We poll our students on a pretty regular basis with regard to how we can make things better, and they're certainly not shy about letting us know."
ROTATIONS
Where in-house studies on each other leave off, clinical rotations at Houston-area sleep labs pick up. ACC has relationships with St Luke's Hospital, HMS Diagnostics Inc, Texas Children's Hospital, and more; students spend the second year of the program working overnight in these labs on actual patients. Each student is required to do two 12-hour shifts a week at local sleep centers during the school year; in their summer session, they study pediatric sleep medicine and adhere to the same schedule at Texas Children's.
"They have techs who are their mentors in different facilities," Casturi says. "They set up the patients, they learn to make the notes, and at the end of the night, the registered tech reviews everything. It's a lot like having another instructor at every lab where they do rotations."
Get updates on sleep medicine education delivered to your e-mail inbox. Subscribe to Sleep Report.
John Sabo, MS, RRT, RN, the administrative director of St Luke's Center of Sleep Medicine, says bringing in ACC's students adds energy to his facility. "We're challenged by their curious minds," he says, "and the techs love it. They love being with the students, sharing and helping to form them."
Franklin, who has already been offered a job at one of her rotation sites, Apnix Sleep Diagnostics, says the hands-on clinical experience was one of the most valuable aspects of the program. "Tim Aldridge [BS, RRT, president of Apnix] told me that in sleep, you never stop learning," she says. "No one knows everything. He told me he could give me the tools I need to succeed."
And the feeling is mutual. "They've had extremely positive feedback from all the clinical locations," says Sabo of the students. "It's great that programs like ACC are being developed, because the field of sleep medicine really needs to take the next step in educating technologists in patient care."
---
Cat Vasko is a contributing writer for Sleep Review. She can be reached at sleepreviewmag@allied360.com.