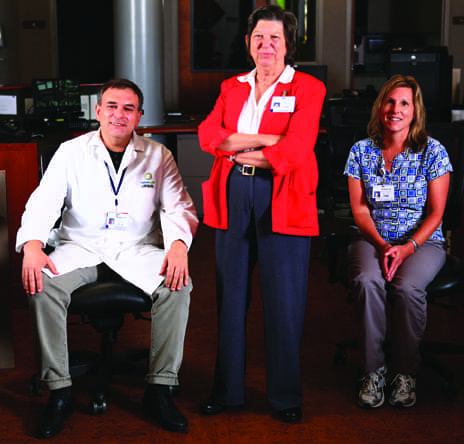 As the roles of sleep technologists transform to meet the needs of an outcome-oriented, cost-conscious healthcare system, new American Association of Sleep Technologists President Rita Brooks draws on experience to lead the way.
By Lena Kauffman
If the future of the sleep medicine industry is home testing supported by a smaller number of sleep labs focused on diagnosing and treating complex patients, then what happens to sleep technologists?
Poised to help answer this question is Rita Brooks, MEd, RST, RPSGT, REEG/EPT, the new president of the American Association of Sleep Technologists (AAST). Colleagues say the passionate advocate for the sleep technologist profession, with the intelligence and ability to view all sides of an issue, is well-suited for this role.
"I couldn't think of a better leader for our field," says Rochelle Zozula, PhD, DABSM, who works with Brooks at the Capital Health Center for Sleep Medicine, in Hamilton, NJ. "She understands the direction healthcare is going, and if anyone can help protect our profession, she is very well-qualified to do so."
Melinda Trimble, RST, RPSGT, immediate past president of the AAST, adds, "I was very happy that she chose to take this on."
Brooks has more than two decades of experience in the field, and has demonstrated ability in management, training, and advocacy in sleep. She is a coeditor on the latest edition of the Fundamentals of Sleep Technology—the textbook nearly all aspiring sleep technologists study. In May, the American Academy of Sleep Medicine (AASM) awarded Brooks with its prestigious Mark O. Hatfield Public Policy or Advocacy Award. She's one of the first nonphysicians to be recognized by the AASM for the award.
She balances her work as AAST president with her role as director of cardiopulmonary/neurodiagnostic services at Capital Health in Trenton, NJ, where she oversees two AASM-accredited sleep centers totaling 14 beds, as well as several other departments.
Brooks also keeps up her role as an educator, partnering with online education expert, Thomas Edison State College, to offer clinical courses for CAAHEP-accredited certificate and associate's degree programs in polysomnography. She has been a CoA PSG program reviewer and site visitor since 2008, as well as an appointed member of the AASM Scoring Manual Committee since February 2012.
"To say she is an effective multitasker and problem solver is almost an understatement, but it is a natural outgrowth of being a manager in the hospital setting," says Trimble, who is a hospital manager as well. "When you work in a hospital setting with multidepartment factors, you have to learn to view all sides of an issue."
This diverse skill set is essential because Brooks is taking over as AAST president at a time when economic and technology factors are driving a transformation in how all healthcare, including sleep medicine, is delivered in the United States.
"It is very exciting and it is a little scary to be leading this as things are changing so quickly," Brooks says.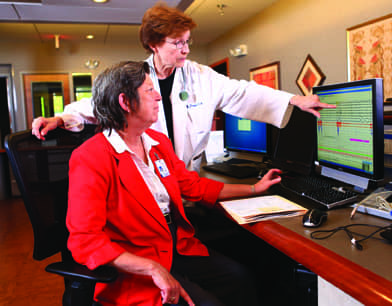 Raising the Bar
One of her goals as president of the AAST is to lay the groundwork necessary so that passionate professionals in sleep technology can make the transition to new care-delivery systems without being pushed out of the field. For her, this means raising the professional level of the field by paving the way for all technologists to obtain the education necessary to play a larger role in the overall care and management of sleep disorder patients. Included in this objective are those who perform traditional laboratory sleep studies and those working in new areas, such as out of sleep center testing or durable medical equipment (DME).
"My biggest goal is to raise the educational bar," she says. "At some point, I'd like to see us get to an associate degree [being required] for entry into the field."
Like many, Brooks trained on the job, yet tomorrow's sleep technologists will need to do much more than position leads and monitor patients during studies. They will likely need to handle patient case manager duties. To do this effectively, they will need to be knowledgeable members of the sleep disorder care team.
As the role of the technologist changes, Brooks also is cognizant of the potential conflicts that can arise when these professionals expand the range of what they do to encompass different areas of patient care, some of which may fall within the scope of the physician's role or another ancillary profession, such as respiratory therapy or nursing.
"Because of my experience in the field, I worry about not just physicians but other allied health professions that want to take over our role," she says. "I worry about nurses, I worry about respiratory therapists. If you don't work closely with the physicians, you are pretty much not going to get anywhere."
To ensure the evolution of the sleep technologist role is collaborative instead of conflict-generating, Brooks and the AAST are focused on continuing to work closely with physicians at the AASM to reach out to all other stakeholders, either directly in sleep medicine or in ancillary professions that cross over into sleep. Ultimately, she wants to expand the AAST's membership to include every technologist working in sleep, as well as every nurse, medical assistant/physician assistant, respiratory therapist, or other professional currently acting as a sleep technologist or manager.
"The only way for the field to move forward in any organized manner is to make sure that everyone involved has a seat at the table," Brooks says. "It is a small field, and there is no way to pull it together if we are all going in different directions."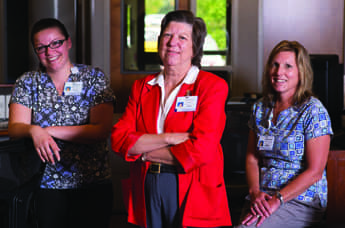 A Serendipitous Study
Brooks understands both the importance of professional standards and the need to work together with peer groups as a result of her background in sleep medicine. In fact, her rise to national leadership came about as a result of working closely with peers when a challenge to the sleep technologist profession arose just a decade ago.
Like many who entered sleep medicine in the 1980s, Brooks had a grassroots beginning to her career. There were very few sleep centers nationwide and no organized training programs for technologists. Communication between professionals was limited, consisting mostly of books, printed journals, letters, phone calls, and faxes.
Brooks was an EEG technologist and trainer when her father explained his concern about how strangely Brooks' mother breathed at night. Today, her father could have answered his questions with a quick Google search, but in 1988, it was up to Brooks to research the subject in the medical literature.
"I read up on some sleep studies and thought, 'I can do a study of my own,'" she explains.
Guided by some second-hand instructions and a borrowed oximeter, Brooks performed her first polysomnographic study on her sleeping mother.
"When I finished, I realized I had a little problem," Brooks recalls. "It was a very abnormal sleep study and I didn't have a physician with me who knew how to read the results."
At the time, Brooks was working at the Helene Fuld Medical Center in Trenton, NJ. She learned of a colleague at that facility—pulmonologist Marcella Frank, DO, FCCP, FACOI, DABSM—who had done a fellowship in sleep medicine. Frank helped Brooks read her mother's study results, which concluded that Brooks' mother suffered from symptoms of severe sleep-disordered breathing.
The collaboration between Brooks and Frank on that survey revealed a cohesiveness partnership of talent and ability between the two women. In 1988 the two developed a sleep center at Helene Fuld Medical Center, which would later become Capital Health Regional Medical Center.
Brooks joined the Association of Polysomnographic Technologists (APT, today the AAST) in 1989 and became an RPSGT in 1992. As she explains, she loved her new profession and thought of it as a perfect fit for her curiosity about sleep medicine. "I was just fascinated by it," she says.
As she recalls, it was exciting to be in such a young field and witness the new advancements in treatments, such as the introduction of the first CPAP machine. However, turmoil was on the horizon.
In May 2003, the APT issued a position paper seeking professional recognition for polysomnographic technologists as a distinct field. Concerned, the American Association for Respiratory Care issued its own position paper a month later that said sleep was part of the respiratory therapist scope of practice. Shortly thereafter, state respiratory care boards began issuing cease and desist orders and citations against RPSGTs and sleep technicians who were not RTs, as well as their employers, for "practicing respiratory therapy without a license."
In New Jersey, sleep technologists were notified that they had to either become RTs by 2006 or stop working as sleep technologists.
Brooks received a phone call from a friend at APT asking for her help in getting the word out about the challenge to the profession. "I said, 'Why me?' I was a tech; I was running a lab; I was a manager," she recalls. "My friend's reply was: 'Well, you know, somebody has got to do it.'"
Concerned not so much about her own career, but about the career of the many technologists she had trained and who worked under her, she partnered with Kathleen A. Feeney, RPSGT, a fellow technologist practicing in New Jersey to obtain the help of state Senator Robert "Bob" Singer (R-30).
They first sought an exemption for sleep technologists under the state's respiratory care law, but it did not pass the state legislature.
"We had to start over," Brooks recalls. "We rallied people in the state. We really reformed the [technologists'] organization, which was kind of defunct at the time. We pulled together as many people as we could in the state and spent 2 years talking to anybody who would listen to us."
Frank was working closely with Brooks at the time and recalls her dedication. "She was an adamant advocate for licensure in the state of New Jersey, and she worked very hard on a state and national level to raise the awareness for the profession and its credentials," Frank says.
As part of her legislation efforts, Brooks became president of the New Jersey Association of Sleep Technologists in 2004. The sleep technologist state licensure bill she had helped draft passed in December 2005, making New Jersey second only to Louisiana in enacting sleep technologist licensure.
Because the lack of professional education requirements had been a major hurdle in getting the licensure bill passed, Brooks and her colleagues took the money they amassed, and the organizational structure they developed in the course of their political battle, and rededicated it to sleep technologist education.
In addition, recognizing that a lack of professional standards and education would continue to pose a threat to her profession, Brooks became involved at the national level. She signed on as an advisor to other state sleep technologist groups seeking licensure legislation, as well as a committee and board member at the AASM and APT/AAST. She most recently served on the ABSM Executive Board from June 2011 to June 2012. In addition, in 2012, she successfully petitioned the New Jersey licensing board to become the first such board to recognize the Registered Sleep Technologist (RST) credential. She obtained her own RST credential that same year.
Amy Aronsky, DO, was on the board of the AASM when she first met Brooks in the course of leading the AASM DME accreditation task force committee in 2009. Brooks was one of the only nonphysicians on the committee, Aronsky recalls, but her contributions were invaluable. "On the committee, she was my rock, my go-to person, the one I could always rely on to get things done," she says.
Aronsky later came to work with Brooks at Capital Health. "I think that she is a visionary," she says. "Rita is not only interested in providing excellent patient care, she is concerned about the future of sleep medicine as it pertains to technologists, and ensuring that technologists are able to see patients and practice their training."
Photography by Victor Chu
Lena Kauffman is a freelance writer and former Sleep Review editor based in Ann Arbor, Mich. Questions for the author can be e-mailed to [email protected].
Related Story:
Passion for the Profession: Outgoing and Incoming AAST Presidents