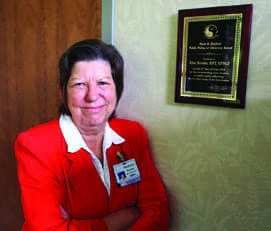 By Lena Kauffman
Rita Brooks, MEd, RST, RPSGT, REEG/EPT, prepared for her position as AAST president by shadowing Melinda Trimble, RST, RPSGT, during her last year as president. The two worked on the "thinking outside the box" initiative regarding what the future for sleep technologists might look like. According to Trimble, the field is going through a period of rapid change, and there is a lot of concern and negativity that can be hard to face, and she wanted to prepare Brooks for this fact.
"We are both very passionate about our profession, and sometimes it's hard to separate your personal feelings for things and not take [every situation] personally," Trimble says. "I think Rita may do better at that than even I did because she is really grounded."
Brooks herself says she is still somewhat surprised at where her career has led since she performed her first sleep study on her mother, but she wants to give back to a profession that she says has been very good to her.
"I never envisioned being in a leadership role at the national level," she says. "I never even envisioned being the president of the New Jersey organization. But I needed to be these things in order to get something done—that was how we were going to get attention for our objectives. I felt my profession was threatened, and I was going to do my best to keep it from being taken away from me and my peers. And it just grew from there."
Brooks adds that she is still amazed at what she's accomplished with the help of others over the years. And she looks forward to her new role advocating for her profession as president of the AAST. "I was never the type to speak in front of crowds or even offer the first answer in a class," she notes. "I guess when you are passionate about something, you can do things you didn't realize that you could do."