Good Morning Sleep Review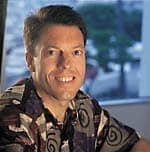 You would think the excitement of launching a new magazine would wane somewhat, especially after having published 13 magazines. However, that is not the case with Sleep Review. With each new launch comes the satisfaction of furthering an idea to fruition and the knowledge that you are helping to serve a specific market with valuable information. In the case of Sleep Review, we knew from the start that this magazine was on the right track based on the feedback we received from sleep professionals and the manufacturing community. With sleep medicine gaining so much attention in the health care community and the increased level of interest in diagnosing and treating sleeping disorders among the general population, Sleep Review aims to be a vital information source for sleep professionals and a valuable advertising source for the manufacturers of sleep-related products and services.
This premier issue is being mailed to 20,000 sleep specialists and respiratory care professionals working in sleep centers and laboratories, hospitals, physician offices, and postacute settings. Editorially, Sleep Review will present insightful feature articles focusing on the clinical side of sleep medicine, case reports, facility profiles, guest editorials and commentaries by sleep professionals, reimbursement updates, legal counsel, and product and news releases. As is the style with all 13 of our existing publications, articles will be well written, pragmatic, and thought-provoking and will present both the clinical and the business management aspects of sleep medicine. The magazine has a user-friendly design that is aesthetically pleasing and is representative of the professional nature of sleep medicine. The photographs and illustrations, along with creative icons, charts, and graphs, are all original and it is our goal to complement the stellar editorial content with an innovative artistic design.
Even though this is our first time publishing a magazine in the sleep arena, we currently publish two magazines that address sleep-related issues on a regular basis: RT, The Journal for Respiratory Care Practitioners and Home Health Care Dealer/Provider. RT is for respiratory care professionals and pulmonary physicians while Dealer/Provider is targeted to the home health care industry. Both publications contain generous editorial during the year on sleep medicine so we are no strangers to the sleep market. In fact, every issue of RT contains at least one sleep-related feature article along with numerous news items about the sleep industry. By attending the annual sleep meetings for the past few years, we have been able to stay on top of this growing and dynamic market. In addition, we have assembled a prestigious Editorial Advisory Board (EAB) that has already provided us with valuable input for this premier issue and will continue to point us in the right direction as we move forward with our quarterly publishing cycle. Our senior editor, Paige Smith, will be adding members to the EAB during the year and may indeed call on you to serve on the board. We believe that you cannot publish a magazine in a vacuum. Publishers need to be out among their readers and allow professionals within the market to provide advice and input in order to deliver editorial content that is both relevant and forward-thinking.
The readers of Sleep Review also will be involved with the magazine as writers, interviewees, and subjects of profiles. With all of our magazines, we look to the professionals within the industry since they are usually a publication's best source of information. Those on the front lines are the ones with the most insight into what is driving an industry. As excited as we are about the launch of Sleep Review, we are just as interested in hearing your feedback on the premier issue. We would truly appreciate your taking the time to let us know how we did with this first issue and to share with us your thoughts and suggestions on what you would like to see in subsequent issues. Sleep Review is your magazine and we want to do everything possible to make it a valuable tool for you and your patients.