Inspired by role models, Robert O. Satriale, MD, DABSM, has become a role model himself.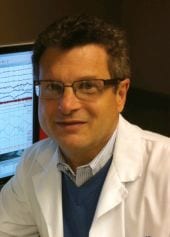 Robert O. Satriale, MD, DABSM
Robert O. Satriale, MD, DABSM, does not claim to have been born into a medical family, although he was. His father, before retiring, was a physician, his mother a nurse, and his brother practices medicine today. Neither does Satriale claim that medicine was his destiny, although it might have been. Inspired by his family, Satriale studied medicine and has been practicing for more than 20 years in the fields of pulmonary and sleep medicine.
"I completed my training in the early '80s, and at the time, there really was no such thing as a sleep specialist in community hospitals," Satriale recalls. In 1981, a seminal paper on respiratory dysrhythmias during sleep by Cherniack was published in the New England Journal of Medicine. "But it was not until 1987, when the first commercially available CPAP machines were introduced, that there was any available treatment option outside of surgery," Satriale says.
The year 1987 was also the year in which Satriale began practicing in Chester County, Pa, where he remains today. Currently, he practices at the Chester County Pulmonary & Sleep Specialists in Coatesville, Pa; he is director of the Sleep Disorder Center at Exton, in Exton, Pa; and he is director of SleepCare for Brandywine Hospital, also located in Coatesville.
Satriale credits role models, including his family at home and the physicians he learned from during his medical training, with inspiring him to enter medicine and then specialize in sleep. "The best role models I had were all pulmonologists," Satriale says.
These physicians influenced his personal practice philosophy, which is that the patient always comes first and treatment is never one size fits all. These principles guide him in his current roles and make him a Top Doctor in sleep medicine today.
Formative Years
Satriale's personal practice philosophy has not varied much throughout his career. In his early days, there were not many sleep laboratories. "The field was dominated by psychiatrists and neurologists," Satriale says. With surgery as the only treatment option, he expected that, eventually, a completely curative surgical procedure would be developed.
"But as time went on, it became painfully obvious that individuals have unique airways. There was usually more than one cause for the obstruction so that surgery no longer seemed the best option," Satriale says, adding that has proven to be true over the longer term.
As a result, the field of sleep medicine has expanded, which experts at the time predicted. "A colleague of mine noted that sleep doctors can't just focus on sleep apnea but have to learn sleep medicine," Satriale says, a fact he quickly acknowledged when first faced with treating an insomnia patient. "I felt completely inadequate in trying to care for this individual simply based on my training in obstructive sleep apnea," Satriale recalls.
So Satriale worked with the administration of Brandywine Hospital and SleepCare Centers Inc, based in Mount Laurel, NJ, to develop a sleep program for the hospital. He then completed a fellowship in pulmonary medicine at SUNY Health Science Center at Brooklyn in 1987 and underwent preceptorship in sleep medicine at Kennedy Medical Center in Cherry Hill, NJ, prior to taking part one and two of the American Board of Sleep Medicine examination in 2001 and 2002.
Patients First
Having the proper education regarding sleep, along with the extensive and current knowledge that comes with it, is key to not only enabling sleep medicine doctors to serve their entire patient populations but also ensuring that patients are served correctly. "It is so important to have the initial evaluation performed by a sleep specialist prior to their [sleep] study to be sure the correct study is ordered," Satriale says.
Satriale sees patients across the range of sleep disorders. As with many sleep centers, a large portion of patients present with obstructive sleep apnea. These patients are generally aged adolescent and above, although the centers have treated patients as young as 7 years old. Another significant portion of Satriale's patients are diagnosed with insomnia, whether idiopathic insomnia or related to other behavioral disorders. And yet another portion, often referred for obstructive sleep apnea, are found to have narcolepsy.
Expanding the utility of sleep medicine, Brandywine Hospital developed a perioperative sleep program to screen anesthesiology patients for obstructive sleep apnea. The objective is to reduce the higher risks typically associated with affected individuals. "There is a higher risk of complications in the perioperative period for patients with sleep apnea. To reduce these risks, it's important to identify them before surgery," Satriale says.
Once identified, they are examined by Satriale within 24 to 48 hours, and given a sleep study that evening, followed by rapid interpretation. "If needed, they will leave the sleep laboratory with a CPAP machine they can use for their postoperative care," Satriale says.
After surgery, many of these patients require sedation, narcotic pain relief, or hypnotics to help them sleep at night. "These factors combined with anesthesia and placing them on their backs to sleep—they are often in pain if they have had belly surgery—increase the risks," Satriale says. Identifying patients with this potential early avoids complications and can improve their recovery and care.
Tailored Treatment
In medicine in general, proper diagnostics help lead to appropriate care and treatment, and this is equally true in sleep medicine. Satriale defines top doctors as those who take the time to learn about their patients, including their sleep issues, medical problems, and social life. "Those doctors must be able to connect with their patients to prescribe not only a treatment that the patient will find acceptable but one that will improve their overall sense of well-being," Satriale says.
The connection becomes more important as the number of treatment options has expanded for all sleep disorders, including sleep apnea. Now, rather than just surgery, there are CPAP machines, dental appliances, weight loss, and more advanced surgical techniques.
"It is well known that simple sleep apnea surgery does not adequately control the more severe degrees of obstructive sleep apnea," Satriale says. Unfortunately, patients who have undergone a simpler, less effective procedure are often reluctant to undertake another. "If we could identify patients who need more aggressive surgery up front, we can get surgical cures at a much higher rate," Satriale says.
Dental appliances are another option, but they are often not covered by medical insurance. "Those patients who proceed are generally happy with the appliances," Satriale says.
Weight loss can also help. Bariatric patients who experience dramatic weight loss often see an improvement in their sleep as well as other related conditions, such as diabetes and hypertension. Brandywine offers a bariatric program that may include bariatric surgery along with a focus on implementing lifestyle change.
CPAP is one of the more common solutions for sleep apnea, although some people do better than others. The implementation of compliance testing has helped to motivate Satriale's patients to comply with a treatment that he admits can be "burdensome" for many. "CPAP is not like taking a pill," he says. However, patients will adapt to it with continuous use, and compliance testing helps push them through the early challenges.
Comfort and Care
Patient education and comfort are also keys to motivating patients. "We do have posters and pamphlets on sleep disorders available for our patients, but there truly is no substitute for sitting down with patients, talking to them, and answering their questions," Satriale says.
At least 30% of his time is devoted to the practice of sleep medicine, where he limits his case-load to no more than four patients an hour and may see some of them in conjunction with a nurse practitioner. With no financial stake in any of the centers, Satriale is motivated simply by his deisre to provide the best care possible to his patients.
All of the facilities are geared toward patient comfort. The sleep center at Brandywine is preparing for a move into larger space, which will double its beds from two to four, each with a bathroom, shower, and flat-screen television. The newer Exton center has a modern design with similar amenities in the rooms and furniture throughout that is specifically capable of accommodating bariatric patients.
Fear and discomfort are two factors that may prevent persons with possible sleep disorders from being tested. "There are many misconceptions about sleep medicine diagnostic studies and the treatments for obstructive sleep apnea and other sleep disorders. I believe having the ability to study patients in a laboratory or at home, to study them in a very timely manner, to split a study and perform both the diagnostic and therapeutic portion in one night, and to individualize the type of testing and equipment that we dispense, really is the key to treating patients with sleep disorders," Satriale says.
Satriale expects that sleep medicine will continue to evolve, as it has over the past 25 years, and that research will continue to show its bigger impact on a person's overall health. "We are still in our infancy regarding our understanding of sleep in general, how sleep disorders developed, and how they can be successfully treated," Satriale says. Satriale may or may not have been born a physician or destined for sleep, but he has become, like those who inspired him, a role model for top doctors in sleep medicine.
---
Renee Diiulio is a freelance writer based in Manhattan Beach, Calif. She can be reached at .