On the evening of May 10, 2008, Dawn Graham got into her car to take her 13-year-old daughter, Audrey, to a friend's house for a sleepover. Eight-year-old Bryan Jr and 10-year-old Stacie went along for the ride. Earlier that day, 18-year-old Binh Pham finished her last exam of the semester at Louisiana State University in Baton Rouge. She packed up her things and left school to drive home. At 7:40 pm the two cars collided. Pham said she fell asleep at the wheel. Dawn, Bryan Jr, and Stacie were killed. It was the day before Mother's Day.
Since the crash occurred, the fathers of the victims have sought justice. But Bryan Graham, the father of Bryan Jr and Stacie, and Glen Rousse, Dawn's father, have been thwarted in their efforts. Above all else, both men have been frustrated that charges in the case have yet to be filed. Unlike in New Jersey, which has "Maggie's Law," the nation's only specific law against drowsy driving, Pham would have to be charged under a general Louisiana statute, such as negligent homicide or reckless driving. The prosecutor has been cautious and has explained his position by citing a previous case in which an appeals court overturned a negligent homicide conviction brought against a driver who fell asleep and killed a pedestrian.
Stay updated on NSF initiatives. Subscribe to Sleep Report.
Whether that case establishes an insurmountable precedent is open to debate. On July 18, 2008, in a neighboring Louisiana parish, a crash occurred in which the driver fell asleep and killed a person who was changing a tire. In that case, the driver was arrested on the spot and charged with negligent homicide and careless operation of a motor vehicle.
Similar situations occur across the country. The National Sleep Foundation (NSF) 2007 State of the States Report on Drowsy Driving (www.drowsydriving.org/stateofthestatesreport) found that nearly every state, including Louisiana, can charge people under existing laws. Yet for whatever reason, in cases like that of the Grahams, prosecutors often do not bring charges. In these cases, the lack of specific laws imperils victims and their families.
PROBLEMS WITH PUBLIC EDUCATION, DATA COLLECTION, AND POLICE TRAINING
NSF's 2007 State of the States Report confirmed that the problem of drowsy driving is much greater than simply a lack of enforcement provisions within specific laws. The report found that there were a range of shortcomings in the areas of education, data collection, and police training.
The report found that some positive strides had been made on the educational front. Specifically, it found that nearly 80% of state driver's license manuals included some information on drowsy driving or fatigue. However, it also found that in some cases the information was minimal and in many cases inaccurate. For example, many states recommended that drivers not eat to avoid sleepiness. Some manuals state that constantly shifting one's focus will allow one to overcome fatigue. These are not in line with NSF's recommendations on drowsy driving or scientific research.
In the report, only eight out of 31 states said that they "mandated" that information on sleep or drowsy driving be included in driver education curricula. However, several states noted that the state-approved or state-issued curricula do include such information.
One of the challenges facing drowsy driving advocacy is that current crash statistics are problematic. An article that appeared in the October 2007 edition of Sleep Review discussed this in detail. National Highway Traffic Safety Administration (NHTSA) statistics, which are more than a decade old, conservatively show that 100,000 drowsy driving crashes are reported to police each year, killing more than 1,500 Americans and injuring another 71,000. Most researchers and traffic safety officials believe that these statistics severely underestimate the problem.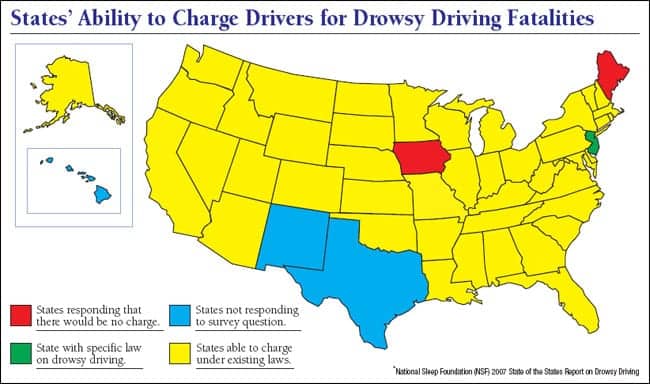 One reason for this is that when the statistics were gathered, at least six states did not have codes for "fatigue" or "fell asleep" on their crash report forms. The 2007 report found that, while every state now addresses fatigue or reduced alertness in some way on their crash report forms, there continues to be very little uniformity among terminology for codes related to fatigue and sleepiness. The report also found that very few states appear to be training their police officers on the impact of fatigue and sleepiness on driving performance.
Another reason experts believe the statistics are problematic is that in data from Australia, England, Finland, and other European nations—all of which have more consistent crash reporting procedures than the United States—drowsy driving represents at least 10% to 20% of all crashes. Furthermore, NSF's annual Sleep in America polls consistently find that more than half of America's drivers admit to driving while drowsy, and nearly one out of five, or 32 million people, say they have actually fallen asleep at the wheel in the past year.
Federal Drowsy Driving Statistics
Outdated NHTSA statistics conservatively show that, as a result of drowsy driving, each year:
100,000 police reported crashes
71,000 injuries occurred
1,500 deaths occurred
In an effort to elucidate the problem further and to motivate action, NSF's 2008 State of the States Report on Drowsy Driving will assign a specific grade to each state for the work it is doing to address the problem of drowsy driving. The 2008 report will be released during Drowsy Driving Prevention Week™, which will take place this year on November 10-16.
HOW TO TAKE ACTION
NSF believes that drowsy driving must be addressed as a public health and safety issue. This must include identifying and treating possible underlying causes of sleep deprivation, including untreated sleep disorders, and employing the four "Es" of traditional traffic-safety initiatives—education, engineering, enforcement, and evaluation. Individuals can support our efforts by visiting www.sleepfoundation.org/advocacy and signing up as a Sleep Advocate. These volunteers will receive updates on NSF's efforts to combat drowsy driving and ways that they can help.
NSF has been working to end the national tragedy of drowsy driving since 1993. Each year NSF coordinates Drowsy Driving Prevention Week, an annual awareness campaign. Please visit www.DrowsyDriving.org for more information.
---
Darrel Drobnich is chief program officer for policy, education, and research for the National Sleep Foundation (NSF). NSF is a Washington, DC-based nonprofit organization dedicated to improving public health and safety by achieving understanding of sleep and sleep disorders, and by supporting sleep-related education, research, and advocacy. The author can be reached at [email protected].