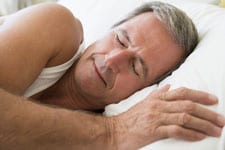 In a follow-up to the MORGEN study, new research published in the European Journal of Preventive Cardiology shows a good night's sleep can increase the benefit of exercise, healthful diet, moderate alcohol consumption, and non-smoking in their protection against cardiovascular disease (CVD).
Results showed that the combination of these four lifestyle habits was associated with a 57% lower risk of cardiovascular disease (fatal and non-fatal) and a 67% lower risk of fatal events. When 7 or more hours of sleep (dubbed "sufficient sleep") each night is factored into these habits, the overall protective benefit increased, resulting in a 65% lower risk of composite CVD and a 83% lower risk of fatal events.
"If all participants adhered to all five healthy lifestyle factors, 36% of composite CVD and 57% of fatal CVD could theoretically be prevented or postponed," the authors report. "The public health impact of sufficient sleep duration, in addition to the traditional healthy lifestyle factors, could be substantial."
The Monitoring Project on Risk Factors for Chronic Diseases (MORGEN) is a prospective cohort study in the Netherlands from which 6,672 men and 7,967 women aged 20 to 65 years and free of CVD at baseline were followed up for a mean time of 12 years. Details of physical activity, diet, alcohol consumption, smoking, and sleep duration were recorded between 1993 and 1997, and the subjects followed up through a cross-link to national hospital and mortality registers.
Results showed that adherence to each of the four healthful lifestyle habits alone reduced the risk of CVD. However, sufficient sleep duration alone also reduced the risk of composite CVD by about 22% (HR 0.78) and of fatal CVD by about 43% (HR 0.57) when compared with those having insufficient sleep. These benefits were even greater when all five lifestyle habits were observed, resulting in a 65% lower risk of composite CVD and an 83% lower risk of fatal CVD.
"The evidence is certainly growing that sleep should be added to our list of CVD risk factors, " said Dr Monique Verschuren from the National Institute for Public Health and the Environment in the Netherlands, the study's principal investigator.