MyApnea.org, an ambitious new online network backed by a million dollar grant, will have 50,000 members within the next 18 months. Powered by patients, this site has the potential to change how patients, professionals, and the public understand obstructive sleep apnea.
In the nimble hands of a caricaturist, a sleep apnea patient can easily be portrayed. The pen's flowing strokes would reveal the portrait of an obese, middle-aged man, perhaps with a loud snore emitting from his exaggeratedly large neck. But in real life, where sleep centers and doctor's offices reside, patients receiving diagnoses of obstructive sleep apnea (OSA) are not so easily typified. A sleep physician's pen scrawling an order for a CPAP may be for a 5-year-old boy or for an adult woman who is markedly underweight.
Adam Amdur knows this better than most people. The chief operating officer of the American Sleep Apnea Association (ASAA), Amdur is passionate about patient advocacy. As he should be: Amdur himself is an OSA patient who suffered from the disorder for years before receiving a diagnosis. "I had to learn the hard way," Amdur says. "We need to eliminate the 7-year lag during which the average sufferer goes undiagnosed. You don't get those years back." He has already seen the advantages of being an informed patient. His daughter was diagnosed with OSA at the age of 2. Now 6 and receiving effective treatment, she "flourishes in every way possible," Amdur says.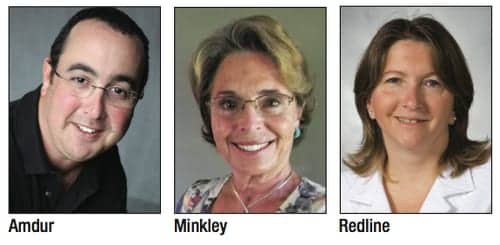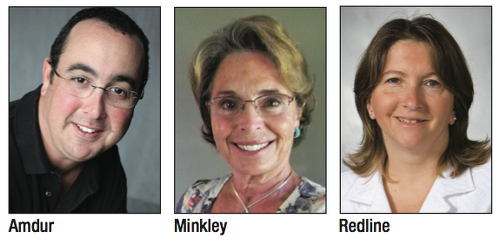 When Susan Redline, MD, MPH, approached the ASAA about applying for a grant for a patient-centered sleep apnea research network, the ASAA jumped at the opportunity. To accomplish their goal, Redline, the Peter C. Farrell professor of sleep medicine at Harvard Medical School (she is also a senior physician at Brigham and Women's Hospital, a physician at Beth Israel Deaconess Medical Center, and an ASAA Medical Advisory Council member), and the ASAA directors worked together to craft the proposal. In December, the good news arrived: MyApnea.org was one of 29 networks approved for a total of $93.5 million from the Patient-Centered Outcomes Research Institute (PCORI). Together, these networks (18 patient-centered and 11 clinician-centered) will form a national resource to boost the efficiency of health research. MyApnea.org launches this month.
Patients First
The "my" in MyApnea.org is more than just a moniker. Like Facebook and many other online networks, the MyApnea.org post-logon landing page presents a personalized dashboard of recent updates. Members will see options to participate in relevant surveys, to upload information via smart phone apps, and to access their own electronic medical records. "This dashboard will let patients get individual feedback. They'll be able to use web-based tools to visualize their own data and see how their health markers change over time, which will allow them to track their own outcomes and compare themselves to others," Redline says. In addition, the portal will house other patient resources, such as educational materials and behavioral motivational videos, plus it will link OSA patients, allowing them to learn from one another. The goal is to help patients take control of their sleep disorder and become active participants in their therapy.
Patients with all levels of sleep apnea are represented on MyApnea.org in contrast to the specific eligibility criteria of many clinician-centered research studies. Even OSA sufferers who are non-adherent to their therapy are welcomed with open arms. "We hope to engage all patients with sleep apnea, not just the success stories," Redline says. "We'll learn from the whole spectrum of patients and hope to come up with answers that allow us to personalize recommendations to that entire group."
Patient-centered research also differs from clinician-centered research because it asks the questions that patients identify as important. Redline says, "It's much more likely that patients will identify pragmatic, real-world questions and prioritize those outcomes that relate to mood and functional status. Patients will ensure the questions are asked in ways that are most meaningful to their well-being and long-term health.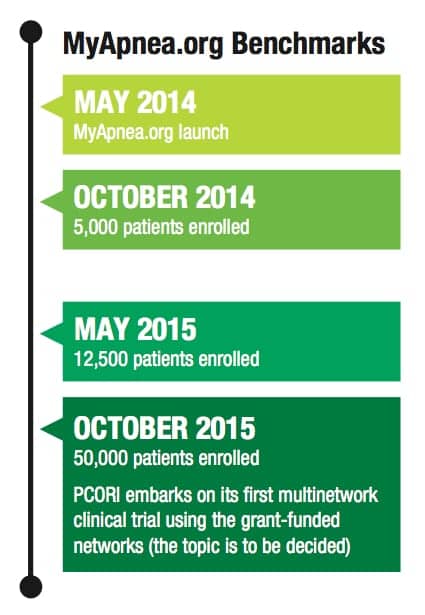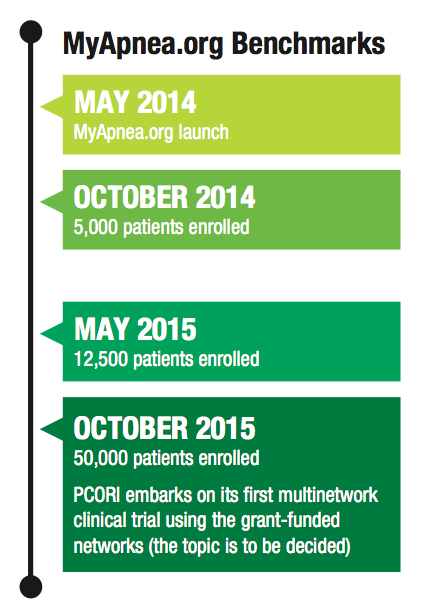 "What has hindered research and clinical practice has been that research questions have been largely articulated from the researcher perspective, which is very important, but it hasn't had that level of engagement of patients. And most of the clinical research that has been done has been on a small scale with selected groups of patients. A very large, very broad group of patients is needed to determine if a patient with a certain anatomy and physiology needs to be treated differently. In creating MyApnea.org and its infrastructure, we're also bringing sleep apnea patients together as a community and engaging them with other stakeholders on a scale that's unprecedented."
Of course, to get these patient insights, members must log into the site at regular intervals, similar to how they might interact with social networks several times a day. The team has several strategies for encouraging regular visits. The site's features are accessible from any device with Internet access, so members can log in while waiting in the grocery store checkout line via their smart phones. Real-time analysis of patient data means members will be able to immediately identify concerns, such as a high leakage rate, and search for the latest solutions, instead of waiting 30 days for their follow-up doctor appointment.
The site also is considering the creation, with patient input, of a loyalty program in which patients may be able to earn "sleep hours" for every webinar they watch or clinical trial they participate in. Those sleep hours could then be translated into rewards.
The level of an individual's participation on MyApnea.org will always be left up to the individual. A member can agree or decline to participate in as many surveys or research projects as they are comfortable with. And, while patients will be able to access their own detailed medical information, they will not be able to access the specific records of anyone else on the site. When running comparisons, patients will compare themselves to unidentified patients with similar characteristics, such as patients with similar adherence concerns. People in the network will retain complete anonymity and privacy.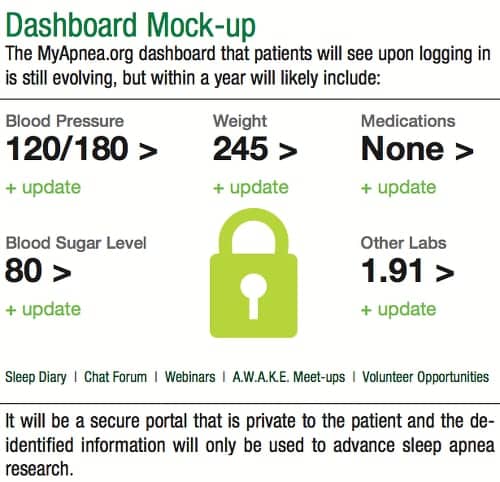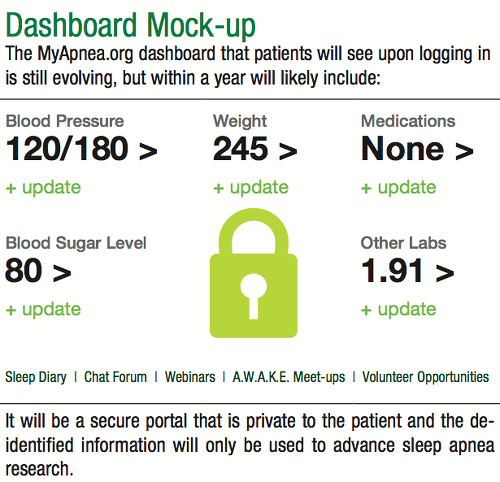 The Dream Team
Amdur and Redline are but two members of an enormous team that is backing MyApnea.org. As principal investigator, Redline took the lead in the application and proposal and is responsible for the overall execution and coordination. Amdur is co-chair (with Redline) on the steering committee, the ASAA liaison, and the key patient voice. Pamela Minkley, RRT, CPFT, RPSGT, of Sleep & Alertness Services, is heading the patient recruitment and education initiative. Additionally, there is an executive committee, an advisory council, subcommittees, media and communication consultants, and many partner organizations, the most notable of which are the CTSA Sleep Research Network (which represents almost 60 academic medical centers) and Harvard's i2b2/Shared Health Research Informatics Network.
Of course, the other 28 networks funded by PCORI are an invaluable part of its success. These networks include both new and well-established sites like the Health eHeart Study by the American Heart Association. The other PCORI networks serve both as inspirational sources of best practices for MyApnea.org and as collaborators on research studies that span multiple healthcare specialties. Amdur says, "It's a chance to take the silos out of the healthcare system. We'll be able to give our educational materials to networks dedicated to a wide range of illnesses, and they'll be able to share their information with us. We'll be able to connect the dots."
The team does face significant challenges. The most daunting of which may be the ambitious timeline: They have a mere 18 months to enroll 50,000 patients. A wide array of enrollees, including children, is key to long-term success. The team is brainstorming solutions.
Although all of the portal's planned features are not being rolled out at once due to the swift timeline, MyApnea.org will nevertheless be rapidly enhanced to include more robust features over the next 12 months.
Professional Research Source
Although there is much buzz surrounding the patient-centered focus of MyApnea.org, this venture will likewise benefit professionals, such as sleep physicians and sleep lab techs. As one example, the Framingham Heart Study, an influence on the Health eHeart Study, is how physicians learned that high cholesterol, high blood pressure, and smoking are heart disease risk factors. Who knows what insights sleep medicine professionals will glean from MyApnea.org?
"We'll have large enough sample sizes to determine how recommendations for specific treatments may be tailored to individual characteristics, like anatomy and family history," Redline says. She adds that another area that will affect professionals is that patient preferences are going to be considered more when assessing the value of a given treatment. She says, "Whereas much traditional research has focused on a number, the critical AHI, with future patient trials, there will be an emphasis on other outcomes that are important as well, such as patient comfort."
Minkley, a veteran lab tech, adds: "Whenever you have more than one sleep professional in a room, the conversation will always turn to how frustrated we are that our patients aren't getting the help they need. This network can help answer that question via real-life scenarios." Some of those questions might be: Why do patients fall through the cracks? Why do they stop using CPAP? What conclusions emerge when you compare patients who stayed on therapy versus those who were diagnosed but never received therapy or who got it and didn't adhere? "It might help us answer a lot of the questions we ask ourselves on a daily basis," Minkley says.
In the long run, Minkley is optimistic that knowledge gleaned from MyApnea.org may affect payor reimbursements, as it will provide evidence as to what interventions are effective in real life. For instance, it may provide evidence that OSA education should be reimbursable.
Sleep product manufacturers have the potential to gain as well. Talks have begun with manufacturers on how best to achieve common goals, such as seeing positive patient outcomes. The team plans to work with manufacturers to publicize the site and is considering integrating manufacturers' adherence tools into MyApnea.org's toolkit.
Of course, some sleep health professionals and manufacturers entered the field due to a personal tie with a sleep disorder. For those professionals who carry OSA diagnoses themselves, they may find a membership to the site valuable from both a patient and professional perspective.
Public Perception
Ultimately, MyApnea.org may help change the public perception of sleep apnea and remove the stigma of its being a disease of the obese. Indeed, the simple fact that a sleep apnea network was funded by the PCORI grant speaks to changing perceptions, the team posits. "PCORI's selection of us as a site really validated the importance of sleep apnea as an important disease to the American public," Redline says. "And by engaging thousands of people, we'll be able to show how prevalent and how variable the presentation of sleep apnea might be and break down the preconceptions that some people still have about sleep apnea."
In other words, as Amdur says: "If we build this network right, we can change the face of sleep apnea."
____________________________________________________________
Sree Roy is editor of Sleep Review. E-mail her at [email protected] to share your ideas for encouraging patients to enroll in MyApnea.org. Some of your ideas may be shared in an upcoming issue. You may also e-mail her with questions or comments.
____________________________________________________________________