Ambulatory EEG Recorder
Grass-Telefactor Product Group, Astro-Med Inc, West Warwick, RI, introduces AURA24™, a 28-channel amplifier system that can record 24 hours of data, which are stored on a removable CompactFlash® memory card. Engineered for ambulatory use where the unit is attached to the patient (similar to a Holter monitor for ECG), the AURA24 is compact, rugged, and lightweight. Powered by a rechargeable battery pack, the unit is designed to run unattended and includes a Patient Event Marker. After a recording is concluded, Grass-Telefactor TWin® software facilitates simple transfer of stored data from the unit to the host computer using the USB CompactFlash reader. Before technician review, the data can be analyzed by Grass-Telefactor SzAC® software to highlight any seizure/spike activity in the EEG. (877) 472-7779; www.grass-telefactor.com.
---

Oral Appliance Therapy Guide
The Dental Services Group, Minneapolis, introduces the Dream Team CD, a free resource with information on how to successfully implement oral appliance therapy. From patient evaluation to treatment success, the CD offers a blueprint to better understand the function and use of the company's two FDA-approved oral appliances, the Adjustable PM Positioner™ and TAP®. Often prescribed for noncompliant or CPAP failure patients, these are custom-made adjustable mandibular repositioning devices. Dream Team experts at 17 US locations can assist with technical support, educational tools, staff-patient consultation, and marketing and insurance information. The CD is compatible with Windows® 98 or newer. Call Laura Sheppard, CDT, at (800) 253-9227 or Jay Eddy, CDT, at (800) 255-2412 for a copy of the CD. www.dentalservices.net.
---

Compact Nasal Mask
Fisher & Paykel Healthcare, Laguna Hills, Calif, introduces the FlexiFit™ Series HC407, a compact nasal mask featuring the company's FlexiFit cushion technology. The new mask builds on 3 years of design development, including data from thousands of face measurements, for a seal that conforms automatically to most face shapes and allows for an increased range of movement. The technology it incorporates makes the HC407 nasal mask more compact, less obtrusive, and more comfortable and simple to fit. The new mask also includes the company's patented glider technology, which provides stability and allows freedom of movement. (800) 446-3908; www.fphcare.com.
---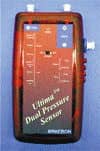 Airflow Pressure Transducer
BRAEBON Medical Corp, Ogdensburg, NY, introduces the improved Ultima dual channel airflow pressure transducer for use in accurately indicating respiratory airflow on a laboratory's polygraph. Easier to use with fewer cables and more features, Ultima is less expensive to operate and can be used with either a disposable cannula or an air-filled esophageal catheter to clearly indicate upper-airway resistance syndrome, various forms of sleep apnea, and snoring. It may also be used during CPAP titration. (888) 462-4841; www.braebon.com.
---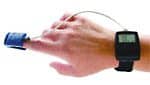 Wrist Pulse Oximeter
The 3100 WristOx™ by Nonin Medical Inc, Plymouth, Minn, is a small, lightweight pulse oximeter designed to be worn comfortably on the wrist. The wrist design makes it well suited for monitoring ambulatory patients and for sleep studies. With 24 hours of battery life and 33 hours of memory, the WristOx provides a cost-effective solution for both long- and short-term monitoring. In addition, the WristOx is compatible with Nonin's full line of PureLight™ sensors and nVision® 5.0 software. Just slip the WristOx onto a patient's wrist and begin viewing and/or storing data instantly. (800) 356-8874; www.nonin.com.
---

Handheld Capnograph/Pulse Oximeter
Nellcor, Pleasanton, Calif, introduces the Nellcor® OxiMax™ NPB-75 handheld capnograph/pulse oximeter, designed to deliver accurate pulse oximetry readings, even with the conditions of patient motion or low perfusion. As a member of the OxiMax family, the NPB-75 is compatible with Nellcor's line of OxiMax pulse oximetry sensors. Oridion Microstream® CO2 technology, featured in the NPB-75, provides capnography monitoring for both mechanically ventilated and nonintubated patients, and is indicated for use with neonates through adults. Microstream breath sampling accessories offer end-tidal CO2 measurements and waveforms for a clear picture of patient respiratory status, even in high humidity environments. (800) 635-5267; www.nellcor.com.
---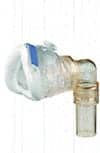 Custom-Fit Accessories
Hans Rudolph Inc, Kansas City, Mo, offers the Comfort Seal™ foam optional accessory for the company's ALIZES™ nasal mask. A soft, light, inert, medical-grade foam, the accessory assures a soft, comfortable, leak-free fit. The malleable, color-coded nose strap allows any of the three sizes of ALIZES nasal masks to be custom fitted over the nose bridge, eliminating pressure points. ALIZES comes standard with a soft silicone rubber seal. There are also three sizes of each type of simple and soft strap-type or mesh-net headgear available. (800) 456-6695; www.rudolphkc.com.
---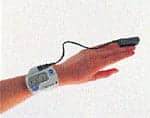 Watchlike Pulse Oximeter
The Pulsox-3 series of pulse oximeters by Konica Minolta, Mahwah, NJ, and distributed by Maxtec Inc, Salt Lake City, can be worn like a watch. The small, 1.5-ounce monitors feature an expanding wrist band and a finger sensor probe. No presetting is necessary. Features range from basic pulse rate and SpO2 with pulse level bar to 24-hour memory, alarm functions, and a selection of sensors. Turning the power switch on starts measurement; turning the power off saves the data. Pulsox can save up to 64 files of data, which can be quickly downloaded to a PC. Body movement is recorded with Pulsox's motion detector, and excessive movement is indicated in download data. The unit is operated by two AAA batteries that last for 48 hours. (800) 748-5355; www.pulsoxkonicaminolta.com.
---

SDB Diagnostic System
Pathway Programs™ by Medcare, Buffalo, NY, provide identification and diagnosis of patients who may have sleep-disordered breathing (SDB). Pathway's Compass™ recorders are ideal for detecting SDB, snoring, breathing instability, oximetry, differentiating between central and obstructive apnea, and using position/activity to estimate rest time. Compass also can be used for treatment efficacy studies as flow can be detected through the XactTrace Respiratory Inductive Plethysmograph (RIP) belts. Medcare's Compass software offers a new user interface that simplifies work flow. Clinicians can download, analyze, and report in less than 3 minutes. (888) 662-7632; www.medcare.com.
---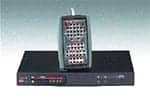 Sleep Amplifier
XLTEK™, Oakville, Ontario, Canada, introduces the Connex sleep amplifier with TCP/IP and USB connectivity. Designed with extensive clinical input, Connex is suited for running all types of polysomnography studies along with full EEG recordings. This rugged device features 50 inputs—including an integrated Masimo SET oximeter—and can be installed quickly and easily. Connex is part of XLTEK's Inspirex sleep system, which features easy-to-use, work flow-based software and provides manual and automated tools for smooth data collection, rapid analysis, flexible reporting, data management, synchronized MPEG4 video, and security and privacy features. In addition, XLTEK supports all sleep systems with a comprehensive training program and 24-7 technical assistance. (800) 387-7516; www.xltek.com.
---

Bilevel CPAP
Sunrise Medical, Longmont, Colo, introduces the DeVilbiss 9055 D RPM bilevel CPAP, a compact unit that offers adjustable IPAP and EPAP pressure. The unit features a pressure range of 3-25 cm H2O, a maximum pressure difference between the IPAP pressure and EPAP pressure of 22 cm H2O, a delay mode setting, on-board compliance memory storage for up to 36 months, and automatic patient notification for mask changes, filter cleaning, and filter changes. It also offers pressure flow rounding for a less abrupt transition from IPAP to EPAP and from EPAP to IPAP and a built-in Epworth Sleepiness Scale® (ESS) questionnaire, which allows patients to monitor their therapy. This unit is one of the quietest bilevel devices on the market and features a motor that can adjust speeds in microseconds. It also can interface with the DeVilbiss eCompliance system, which notifies providers of potential noncompliance and allows providers to change parameters by phone. (888) 333-2572; www.sunrisemedical.com.
---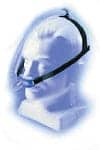 Nasal CPAP Interface
VIASYS Healthcare, Yorba Linda, Calif, introduces the Lyra nasal CPAP interface, which offers all four sizes in one package with one part number, eliminating the need to order multiple sizes and part numbers to fit a patient accordingly. LYRA also allows a customized fit for patients who have deviated septums or different size nares. By cutting the two different sizes in half, a large size can be placed on one side of the mask and a small size on the other to accommodate unique or hard-to-fit patients. LYRA reduces noise by distributing air through a five-port exhalation system on each side of the mask. It also offers patients the option of placing the tubing over the head or down toward the chest. (800) 231-2466; www.viasyshealthcare.com.