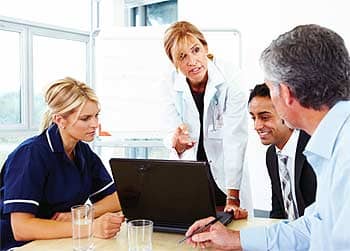 The number of partnerships and alliances with home testing companies along with the American Academy of Sleep Medicine's Out of Center Accreditation program are sure signs that home testing is securing its place in sleep diagnostics. Statistics support these signs; the number of sleep centers offering home tests has roughly doubled in the past 2 years, according to the Sleep Review /Mizuho Securities Q311 Sleep Center Survey. Along with this growth, patient volumes and use of automatic positive airway pressure (APAP) devices ticked up slightly for sleep centers. Survey results also show that sleep center expansion rates have stabilized.
SLEEP CENTERS ADMINISTERING HOME TESTS CONTINUE TO STEADILY INCREASE
Currently, 28% of sleep centers offer home sleep testing for Medicare patients (up from 15% in Q309) and 35% offer home testing for privately insured patients (up from 18% in Q309). Additionally, another 41% of the sleep centers plan to start to administer home tests in the next 6 months. In two other questions about how the sleep centers were responding to home sleep testing, 34% of respondents have changed their expansion plans as a result of home testing, and 48% of respondents indicated that they expect to increase involvement in home testing. Putting the responses to these questions together, Sleep Review and Mizuho Securities think that home testing continues to have momentum at sleep centers.
UTILIZATION OF APAP GROWS
We asked the sleep centers how many of their patients use higher-end flow generators. According to the respondents, 12.7% of patients use auto-setting flow generators, a small increase from 11.8% in our Q111 survey. And 12.0% of patients use bi-level flow generators, a small decrease from 12.3% in our Q111 survey.
Looking at the trends over the longer term, auto-setting flow generator utilization has climbed slowly but steadily while bi-level utilization has been static. We suspect that auto-setting flow generator use is increasing as home testing becomes more popular.
ORAL APPLIANCE USAGE EXPECTED TO INCREASE
In response to recent coverage updates, respondents expect to increase the number of their patients receiving oral appliances by an average of 4.4%.
SLEEP CENTER EXPANSION APPEARS STABLE
Respondents reported bed growth of 3.6% during the last 12 months and reported an average of 8.8 beds per respondent versus 8.5 beds per respondent 12 months ago. Respondents expect greater sleep center capacity expansion in the next 12 months (8.5% to 9.6 beds per respondent) than the growth seen in the last 12 months.
We offer a few caveats about these results. First, we note that sleep center growth covers only part of the entire sleep market, as sleep center growth drives new diagnoses and flow generator sales, while mask sales are mostly driven by replacement sales. Second, sleep center growth as defined in our survey only represents organic growth (beds per center) versus inorganic growth (new sleep centers). Third, as home testing becomes more prevalent, it is possible that sleep center growth may become less correlated with the overall growth in the sleep market. Finally, we note that many respondents are indicating the total number of beds for multiple sleep centers, which pushes the average number of beds per respondent higher (ie, we doubt that the average individual sleep center has 8+ beds).
Overall, we think that the survey indicates that sleep center growth has stabilized in the mid-single digits. Looking into 2011, we expect the domestic sleep therapy equipment market to grow by 7% to 9% with 5% to 6% volume growth in new patients.
PATIENT VOLUME GROWTH ALSO APPEARS STABLE
On average, respondents have seen patient volume grow 3.1% in the last 12 months and expect 7.9% growth in the next 12 months, and we note that the most common responses were for 0 to 4% growth in both the last 12 months and the next 12 months. The reported and expected patient volume growth rates are about in line with the reported and expected bed growth rates (which were 3.6% and 8.5%, respectively).
Last 12 month patient volume growth ticked up slightly from 2.0% in our Q111 survey. Given the rate at which the sleep centers are adopting home testing, this might be a sign that home testing is beginning to increase patient volumes. But for now, we interpret this as a sign of stability and would want to see at least one more consecutive increase before concluding that the patient volume growth is picking up.
ABOUT THE SURVEY
Sleep Review partnered with Mizuho Securities USA to conduct the survey of sleep centers. Among the ~12,500 sleep professionals that we sent the survey to, 398 responded to one or more of the survey questions for a response rate of 3%. None of the questions were mandatory, therefore response rates varied from question to question. The responses were collected between June 20 and June 28, 2011. We received responses from a range of sleep industry participants with sleep center directors/supervisors/managers (42% of respondents) and registered polysomnographic technologists (22% of respondents) representing the most common titles. Responses also covered 46 of the 50 US states.