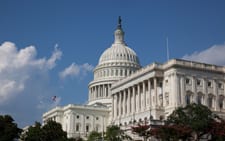 The Centers for Medicare & Medicaid Services (CMS) has awarded 799 contracts to chosen suppliers as part of Round 2 of the Medicare Durable Medical Equipment, Prosthetics, Orthotics, and Supplies (DMEPOS) Competitive Bidding Program.
In addition, CMS awarded contracts to 18 suppliers to provide mail-order diabetic testing supplies at competitively bid prices nationwide, according to CMS.
The agency awarded 13,126 Round 2 DMEPOS competitive bidding program contracts to the 799 suppliers, who will serve Medicare beneficiaries in 91 communities across the United States. The national mail-order program contract suppliers have 52 locations to serve the entire country through mail or other home delivery, CMS said.
"CMS's top priority is to ensure beneficiaries maintain access to high quality equipment and supplies at a fair price," said Jonathan Blum, deputy CMS administrator and director of CMS's Center for Medicare. "Our extensive monitoring in Round One showed that competitive bidding reduced spending without jeopardizing access to medical equipment and supplies."
Round 2 of the competitive bidding program and the national mail-order program will go into effect July 1, 2013.
The program is expected to save the Medicare Part B Trust Fund an estimated $25.7 billion between 2013 and 2022, according to CMS. Savings on lower coinsurance and premium payments will save beneficiaries an estimated $17.1 billion over the same period, the agency said, with prices 45 percent lower than current prices for Round 2 products and 72 percent lower on mail-order diabetic testing supplies nationwide.
Consumers, physicians, and other providers can find a list of Medicare contract suppliers in their areas by visiting the Medicare website or by calling 1-800-MEDICARE (TTY users should call 1-877-486-2048).