Many patients give up on CPAP because they can't tolerate the machine at night. Implanted neurostimulators may help, but, like positive airway pressure, these new devices can take some getting used to.
By Lisa Rapaport
A relatively new alternative therapy for sleep apnea, hypoglossal nerve stimulation, is gaining traction with sleep medicine professionals who are looking for a way to improve treatment adherence, particularly for patients with moderate to severe apnea who abandon CPAP. However, even though clinicians see the potential for neurostimulators to help these patients, it remains an open question whether patients will tolerate the weeks- to months-long process required to initiate the electrical stimulation and then titrate to the optimal voltage level.
"Patients who choose neurostimulator therapy should understand that it is a process—it is not a `set it and forget it' surgery," says Radhika Breaden, MD, medical director of at Pacific Sleep Program in Portland, Ore, a center of excellence for Inspire neurostimulator therapy.
There are several neurostimulators approved in the United States, including Inspire Medical Systems Inc's Inspire Upper Airway Stimulation (UAS) therapy, cleared by the US Food and Drug Administration (FDA) in 2014. Respicardia Inc (later acquired by Zoll Medical) earned FDA approval for its remedē System in 2017. Avery Biomedical Devices also sells the Spirit Diaphragm Pacing Transmitter in the United States, and two other companies, LivaNova Plc and Nyxoah, have neurostimulators in clinical trials.
Surgery to implant the battery-operated generator and sensor and stimulation electrodes is a relatively quick outpatient procedure with a low risk of complications, and some patients may think that because they tolerate surgery well that they'll have no issues acclimating to the device.
The acclimation process can begin during the first month after surgery while patients are healing and the neurostimulators are inactive. During this pre-activation period, neurostimulators can gather data on individual patient sleep patterns and nighttime respiration to inform settings for activation.
At the activation visit, physicians should prepare patients to feel an odd sensation on their tongue when the stimulation begins, advises Saif Mashaqi, MD, associate program director for the sleep medicine fellowship at the University of Arizona College of Medicine and Banner University Medical Center in Tucson. Physicians should also start at the lowest voltage setting, and make sure patients know to speak up immediately if the stimulus is too painful or strong or uncomfortable.
During this visit for activation, patients should also get a thorough tutorial on how to use the remote to gradually increase the voltage over several weeks. Beyond this, they need to understand there may be several more office visits to get the titration right and set voltage levels that open their airways without waking them up at night.
"I believe the biggest challenge with acclimating patients to therapy is not setting the appropriate expectations for initiation of therapy," says Amit Patel, MD, medical director of the Sleep Center at Virginia Heart and an assistant professor at the University of Virginia School of Medicine, Inova Campus. Patel is also a medical education consultant for Inspire Medical Systems and a key opinion leader for Signifier Medical Technologies (see sidebar for information on Signifier's daytime neurostimulator).
"The initiation and titration of therapy is a slow and deliberate process," Patel adds. "If done appropriately, the patients typically tolerate the sensation well and adapt to slow increases in voltage, they do it at home, and without waking during the night."
With remedē, for example, device settings can be customized based on sleep data collected prior to activation, and then set to automatically titrate to reach the desired level of stimulation over the next four to six weeks, says Robin Germany, MD, chief medical officer of Respicardia (now part of Zoll Medical) and a clinical assistant professor at the University of Oklahoma.
"This gives the patient time to acclimate to the therapy slowly and comfortably," Germany says.
At home, patients need to consistently use the device every night for the entire time they're asleep, including during naps. They should anticipate a brief pulse to their tongue when they first activate the device each time, followed by a ramp period of 15 to 30 minutes of inactivity that allows them to fall asleep without feeling any stimulation. Neurostimulators can also pause temporarily then restart if patients need to get up in the middle of the night.
"Using a simple sleep remote, patients turn the therapy on and off, and self-adjust the level of stimulation to a comfortable level that allows for all night, every night use that does not cause arousal during sleep," says Nicole Gordon, BSEE, manager of medical education at Inspire Medical Systems Inc.
[RECOMMENDED: Why I Choose Neurostimulators for Some of My Sleep Apnea Patients]
As with CPAP, some patients may be tempted to abandon therapy if neurostimulation is uncomfortable or wakes them up. Patients should be advised that halting treatment can make acclimation take longer and be less successful.
If the stimulation wakes them up, patients can turn the level down for a few days, then try to increase it again to see if it is more tolerable. They can also reach out to their sleep medicine professional for help recalibrating the device.
Clinicians have several options at their disposal to make the devices more comfortable if patients are struggling with interrupted sleep. They can adjust neurostimulator stimulation levels as well as the pulse width, frequency, and electrode configuration, Breaden says. The period of inactivity can be reprogrammed, too, so it's customized to patients' typical sleep latency period.
In addition, therapy can be timed so the stimulation starts after patients fall asleep and stops before they wake up, making the experience seem less intrusive, Mashaqi says. Pauses in stimulation during the night can also be pre-programmed to a specific time and duration to give patients a break and temporarily suspend therapy while they're sleeping.
"The device can be programmed in an office setting to further titrate the device's activation timing for sleep onset, voltage stimulation, and electrode configuration for natural tongue movement, and other comfort settings to optimize adherence and lower AHI," Gordon says.
When patients need to report to the clinic in eight weeks for a sleep study, they should have an easier time tolerating this experience if they managed to gradually increase the voltage at home to reach their target maximum dosage, Mashaqi says. This should subsequently reduce the number of awakenings during the night of the sleep study.
But if a patient still wakes up every time stimulation is turned on during the study, a different approach may be necessary, Mashaqi says. "The sleep technician should keep the voltage at the lowest possible intensity that will prevent frequent awakening, even if that comes at the expense of optimal sleep apnea control," Mashaqi advises.
There are also advanced settings that can be made to neurostimulators for patients who continue to have trouble tolerating the voltage needed for optimal sleep apnea control.
One option is changing the electrode configuration, which will alter the location at which stimulation is delivered and allow delivery of a higher voltage or amplitude with more tolerance, Mashaqi suggests. Another option may be adjusting the pulse width to decrease stimulation strength. And decreasing the rate, or the number of stimulating pulses delivered per second, is another way to reduce stimulation strength.
For patients who change position during the night, the remedē system can pause therapy and then slowly ramp up again once the patient is settled, Germany says. A position sensor allows the device to determine what position the patient is sleeping in and adjust stimulation accordingly, Germany adds. With a device that doesn't automatically adjust to supine position, it's possible during the titration study to adjust the voltage intensity or amplitude based on sleep position, Mashaqi says.
Technical training is also available for sleep techs and physicians. Inspire offers post-implant care certification and continuing education programs for nurses and techs, detailed online at professionals.inspiresleep.com. Respicardia has training webinars on central sleep apnea, the remedē system, programming, and more, with information available by emailing info@respicardia.com. Respicardia also has on-demand courses hosted by the AAST that offer continuing education credits for sleep techs.
"I think that for the foreseeable future, CPAP therapy will remain the `gold standard' for treatment of moderate to severe OSA [obstructive sleep apnea]," Patel says. "There is tremendous data supporting the use of CPAP and its effectiveness, and it is noninvasive, which is a significant factor to consider."
Wider adoption of neurostimulators will likely come as longer-term safety and efficacy data emerges, particularly if studies down the line show a cardiovascular risk reduction with the devices, Patel says.
"However, for the 40% to 50% of patients who cannot use CPAP effectively who have moderate to severe obstructive sleep apnea, neurostimulator therapy will be the next, most effective choice for treatment for many of those patients," Breaden says. "Most patients say it feels `weird' at first but not uncomfortable, and they quickly acclimate."
Lisa Rapaport is a freelance journalist with experience writing and editing news about health, medicine, wellness, and science. This is her first article for Sleep Review.
---
Newly Approved Neurostimulator for Mild OSA Is Used During the Day
Hypoglossal nerve stimulation may indeed give many patients with moderate to severe sleep apnea who can't adjust to CPAP therapy a device they can actually sleep with at night. But for people with mild OSA or simple snoring, Signifier Medical Technologies' eXciteOSA device, sidesteps nighttime therapy altogether.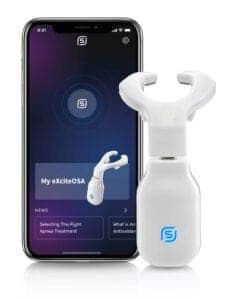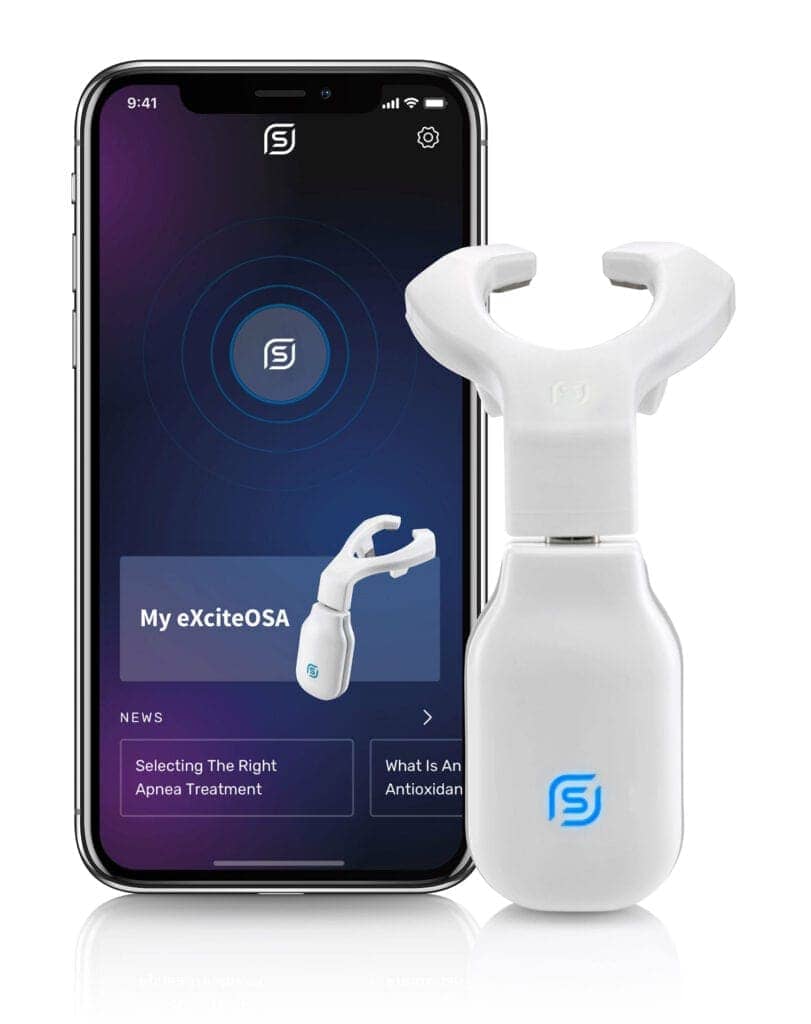 Approved as a prescription device by the FDA earlier this year, eXciteOSA is used for 20 minutes a day for six weeks, then twice weekly after that. It's a neuroelectric muscle stimulation (NEMS) device that's designed to optimize tongue muscle function so it has a more prolonged contraction, preventing the tongue from collapsing and blocking the airway during sleep.

"This will open the door for a large segment of the population suffering from mild sleep disordered breathing not looking for CPAP or oral appliances," says Amit Patel, MD, medical director of the Sleep Center at Virginia Heart and an assistant professor at the University of Virginia School of Medicine, Inova Campus. (Patel is a medical education consultant for Inspire Medical Systems and a key opinion leader for Signifier Medical Technologies.)

With mild apnea and snoring, using the device for 20 minutes daily for six weeks had an average AHI reduction of 48% from 10.21 to 5.27 in 41 of 48 patients in a clinical trial, according to the FDA. Common adverse events included excessive salivation, tongue or tooth pain, tongue tingling, dental filling sensitivity, gagging, and jaw tightness. All symptoms were experienced only during active stimulation, with no patients in the clinical trials having ongoing effects after finishing the 20-minute therapy.

"Although they are not invasive, only limited clinical trials investigated the efficacy of these devices and concluded their efficacy only in patients with mild obstructive sleep apnea," says Saif Mashaqi, MD, associate program director for the sleep medicine fellowship at the University of Arizona College of Medicine and Banner University Medical Center in Tucson. "Their efficacy in moderate and severe degrees of obstructive sleep apnea needs to be investigated."

Patients pair eXciteOSA with a smartphone, and they can adjust the voltage to a level that's comfortable. But there's not a lot of real-world data yet to determine how well patients tolerate it or how effective it is at the maximum voltage patients may select, Patel says.

In a PDF of questions and answers available on the exciteOSA website, Signifier states that patients will experience tongue contractions at higher therapy levels. "Please note that levels outside of the user's comfort zone will not improve the outcome or speed up results. However, please encourage users to explore higher therapy levels as tolerance levels are likely to go up each week. A reasonable balance of increasing the therapy level while still making sure the user is not experiencing any discomfort will ensure the best possible outcome."

"Currently, oral appliances for sleep apnea remain popular and mostly effective for milder sleep disordered breathing," Patel says. "We will look to see how the longer-term efficacy and safety data of NEMS compares to that of oral appliance for sleep apnea."

Signifier Medical Technologies didn't respond to requests for comment.—Lisa Rapaport
---
Top Illustration 137261155 © Donfiore | Dreamstime.com