Ebb Insomnia Therapy, a wearable device that lowers temperature to promote sleep, received FDA clearance in mid-2016 for the treatment of insomnia. Ebb Therapeutics now wants to reach consumers directly as well.
At CES 2020, the company showcased an over-the-counter version of Ebb, a fluid-filled headband that wraps around the head and cools the forehead using an intelligent algorithm to maintain an optimal temperature range over the course of the night. As brain activity declines, the mind calms and the user is able to fall into a deeper, more restorative sleep, the company states. It also teased another version of Ebb, expected to hit the market in late 2020: a second-generation device with similar cooling technology that is battery-powered and portable, for consumers with busy, on-the-go lifestyles.
"More than ever, people are struggling with being able to 'turn off' their minds in order to get to sleep," says board certified sleep physician and and Ebb founder and chief medical officer Eric Nofzinger, MD. "Lack of sleep can have a dire effect on one's ability to function mentally, emotionally, and physically, so it is critical that we keep innovating in this space in order to offer safe, drug-free solutions that work."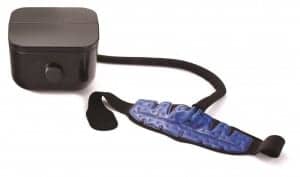 Via email, the company stated that the majority of Ebb users are using the general wellness device that is available online without a prescription. But the prescription version—which is FDA-cleared and indicated to reduce sleep latency to stage 1 and stage 2 sleep in patients with primary insomnia—has its own unique cooling algorithm and a lower temperature capacity to treat "complex cases of clinically-diagnosed insomnia."
Both products are powered by Ebb's clinically validated and proprietary PrecisionCool Technology, which triggers a natural reduction in brain activity to quiet the racing mind and promote the natural onset of sleep.
Ebb Therapeutics CEO Eduard Roosli, says about the CES release, "As consumers, finding a solution for any issue concerning health can be both emotional and overwhelming. We are proud to be able to provide a product that is backed by decades of science, has been clinically tested for efficacy, and is completely safe."