A new positive airway pressure (PAP) system that its developer likens to "PAP on demand" just received FDA clearance. Somnera's first product, the "Somnera System," received FDA clearance in June 2020 for treating obstructive sleep apnea (OSA) in adults, holds 6 issued patents, and has secured US reimbursement authorization. Its developer says the device is an option for OSA patients who don't want or can't tolerate CPAP.
The Somnera system uses a valve to generate pressure, not airflow. The airbox regulates the back pressure level and provides airflow and pressure to the patient's airway in the event of an incipient apnea or hypopnea.
According to the company, other differences between Somnera and CPAP/APAP devices include:
delivers less airflow;
a "go to sleep" mode: the user can choose to go to sleep with no airflow running, which Somnera says is like a "ramp from zero" feature (its valve prevents CO2 rebreathing so no continuous flow or venting needed to wash out CO2);
no continuously open vents (not needed to washout CO2, due to valve technology);
no humidifier needed;
and the hose won't hang on bedding, pull on mask, or mark the user's arms.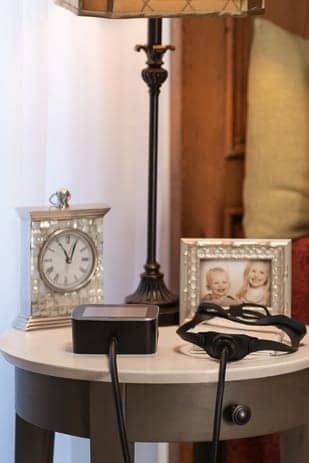 Available masks are a nasal pillow or a nasal mask in small, medium, and large sizes. The company expects to launch a full-face option and more sizes in the future.
The system offers fixed pressure and auto-adjusting pressure modes (4-20 cmH2O).
The Somnera Airbox is 5.25 in wide, 3.5 in deep, and ~2.5 in tall.
Somnera's technology is cloud-connected, lending itself to cloud-based data analytics, patient engagement, and automated reorder/subscription models.
The system has been strategically developed to fit within existing diagnosis, treatment, and reimbursement pathways. The company says it will be sold via existing retailers.
Somnera completed two randomized, controlled studies confirming the system's safety and efficacy in treating OSA. The studies have not yet been submitted to a peer-reviewed journal, but the company intends to do so. The first study was submitted to FDA in 2017, resulting in de novo approval (under the name FRESCA Medical) , and the second study was submitted to and reviewed by FDA as part of the 501(k) approval.