The US Food and Drug Administration (FDA) has granted FRESCA Medical Inc's de novo request to market the CURVE Positive Airway Pressure delivery system for the treatment of obstructive sleep apnea (OSA). FRESCA is a San Clemente, Calif-based privately held sleep solutions and connected health company. The de novo pathway is reserved for marketing approval of novel devices of low to moderate risk.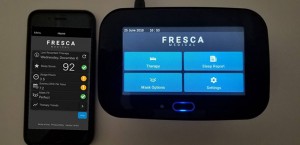 The FRESCA system includes a dedicated flow generator, an air delivery hose, and a nasal pillow patient interface. FRESCA says its advantage over other positive airway pressure systems is a patented SmartValve technology that enables the system to treat OSA with less airflow than conventional CPAP systems.
Results from a prospective, controlled, randomized, crossover, evaluator-blinded trial demonstrated that FRESCA's CURVE system was non-inferior to CPAP. Patients treated with the FRESCA system showed significant improvement in baseline values for the apnea-hypopnea index (AHI) and the oxygen desaturation index (ODI), both within the normal range (ie, AHI 2.9/hr, ODI 1.4/hr). Gary Zammit, PhD, the largest enroller in the FRESCA study, says in a release, "CPAP compliance continues to be a struggle for millions of people. Additional options for treating obstructive sleep apnea could ultimately drive improvements in compliance and clinical outcomes." Zammit is president and CEO of Clinilabs Inc, executive director of the Sleep Disorders Institute in New York, and clinical associate professor of Psychiatry at the Icahn School of Medicine at Mount Sinai, NY.
John Cox, president and CEO of FRESCA Medical, says, "FRESCA Medical is committed to developing disruptive and effective technologies for sleep apnea sufferers who cannot tolerate the currently available therapies. FDA clearance of the CURVE System for obstructive sleep apnea is our first step towards becoming a recognized innovator in sleep apnea. Our breakthrough technology provides physicians the opportunity to offer a new breathing experience for patients who don't want or cannot tolerate CPAP therapy. Quality sleep is fundamental to good health, and new treatment options are urgently needed in our healthcare armamentarium. This market is already one of the largest applications for cloud-based patient monitoring and engagement, and our goal is to leverage the latest connected health technology to treat, delight, and engage patients and providers, while reducing healthcare costs."