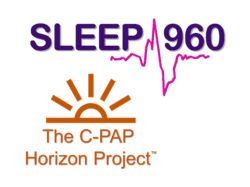 Sleep960 and C-PAP Horizon Project have signed agreements to integrate their sleep medicine products, services, and marketing efforts to improve efficiency of care and reduce associated costs.
The agreement will resolve data-sharing problems with existing applications, which were not designed to work together in an efficient manner, according to the companies.
Sleep960's web-based application SleepScreener electronically screens and refers sleep disorder patients to licensed sleep centers. Patient info can be shared with related components of the program, such as HST and PSG devices, EMR and EHR systems, DME and HME management programs, Internet insomnia treatment, virtual coaching, clinical outcomes, and billing and collection applications.
Integrating SleepScreener with the technology and business services of C-PAP Horizon Project will provide important and long overdue efficiencies and data continuity, according to Doug Hudiburg, the founder of C-PAP Horizon Project.
"With shrinking reimbursements in both the sleep diagnostic and treatment segments, there needs to be a more efficient way to reduce overhead and increase revenues," added Michael Clark, vice president of sales and business development for Sleep960. "C-PAP Horizon Project brings those tools to the table allowing both HME providers and patients to better manage the PAP therapy and follow-up process."