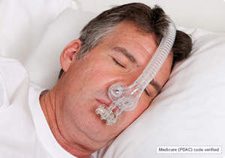 Airway Management (AMI) has released a new CPAP delivery device called the TAP PAP Nasal Pillow Mask.
The mask features an overhead design that anchors to the upper teeth to provide extra stability and virtually eliminate air leaks, while making headgear optional, according to AMI.
AMI believes the TAP PAP Nasal Pillow Mask will improve CPAP therapy adherence by eliminating typical problems that lead to discontinuance, such as instability, air leaks, noise, pressure drop, and head straps.
"We feel so strongly about the performance of TAP PAP that we have integrated an industry-first patient compliance and satisfaction guarantee," said Steve Moore, AMI's vice president of sales and marketing.
It is estimated that 46% to 83% of sleep apnea patients discontinue CPAP therapy within the first year, according to statistics provided by Airway Management.