Can you solve this sleep medicine-themed crossword puzzle, designed specifically for Sleep Review readers? A hard copy published in the November/December 2018 issue.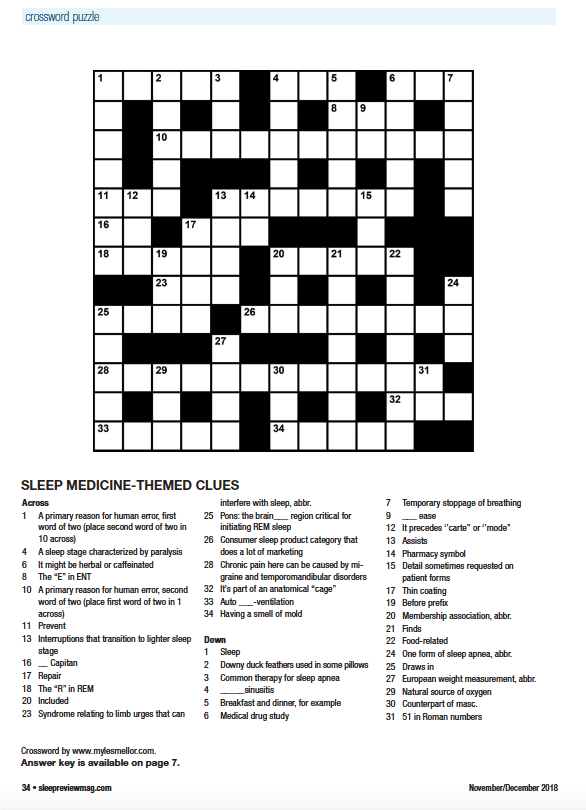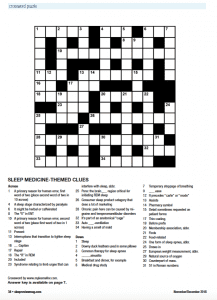 Click on the thumbnail or 1118Crossword to open a printable PDF.
Across
1 A primary reason for human error, first word of two (place second word of two in 10 across)
4 A sleep stage characterized by paralysis
6 It might be herbal or caffeinated
8 The "E" in ENT
10 A primary reason for human error, second word of two (place first word of two in 1 across)
11 Prevent
13 Interruptions that transition to lighter sleep stage
16 __ Capitan
17 Repair
18 The "R" in REM
20 Included
23 Syndrome relating to limb urges that can interfere with sleep, abbr.
25 Pons: the brain___ region critical for initiating REM sleep
26 Consumer sleep product category that does a lot of marketing
28 Chronic pain here can be caused by migraine and temporomandibular disorders
32 It's part of an anatomical "cage"
33 Auto ___-ventilation
34 Having a smell of mold
Down
1 Sleep
2 Downy duck feathers used in some pillows
3 Common therapy for sleep apnea
4 _____sinusitis
5 Breakfast and dinner, for example
6 Medical drug study
7 Temporary stoppage of breathing
9 ___ ease
12 It precedes ''carte'' or ''mode''
13 Assists
14 Pharmacy symbol
15 Detail sometimes requested on
patient forms
17 Thin coating
19 Before prefix
20 Membership association, abbr.
21 Finds
22 Food-related
24 One form of sleep apnea, abbr.
25 Draws in
27 European weight measurement, abbr.
29 Natural source of oxygen
30 Counterpart of masc.
31 51 in Roman numbers
To suggest clues for an upcoming sleep crossword, email sroy[at]medqor.com. To sponsor a future puzzle, email rfelts[at]medqor.com.
Answer Key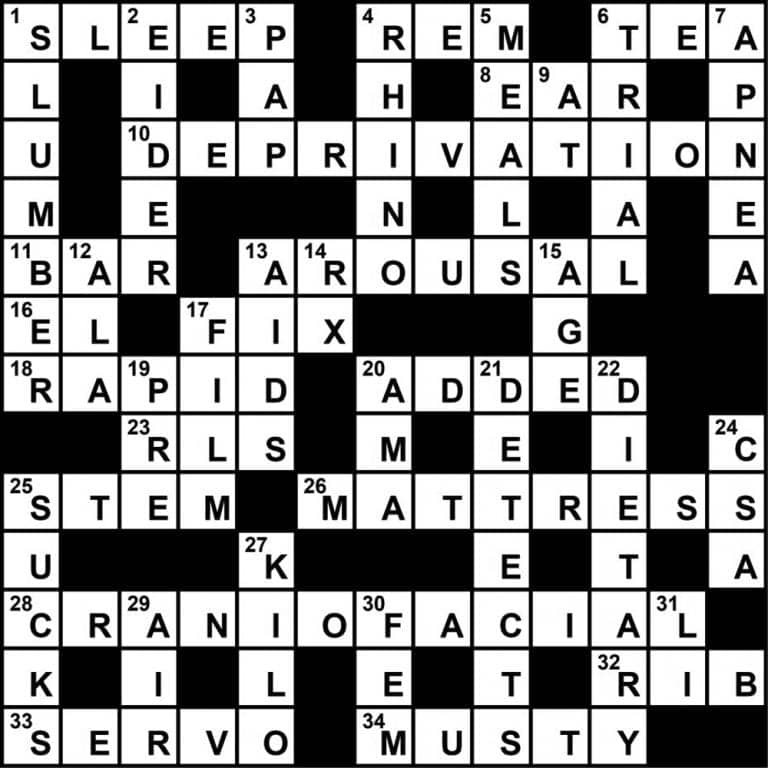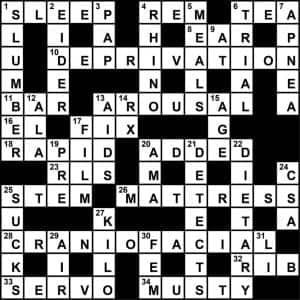 Myles Mellor is a full-time professional crossword puzzle writer who is internationally published.