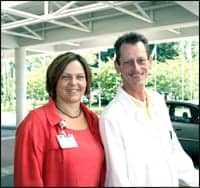 Peggy Britt, RRT, RCP, RPSGT (left), and Don Craig, RRT, RCP (right), are committed to helping veterans receive treatment for sleep disorders.
Many US veterans and military personnel rely on Veterans Affairs (VA) hospitals for every aspect of their medical care, whether for routine physicals or for ongoing needs, such as treatment for posttraumatic stress disorder (PTSD). As awareness of sleep medicine grows throughout the nation, more VA patients also look to those facilities for sleep studies—and the growing demand can sometimes outstrip available resources.
This was certainly true for the sleep center at the Moncrief Army Community Hospital, Fort Jackson, SC, which was bursting at the seams a year and a half ago. With a steady stream of appointment requests from both VA and Department of Defense facilities, the hospital's two-bed sleep center couldn't accommodate patients quickly enough. To meet the VA directives for seeing patients within 30 days, the sleep center often had to refer patients to local sleep labs outside of the system—a trend experienced by other VA facilities in their district.
"All of the VAs were having to fee sleep study patients out because of the high demand," says Don Craig, RRT, RCP, supervisory program specialist for both respiratory therapy and cardiology services at the William Jennings Bryan Dorn VA Medical Center, Columbia, SC.
Seeing the need for a larger facility, the district's Atlanta-based Veterans Integrated Service Network decided to open an eight-bed sleep lab less than a mile away from the Dorn VA Medical Center. Under Craig's supervision, the Dorn VA sleep laboratory opened its doors in April 2006.
The additional beds made it possible to shrink the appointment backlog for patients coming from the Dorn center, Fort Jackson, and Shaw Air Force Base, SC, as well as from Charleston, SC; Dublin, Ga; and Augusta, Ga. "Now we can get our patients an appointment within 30 days," Craig says. To meet that goal, the lab is open 7 days a week, and the staff performs an average of 25 to 30 studies weekly.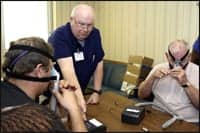 C.R. Abrams, RRT (middle), instructs David Kelly (left) and Virgil Harvey (right) on proper usage of CPAP therapy.
TREATING COMPLICATIONS
Although VA hospitals run similarly to private and public facilities, there are some special considerations for the military patient population that can affect sleep studies. Some of these are logistical. "With active military, if they're due for physical training at 6 am, you have to get them up between 4:30 am and 5 am because they've got to do their exercises, or they're in trouble," says Mary Agnew, CRT, RCP, who is on staff at the Dorn VA sleep lab.
Others are clinical. Veterans and active military patients often present with more chronic conditions than their civilian counterparts; for example, those coming back from Iraq and Afghanistan often have respiratory complications. "It's so dry over there, and there's so much sand—fine, fine sand, like dust—that a lot of them are having respiratory problems as well as sleep problems," Agnew says. "It's an entirely different atmosphere, especially for those from the South—it's so humid here, and then they go to a totally dry and arid place."
One of the most serious complications treated in a VA hospital is PTSD, which often manifests during sleep. The National Center for Posttraumatic Stress Disorder estimates that 8% of people in the United States will experience PTSD at some point in their lives. Military personnel and veterans have a higher incidence of PTSD—an estimated 30% of Vietnam War veterans are affected, while 12% to 20% of soldiers returning from Iraq also have the condition.1 One of the effects is night terrors, which can manifest during a sleep study. "It's heartbreaking at times because you'll actually see them go into a protective position, almost a fetal position, or you'll see them fighting," Agnew says.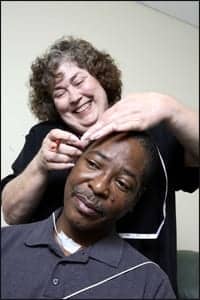 Mary Agnew, CRT, RCP, prepares Allen Jennings for testing.
Patients with PTSD usually alert the sleep lab staff to their condition, so that staff know to wake patients without going into their rooms. Startling a sleeping PTSD patient could result in an unintentionally violent reaction. "We have a microphone and speakers in the patient room as well as at the tech station," Agnew says. "We wake them up over the speakers." All VA staff also receive basic self-protection training from federal police during their initial orientation.
The sleep center maintains a close relationship with the VA's mental health physicians, including neurologists and psychologists, who often refer patients with PTSD to the lab. "If patients act out their dreams or go back to wartime in their dreams, we have infrared cameras where we can videotape all of the events during the night," Craig says. The pulmonologist then reviews the tapes to help address the patient's condition.
Addressing sleep disorders in patients with PTSD affects their dreaming patterns, and usually, their medication needs to be adjusted after they are treated with CPAP. "Sometimes they have to change their drugs once they're sleeping better because they have more dreams," Agnew says. "The better sleep makes them less anxious during the day when they're awake, but it can affect their dreams."
Knowing the patient's medications is important, as they could have an effect on the study results. "Some of our veterans are in so much pain from shrapnel, for example, that they're on methadone," says Agnew, adding that this drug produces abnormal EEG results. "We can call the VA pharmacy to find out if any particular drugs are REM suppressing or cause other changes to the EEG."
MEETING PATIENT NEEDS
Since the Dorn VA sleep lab opened, patients have responded very favorably. "They love it," Agnew says. "Sometimes they don't want to leave in the morning."
Each bedroom has a TV with basic cable and its own thermostat. Fans help keep patients from perspiring, which can affect the outcome of the study. "Two of the rooms have recliners in them because we do have people who have been sleeping in a recliner because of OSA," Agnew says. "We can actually do the study with them in a recliner, if necessary."
The lab uses state-of-the-art equipment from Respironics, which allows staff to make adjustments during the study without disturbing the patient. "All of our machines are remote, so we don't have to go in the room once we've hooked the patients on CPAP," says Peggy Britt, RRT, RCP, RPSGT, Army veteran and supervisor of the Dorn VA sleep lab. "We don't have to go in and make adjustments; we can just remotely increase or decrease their pressure or change them to bilevel right from the computer."
The patient kitchen, which is separate from the staff's, is stocked with coffee as well as orange juice and candy, in case any of the patients are diabetic. The staff also don't let their patients leave hungry. "When we have patients who come from a ways, we give them tickets in the morning so they can be taken over to the VA and have a free breakfast before they start back on their trip home," Agnew says.
Many patients present with OSA, although restless legs syndrome is also common. Patient ages span a wide range—from the early 20s to the late 70s. "As the sleep field has grown, they're testing a younger population," Britt says. "It's nice to see these younger people get tested and, if they meet criteria, get treated so they can avoid some cardiovascular problems down the road."
When a study confirms that a patient requires CPAP, the Dorn VA Medical Center offers instruction on how to use the device. "Our test results are positive for the majority of our patients, so we have started a CPAP class over at the VA," Craig says. "The patients really seem to like that type of environment, where they can give support to each other, and family members are involved."
The classes, which are offered every Wednesday, cover everything patients need to know about CPAP from compliance to maintenance. Approximately six patients attend each class, and the instruction is divided between group education and one-on-one discussions designed to highlight the benefits of CPAP and address any questions. The program also focuses on weight loss and other lifestyle changes, which is why family are encouraged to attend as well. "I believe that it is a situation where the family can give support to the patient," Craig says.
The Respironics CPAP units the lab prescribes feature smart cards, which allow the lab personnel to check the values and give patients feedback on their compliance and pressures. "We have a follow-up appointment after 3 months of use for all patients, so that we can monitor their use and address any problems or questions they might have during that period," Craig says. The sleep lab also offers patients a list of support groups and other programs within the community.
RUNNING ON SCHEDULE
Referral patterns in VA facilities are similar to those in private and public hospitals, with additional emphasis on the appropriateness of care. The primary care physician can order a sleep study consult based on a screening tool developed by the sleep center's pulmonologist. "The pulmonary physician then reviews the consult for appropriateness and makes the decision whether they need to go ahead with CPAP, do the sleep study, or give advice to the primary care physician on what to try before that is attempted," Craig says.
Scheduling for the sleep lab is handled at the VA, rather than at the sleep center itself. The scheduling software requires staff to confirm whether appointments took place. If the patient cancelled, the software allows staff to reschedule; if the patient did not show up, the software notifies the patient. "It's a good tool so that people don't get lost in the cracks," says Britt. "If, for some reason, they don't make their appointment, there's a tool that alerts the health care providers."
Once a week, the VA sends the sleep lab a list of patients for the following week. "Over the weekend, we call and confirm with the patients that we've gotten their information, that they'll be here, and we find out if they have any questions," says Agnew.
The sleep lab employs eight respiratory therapists—two of whom come from Fort Jackson to receive training in sleep medicine. "Even though we're an eight-bed facility, we're just staffed to do six at a time," says Britt, adding that the standard is to have one technician monitor two simultaneous studies. Without filling all of the beds, the facility still successfully manages its patient load. "We've pretty much been able to keep everybody scheduled here," she says.
To keep up with the larger number of sleep studies, Britt and Agnew, who are on alternate shifts, help train the staff to score the studies as well. "With everybody getting involved in the scoring process, we're seeing our turnaround time improve," Britt says. Britt, who is currently the only staff member with sleep certification, says that three of the staff will sit for their sleep exams this fall, and she hopes to see the entire staff have their sleep certifications by next year.
If the workload continues to increase, Craig says he will hire additional staff, likely from within—both Britt and Agnew worked with Craig at Dorn before the new facility opened. "I offered the sleep positions to my current staff in respiratory therapy and that was mostly for an upward mobility incentive to give them the opportunity to branch out and try a new arena of respiratory therapy," Craig says. "And I'll continue to do that. I think it's really important that they have the first opportunity to branch out rather than having me go to the outside and selecting a new person to train in the sleep lab."
Craig says he is looking into implementing Advanced Clinic Access measures as well. "The Advanced Clinic Access is the theory that the patient will not always have to come to see the physician," he says. "We're looking into a process that once the patient's started on CPAP during the study, they'll leave with the CPAP that morning. That will decrease any type of delay in treatment or response on getting the test scored and read by the physician."
Such a step would change the workflow fairly drastically, so the lab will gradually work toward this goal. "We're taking little steps at a time to make improvements where we can," Craig says.
IMPROVING QUALITY OF LIFE
Veterans and active military who are treated at the Dorn VA sleep lab are often surprised by the improvement that comes from better sleep. "You can make such a difference, such a big improvement, in a patient's quality of life," says Agnew, who uses CPAP herself. "Some of these guys get up and say, 'I haven't slept that well in 20 years.' "
Patients often express appreciation to the sleep lab for helping them achieve a healthier lifestyle. "To me, that's the icing on the cake—when a patient comes back in a few months and says how much better they feel, how much more active they are, and how much weight they've lost," says Craig, who hopes that the lab will be able to enter the research arena in the future.
As awareness of sleep medicine continues to spread, Britt hopes that patients will encourage their friends and loved ones to be tested if they are at risk for sleep-disordered breathing. "In a lot of fields of medicine—especially as the population gets older—you don't always see a real impact on improving quality of life. But in sleep medicine, you do," she says. "We'd love to have everybody get the word out, whether they're able to be seen and treated in our facility—or, if they're nonmilitary or a nonretiree, whether they find treatment through one of the many sleep centers out there."
Ann H. Carlson is a contributing writer for  Sleep Review. She can be reached at sleepreviewmag@allied360.com.
References
National Center for Posttraumatic Stress Disorder. How common is ptsd? www.ncptsd.va.gov/ncmain/ncdocs/fact_shts/.