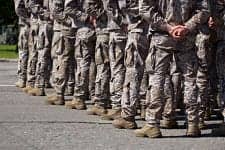 Active duty military personnel suffer from a high rate of sleep disorders and short sleep duration, according to a new study published in the journal SLEEP.
Researchers found that 85% of active duty servicemen and servicewomen had a clinically relevant sleep disorder.
The study looked at 725 diagnostic polysomnograms performed in 2010 for active duty personnel from the army, air force, and navy.
The primary sleep diagnoses included:
51% obstructive sleep apnea (27% mild; 24% moderate-to-severe)
25% insomnia
8.9% behaviorally induced insufficient sleep syndrome
5.3% snoring
5.1% paradoxical insomnia
As part of the study, military personnel were asked to self-report their home sleep durations. Data found that participants averaged 5.74 hours of sleep per night, with 41.8% reporting less than 5 hours, according to the study. The American Academy of Sleep Medicine recommends 7 to 8 hours of sleep per night in order to feel alert and well-rested during the day.
"While sleep deprivation is part of the military culture, the high prevalence of short sleep duration in military personnel with sleep disorders was surprising," said the study's principal investigator, Vincent Mysliwiec, MD, chief of Pulmonary, Critical Care and Sleep Medicine at Madigan Army Medical Center. "The potential risk of increased accidents as well as long-term clinical consequences of both short sleep duration and a sleep disorder in our population is unknown."
Results of the study also found that active personnel can suffer from certain service-related illnesses, like PTSD, as a result of their sleep disorders.
According to the study, 58.1% had one or more comorbid diagnoses. The most common service-related illnesses were:
22.6% depression
16.8% anxiety
13.2% post-traumatic stress disorder
12.8% mild traumatic brain injury
Analysis also showed that participants with PTSD were 2 times more likely to have insomnia, and those with depression or pain syndrome were about 1.5 times more likely to have insomnia.
"[The] findings highlight the need for policy and culture change in our military organizations and continued research to understand and ameliorate the injuries these veterans have sustained," responded Nita Lewis Shattuck, PhD, and Stephanie A.T. Brown, MS, postgraduate students at the Naval Postgraduate School in Monterey, Calif, writing in an article commentary.
"Better appreciation of the causal factors associated with veterans' health will lead to better policies for transition to civilian life and ultimately minimize the cost of veterans' health care to society."
According to the authors, this is the first study to systemically describe primary sleep disorders and associated comorbidities in accordance with standardized diagnostic criteria in a large cohort of military personnel referred with sleep complaints.
The study was published in the February issue of the journal SLEEP and is available on its website.